Whenever I travel, I have this insatiable need to be online. I need to be connected some way somehow. I always make sure to research so I can decide if I will be getting a sim card or a pocket wifi. For Singapore, a country that I've been many times – it's always a sim card.
Now, I'm sure you'll ask me – why a sim card? Well, a sim card enables me to call local numbers as well as international numbers. I remember during my first ever trip to Singapore in early 2004/2005 – we had a hard time hailing a cab because most of the cabs we saw – were already hired prior to their arrival, they're called the ON CALL taxis and to do this, you'll need to call a number to book your taxi.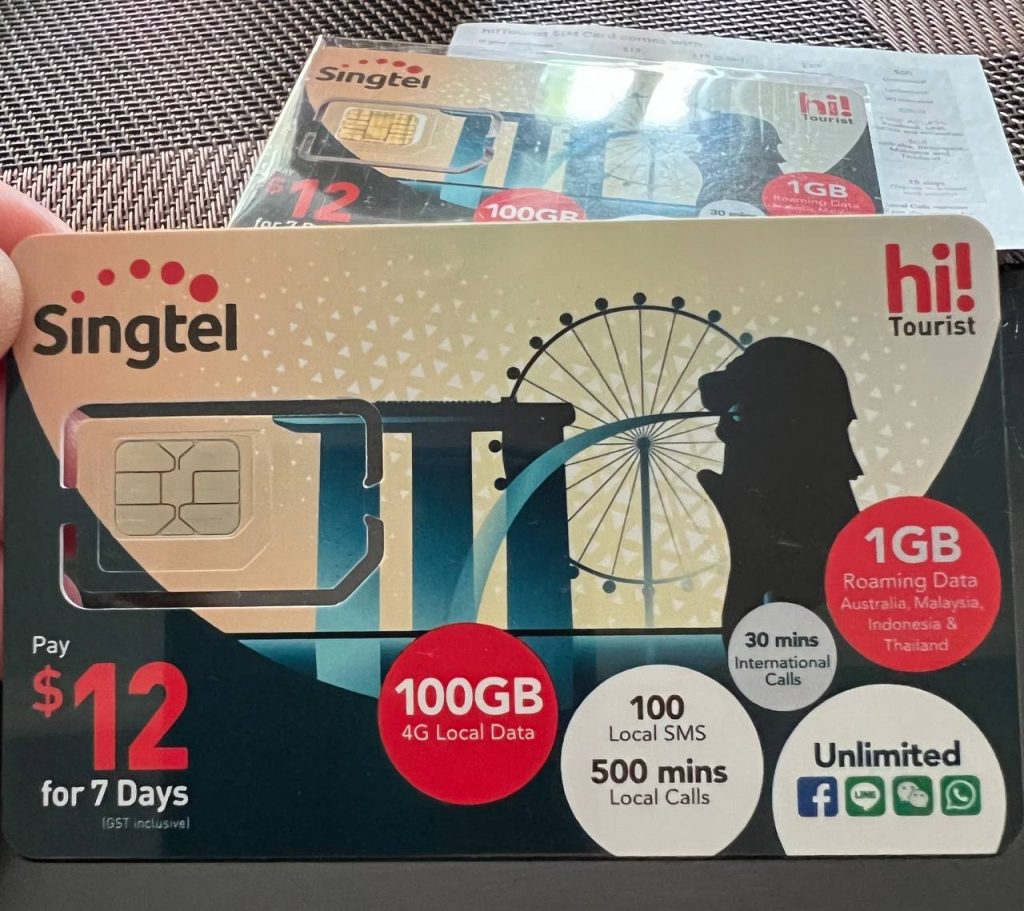 I think it was just in the last few years saw the emergence of the affordable tourist sim cards. These 'tourist' sim cards are very practical – they have data allocations, local calls & text allocation, and even international call allocations. When you compute it versus your local telco's roaming services, the tourist sim cards come out way waaaay cheaper. So, it's always a must for me whenever I travel.
For Singapore, I knew where I would be purchasing my sim. So after getting our bags, I headed out to the counter where I saw the sign SIM CARDS FOR SALE. So I asked to buy a tourist sim card, the lady then handed me one and told me that the price is 50sgd. I was taken aback, because I knew that the sim card I wanted was just 12sgd-15sgd, so why was this lady selling me the more expensive one? I asked for the cheaper sim cards, but she said that the airport doesn't sell them anymore – they only sold the 50sgd ones that are good for 180 days and comes with so much free data. Honestly, I was tempted but then realized that I didn't need to much data for a few days. Since the airport had free wifi, I made sure to connect to that first to book our GrabCar pick up. I'll just look for a retailer that sells the cheaper tourist sim cards after we check into our hotel.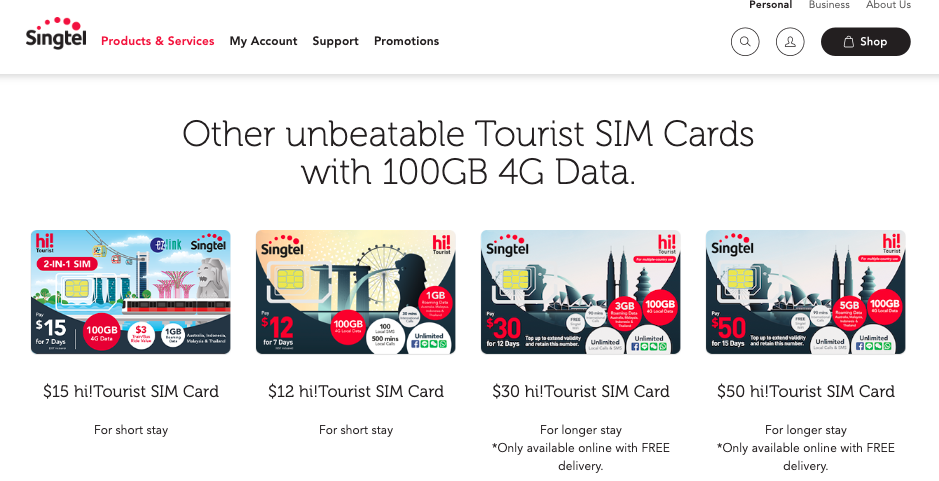 The drive to the hotel took a while but it was nice. I felt so free! It was so liberating. I was excited and anxious but I felt very positive. When we reached our hotel – I connected to the wifi and immediately searched for a Singtel store nearby. I think we were lucky because the mall right beside our hotel – Raffles City has a Singtel store. When I got to the store, I asked for the tourist sim and they lady at the counter showed me 2 kids – the 12sgd and the 15sgd. She was recommending I get the 15sgd, but then I declined and just bought the 12sgd. Oh, I asked the lady why the airport wasn't selling the tourist sim cards, her reply was surprisingly funny – TOO MANY TOURISTS, NOT ENOUGH SIM CARDS!
Anyway, I immediately put the sim card on my android phone and voila – it was good to go! It was literally plug and play! Panget was able to connected to my phone's hotspot and off we went!
During our trip, I've made various local calls to make inquiries and reservations in restaurants and stores. I wouldn't have been able to do this had I not purchased the tourist sim card. After visiting River Wonders with the kids, it was so hard to book for a GrabCar – what saved us was the call I made to Comfort Tax to get us cars. Imagine the bill shock you'll receive when you make a local call in Singapore using our Globe/Smart postpaid numbers.
Singapore's data/internet connection is very RELIABLE. There's a full bar of signal even in the MRT and in the River Wonders. Onga pala, when you ride the MRT – parang Japan na, they discourage talking na with one another. But this is one of their covid protocols so it's understandable.
During our December 2019 trip – I brought with me a pocket wifi, this was supposed to be carried by Panget so he can stay connected even if we're not together. But guess what – the sim card DID NOT work on our pocket wifi. The signal strength on the pocket wifi unit was full and we were able to hook up to the pocket wifi – BUT there is not internet signal received, we were unable to browse at all nor use any of the messaging apps. It was really strange to be honest. So I am not sure if your pocket wifi unit will work. Maybe it's a settings issue? But who knows?! Hahaha.. I am not a techie.
I got 3 sim cards, one for me, one for Kailee and one for Yaya B. But on Yaya B's phone, the data was not working. I was able to text her and call her, she was also able to do the same to my Singapore sim card. But of course, I wanted the data to work, so I brought Yaya B's phone to the Singtel store so the staff can help setting it up and also check it at the same time. The staff took about 10-15 minutes tinkering with the phone and eventually gave up and said it's not working on her phone – it's a unit issue. They tried to put the sim card on their personal mobile phones and it worked well. We couldn't refund it because it's already used – so we just gave it to my sister in law and her husband to use since they were coming in the next day.
Maybe you're asking why I got Kailee a sim card, well I got her one just in case she gets lost or whatever, she can call me at a local number. This was our first travel in 2+ years – I was worried that she'll panic in case she gets separated from us while walking. Si Yaya naman, since I wanted her to stay connected with her family or if she lends Shobe her phone to pacify her from her tantrums. Hehe…
I suggest you get the 15sgd Singapore Tourist sim card, because it can double as a MRT card that you can top up. It's cheaper since an MRT card is a minimum of 10sgd. It has a load of 5sgd and is valid for 5 years.
So how about you guys? Do you also get sim cards or just rent out pocket wifi?