When I was little I used to see my aunt use her heavy Kitchen Aid mixer when she was baking or to ground the meats she bought. That was my first sight of that wonderful kitchen appliance and it was the only one that I knew existed.
Since I was exposed to cooking and baking at an early age, normally – at my own home, I would try to cook and bake. I chose to bake because I was afraid of hot oil splattering on my when I cooked. I also thought to myself that baking is an exact science, you'll need to measure the ingredients properly to be able to have the correct outcome. Just follow the recipe and it won't fail. So when I asked my mom for a mixer, she was so happy to show me a hand mixer that she bought in America years ago. When I saw it, I was disappointed – I wished she brought out a Kitchen Aid, but what she brought out was an Oster hand mixer. Mind you, growing up – that 110v Oster hand mixer was used an abused! To this day, it still works!! Hahaha..
When I was older na, it was a dream of mine to own a Kitchen Aid mixer. I remember the brother of Panget telling me that he can buy one for me in America when they vacationed, so he got me one – it was P10,000 and if I am correct it was bought in 2006 or 2007. When Panget proposed, I knew that I needed to bring my Kitchen Aid mixer with me when I moved homes, and I did. My KA mixer stood tall on my kitchen counter for years!!
It was only in 2020 that I used and abused my KA mixer. Mind you, it's 110v mixer – I need an AVR to be able to operate it, I am very very happy with it. It's my workhorse and I truly TRULY love and appreciate it. That is why when people ask me what mixer to buy – I always ALWAYS say Kitchen Aid because it will last you for YEARS – decades even! It's really a reliable brand.
Since it's a very reliable brand I always include the Kitchen Aid mixer in my Lazada recommendation posts during the double digit sale days. So last March 3 at 12midnight, I was browsing and copying links of products that I wanted to post and came across this:
I WAS SO SHOCKED! I MEAN, I knew I was sleepy, but was I THAT sleepy? I even showed it to Panget to which he rolled his eyes at me and said MERON KA BA DIBA? I was thinking and going back and forth, it was so surreal – I didn't know what to do! Should I? Shouldn't I? IT WAS A FLASH SALE! That was what was in my head – FLASH SALE! I honestly doubted BUT then I said to myself – FLASH SALE nga! So, I decided to CHECK OUT the item immediately. Flash sales, I know have a limit to the number of items it offers. If I spent more time thinking, I may not be able to get the BEST-est DEAL EVER! I mean, look at the final price below as I was able to stack vouchers: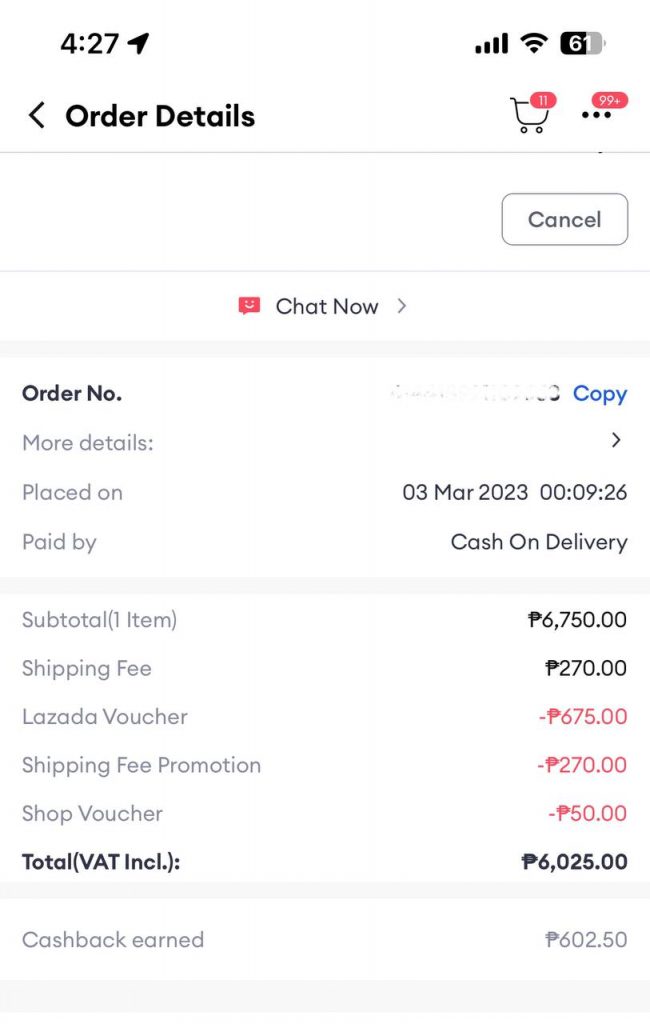 I was so excited that I couldn't sleep! I kept looking at my Lazada app to check again. I know it's crazy because once you've purchased it, it's there! I kept thinking, baka mabawi (they take it back). I decided to share a screenshot on my Instagram stories, you know – to share with the others and also to a baking group in Telegram, but they all said that right after I posted, this below appeared: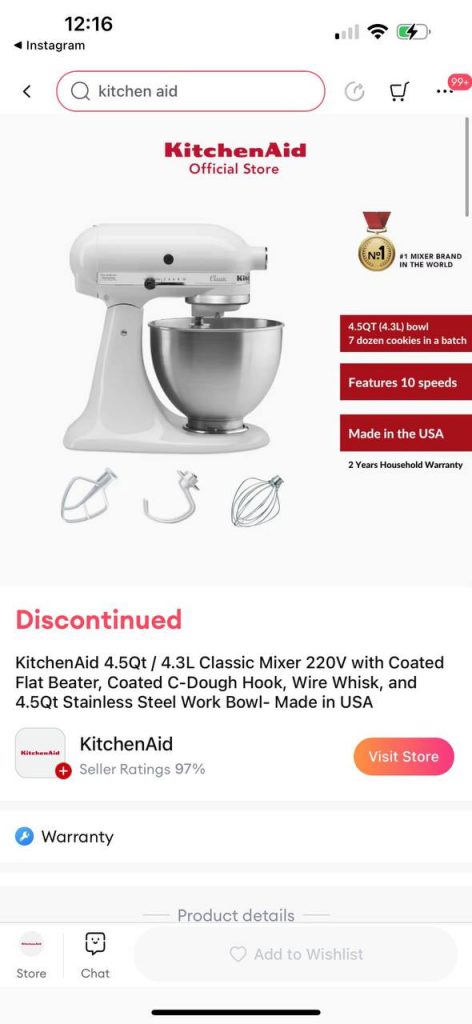 I wondered what DISCONTINUED meant. I assumed it may mean that the item was to be phased out? I was honestly justifying the Flash Sale price. But in all seriousness – it really made me wonder, was this TRULY a flash sale or was it a mistake? I really expecting it to be a mistake from their end – but I was just hopeful that I scored a very very VERY good deal. Finally, I was able to sleep.
The next morning – the first thing I did was check on my Lazada app, more specifically – MY order! I did a sigh of relief because it was still in the TO SHIP! I started to check the Telegram group and while everyone was happy for me, there was this one person who said NEVER TRUE ANG MGA GANITO DEARS, it's a click bait daw. I mean, yeah – the price was really doubtful, but before you say anything – well, be patient enough to see how it ends. But in all seriousness, the deal is still in limbo until it appears at my doorstep – I still have to wait for it to arrive. So sige, let the waiting game begin!
So anyway, I posted it on my regular FB group – TBG: The Budol Group and so many were invested in my story. I think I felt the moral support of everyone in the group! There was one who commented ANG PANOLO AY PANALO NAMING LAHAT. And to be honest, it's true! Everytime there is a post by someone who scored a very good deal, I am so happy for them. It's a win! So, the whole day of March 3, I was looking back on the app, as long as my order is still there on the app – I know that I got a good deal. I can't explain why I was nervous, I mean – diba? Why nga?! But I was. But that afternoon, I finally let go and figured – if it's meant to be, then it's truly meant to be!
The whole morning of Saturday, I was busy at the ICA fair that I forgot to check on my app. That afternoon, while I had time talking to a friend, she asked me what good deal I was able to score the previous day. So I opened my app and to my surprise – MY ORDER WAS NO WHERE TO BE SEEN! It wasn't on the TO SHIP nor was it on the TO RECEIVE! I kept going back and forth, with my hands literally shaking – I mean, ASAN NA PUNTA?! WHERE DID IT GO?! It then dawned on me to check the tab of RETURNS & CANCELLATION. To be clear – data that day was a bit wonky, so it took a while before I saw it. My heart dropped when I saw that my order was cancelled.
I was disheartened to be honest – I guess, it was NOT meant to be, right? I then checked my MESSAGES on the app, this was what welcomed me. It was sent at 5:46M and I only ready it the afternoon of March 4, Saturday.
As a business owner, if I erroneously posted a wrong price – I would be bound to honor it regardless. I suddenly remembered how this applies to so many shops around the world EXCEPT the Philippines where the POS system holds the highest ground. I replied to that message with the price should be honored REGARDLESS – but was again replied with a Lazada agent will get in touch with you. I didn't want to ruin my weekend, but it sort of dampened it – but I thought to myself, enjoy the weekend but on Monday, we FIGHT!
A friend messaged me to kwento that her sister once bought an Instant Pot at a very very low price, that order was cancelled, she was told that there was an error and was given a voucher. I read another one on TBG that she was able to score a Dyson product, but her order was cancelled. Dyson apologized and said there was an error in pricing. THIS MADE ME THINK – IS THIS KIND OF PRACTICE EVEN RIGHT? I mean, I KNOW FOR A FACT that there exists a price tag law here in the country. I remember I even writing about it in the past – PRICE TAG LAW, so I revisited it. Another thought came, does the price tag law apply for online shopping apps? I was too tired that night to think about it, I told myself that I would just read on it Monday morning.
And Monday morning, I did read – but it didn't mention anything with regards to shopping apps. I felt that the law was a bit outdated and needs to be updated to the current times. I also remembered in National Bookstore – items being sold DO NOT HAVE INDIVIDUAL prices anymore, instead the prices are posted on the shelves, now – isn't this a violation of the price tag law? The law clearly states that the PRICE should appear on the actual item. Anyway, that's for another blog post. Hahaha.. Going back, when I woke up, I started reading on the price tag law and they all did not mention shopping apps. I was deciding – should I make fight, or should I let it go?
I then decided to check the messages portion of Lazada again, and this appeared:
I HAD TO READ IT THRICE before I understood it and I even sent a reply at 7:37am (look at the time stamp on the screen shot!) I also asked about the vouchers that I was able to stack up, but was told that this was the only discount that was given
There was a deadline even – until March 7, 2023 only. As much as I wanted to fight for the vouchers, I didn't anymore. I realized, the fact that Kitchen Aid decided to honor the discount was already a very HUGE WIN for me. I mean, you will NEVER ever find a brand new Kitchen Aid mixer priced that low anywhere in the world! This was a major win! So, I used the voucher and purchased it again – even if I didn't need a new mixer. I told myself, this will never happen again – so just take advantage of it! And I did. To be transparent, here is the order with the voucher above:
So I ordered it Monday morning, and it FINALLY ARRIVED before lunch today – March 8, 2023.
It's finally HERE!
I am quite lucky because Kitchen Aid honored the price that was posted. I realized that this was an internal issue between Kitchen Aid and Lazada, but Kitchen Aid was able to step up and give the best customer experience, after all – they had a reputation to protect since they are an international brand. It took a while before I replied to requests for updates on my Facebook TBG thread, I wanted the matter resolved first before I say anything. I know that once I say something, it's hard to take it back – so I was patient, I needed to have all the details on the table before I can freely post on what happened. I had to wait for my Kitchen Aid Mixer to arrive BEFORE I made a post – I had to have proof that it's physically with me and that I am able to physically hold it!
So, there you have it!
Moving forward – THIS WAS AND IS DEFINITELY A ONE TIME THING. I think Lazada will be more careful and Kitchen Aid will have back-ups in case something similar happens. I am very very lucky and I so fortunate to have seen that item at that price, IT WAS TRULY MEANT TO BE.
THANK YOU for your well wishes, I truly felt the support – TRULY! It's such a nice feeling that other people are happy for you. So to that one particular male naysayer in the Telegram group – I can only silently smirk because despite saying it's NEVER true – IT EFFING WAS TRUE IN MY CASE.