I'm sorry with the sequence of my posts, but I felt that I needed to make the post on 'flying back to Manila' ahead our experience. It's more important that I get to share the steps for those who are confused. Hell, we were all confused as well – sorry, I was the most confused because I had to do EVERYTHING! Hahaha…
First things first – FILLING OUT/UP THE DETAILS IS QUITE DEADLY – Madugo siya in Tagalog. If you're just one person – well, you can power through it. But if you're like me that I need to fill out for 5 other passengers, believe me – you will need a good amount of time to do this, stable internet/date connection, and a hearty meal oh add to that – be in a nicely air-conditioned room! Hahaha..
So flying back to Manila, we needed to get an ANTIGEN RAPID TEST, in Singapore – they call this ART. At first I was confused looking through websites thinking why do they keep displaying the word art, eh there's not artwork/art piece naman – it was only after a couple of days that I realized ART meant Antigen Rapid Test – it finally made sense! Hahaha..

The RULE was that EVERY PASSENGER going to the Philippines NEEDS to take an ART (Antigen Rapid Test) at least 24 hours before their flight to Manila or any destination in the Philippines. Take note – 24 hours before your flight. SO PLEASE COUNT THE 24 HOURS WISELY. Please see examples below:
– If your flight leaves at 8am on a Monday
YOU NEED TO TAKE AN ART on 8:01am Sunday morning
– If your flight leaves at 12nn on a Wednesday
YOU NEED TO TAKE AN ART ON 12:01pm on Tuesday
– If your flight leaves at 7pm on a Friday
YOU NEED TO TAKE AN ART on 7:01pm on a Thursday
DO YOU GET MY DRIFT?
The check-in counter lady rolled her eyes when she mentioned that there were a LOT of passengers who don't follow this rule. A lot take their ART too early, thus when they get to the check-in counter, they need to take the ART again and that means going to Terminal 3 and paying again. These check-in counter staff READ the time of your test results, so make sure to do the test in the correct time frame.
So, who needs to take an ART? ALL PASSENGERS 3 years old and above.
*There's apparently a NEW directive from the PH government starting May 30, 2022. Kindly read further on the May 30, 2022 directive because WE WERE NOT AFFECTED BY THIS, thus this post should NOT be your basis for your travels since it's already June 2022.
**We still had to do the Antigen Rapid Test. MAKE SURE TO READ, READ AND READ SOME MORE!

What you need to do 2 to 3 days before your flight back to Manila is to LOOK FOR and FIND the nearest place where you can get your ART. Personally, I knew of only 2 places:
1. Raffles Hospital in Bugis (this was recommended by my friend Tin)
2. Fullerton Health on the 2nd Floor of Raffles City (City Hall station)
I'm sure there are so many more out there, so please do your best to research, ask around and better yet – CALL those clinics to find our their schedules.
To give you an idea, these are the operating times of the two ART places that I know:
1. Raffles Hospital – opens daily at 8am
I called their hotline to make sure that I understood what I read and what I needed to do.
They accepts walk-ins and reservations online (in advance)
2. Fullerton Health – opens at 10am
They were open at 9am on a Sunday, but to be sure – CALL or EMAIL
We were lucky because this was just below our hotel. So Panget and I went after hearing Mass.

We did our ART in Fullerton Health.
Upon entry, they will ask what test you need – so just say ART, then they will ask you which country you will be heading to. They will then ask to see your passport, in our case – I didn't have our passports with me, what I had were images of our passport's details page and that was good enough. They will then ask you for your email address as this is where they'll send the results (pdf), they will also ask for a mobile number, since I had a local sim card, Panget gave them my number to inform us when the results have been sent. Then you proceed to pay, you can settle by cash or use your credit cards.
They will hand you print-out stickers with bar codes on them with your name, birthdate and passport number. You will then give this to your attendant in the room – this person will do the swab test for you. Pleasantly, the swab is just on the outer portion of your nostrils. We were skeptical at first, but then when it was my turn, it was painless and super duper fast! When it was Kailee's and Connor's turn, they were confident that it won't hurt. But when Shobe saw us, she knew what was coming and began to tear up and repeatedly saying 'I don't like!' but the attendant was very nice, he told Shobe, it's just like a tickle in the nose. That was a good description to be honest, it was just ticklish – Shobe came out unscathed. Yey!
The results were emailed to us directly, I also received a text message saying that the results were ready for viewing. When you receive your results, make sure to take a screen shot, as you will need to upload this on the ONE HEALTH PASS Philipppines site.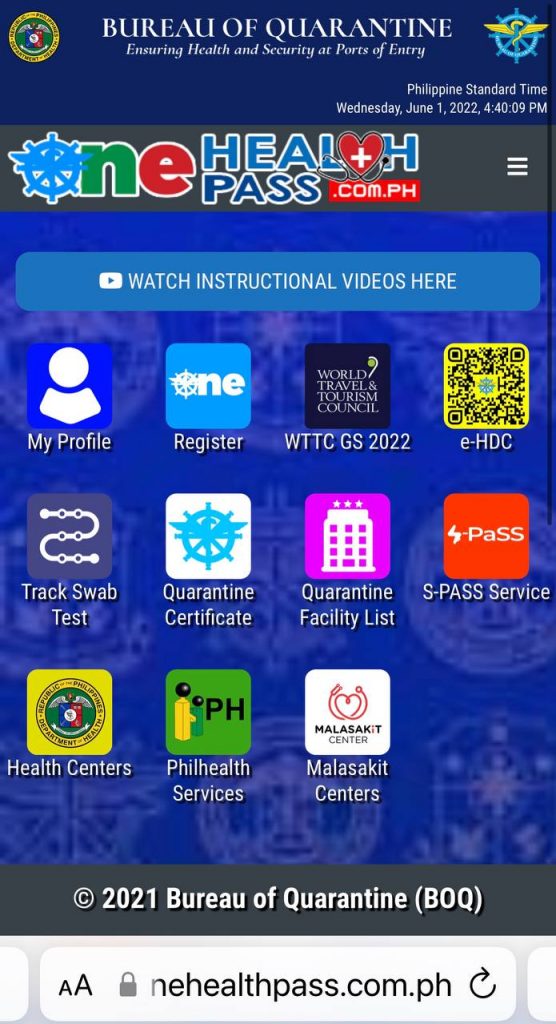 Okay, so now that you're done with your ART and you have the results, you can now start filling out the ONE HEALTH PASS. But before you start, make sure to have the following informations:
1. Screen shots of:
a. Vax Cert PH / or your Vaccination cards
b. Result of your ART
2. Your Passport Details
3. Your Flight Details
a. Name of Airline
b. Flight Number
You need to go to One Health Pass and start filling up the needed information. First, you NEED TO REGISTER EVERYONE. Do it one by one of course.
Let me warn you that there are a LOT of things that you will need to fill out, I mean A LOT. So make sure you have the time to do it, you cannot be on the move when you do this because for sure you'll make errors and when you make errors, you will need to upload the image again and again until you get all the required information filled out correctly.
Make sure to READ, READ THROUGH. Read it again and again what is needed. There will be drop down menus so make sure to do it slowly (like the port of entry, you will need to pick which airport and etc.) Minsan mabagal kasi yung drop down, so when you hit the SUBMIT button, it will register as incomplete.
The One Health Pass is a test of patience to be honest. Dito makikita kung patient kang tao, kasi the steps talaga are too many and repetitive. (For me, this one health pass actually represents how much red tape we Filipinos have to go through. Parang instead of doing it 3-4 steps, you will have to go through 12 steps!) You will be asked to upload your vaccine certificate AND THEN fill out the details like the date of vaccine and the brand. It's repetitive na nakaka-frustrate. So imagine, I had to do this for 5 other people. I couldn't eat properly, I was just on the phone focused on what I had to do. Of course, I made errors so I had to repeat steps over and over again. So this is where having a stable internet connection comes in handy.
AND IT DOESN'T STOP THERE!
After you've filled out the initial steps, you will receive an email – and on that email it will say STEP 1 OF 2, you will NEED to click on this:
After that, take a screen shot – then you will again receive and email for the STEP 2 OF 2, you will again need to click THIS:

You will either receive QR codes or bar codes. What happened to us was that Panget received a QR code, while the rest of us received bar codes. The QR codes are for those who are eligible to go through the EXPRESS LANE. We were told to go to the express lane because Panget was carrying Shobe who was crying and very irritable.
The person on the booth will then ask to scan the QR codes and the bar codes. This takes a while because imagine they need to scan, check details and go do it again for the other passengers. Once they give you the go signal – you can now head to the immigration area.
So, there you have it!
ARE YOU READY TO HEAD HOME TO MANILA??!!

Singapore 2022: Part 1 – What you need to know, do, and have BEFORE flying to Singapore
Singapore 2022: Part 2 – Staying connected throughout your Singapore trip (Sim cards & data)