When you say ma-ki, I would always associate it with Manosa's along Ongpin. I have very fond memories for eating there with my parents. Their ma-ki is my benchmark for all the ma-ki's that I have tried. Nothing comes close, nothing.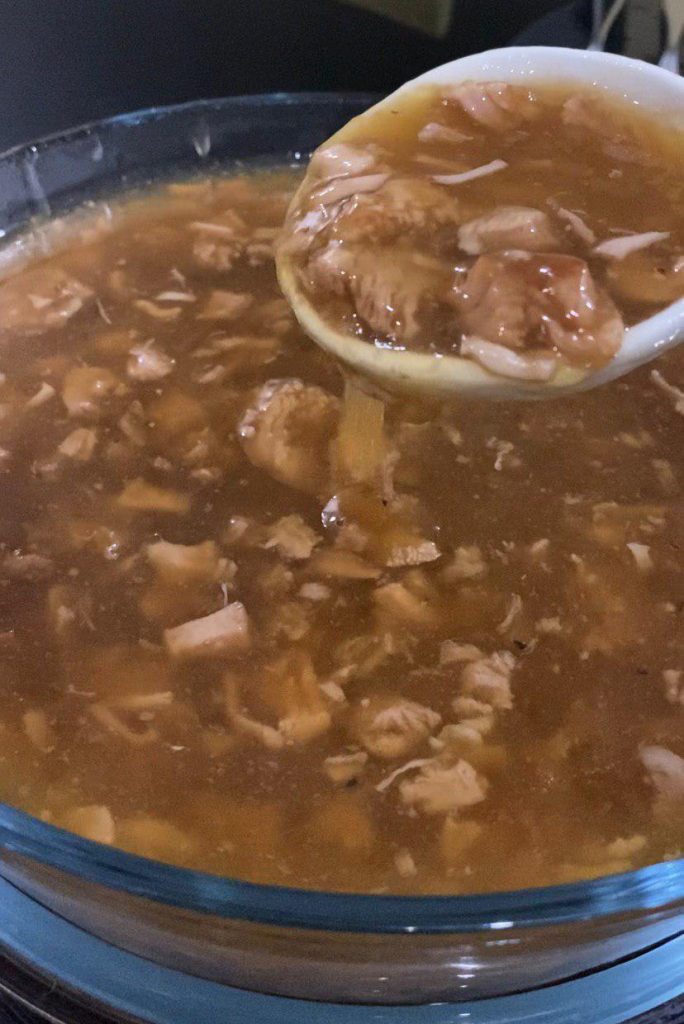 I have always wondered why my mom hasn't tried to replicate it. I guess in time, I realized that there's a degree of difficulty to it. So here I am decades later trying my hand at making one. No, I am NOT trying to replicate it – I am merely trying to make my own version and wishing that it would somehow satisfy that craving.
Would you believe that I've never googled a recipe on it? Never! But it was just recently months ago, that I saw on Leslie's feed that she made one. Using a recipe from ICA 1992's cookbook. It's stilly really because I have that cookbook. So I tried to make it using an instant pot. The result was okay – the kids liked it. And so I tried making it again, with tweaks here and there. I hope you like the recipe! I'll start with a small batch, you can double it if you like
Didi's Maki
(with Mi or without Mi)

1/2 Kilo Pork Tenderloin (cut into cubes or strips or whatever you fancy)
1/2 Cup Lee Kum Kee Premium Soy Sauce
1/2 Cup Tapioca Starch
1 Tablespoon Sugar
6 Cups Water
1 Pork Cube (you can add as you go along)
Noodles – be it the noodle from the instant pack, egg noodles, or my favorite Guan Miao noodles (you cook this as you would normally do)
1/2 Cup Tapioca Starch + water (this is for the slurry)
1. Mix together the pork, soy sauce, shaoxing wine, tapioca starch and sugar. Let it sit for 20 to 30 minutes
2. Turn on the Instant pot to SAUTE. Add the 6 cups of water and drop the pork cube.
3. Drop the pork pieces one by one to the boiling water mixture.
4. When you have dropped all the pork in the water, press CANCEL
5. Put on the lid, make sure it's locked and the air release to SEALING.
6. Press on PRESSURE COOK and cook for 20 minutes.
7. When the time goes off, press CANCEL and do the quick pressure release manually. Open the lid and you'll notice it's still boiling.
8. Carefully take out the pork pieces and set aside. And leave the broth on the IP. Press SAUTE on the IP to continue boiling. Make sure to taste the broth. You may adjust the taste to your liking – adding more soy sauce or salt or a pork/chicken cube. Make sure to adjust the taste before doing step #9
9. Carefully prepare your slurry to thicken the broth. You do this by dissolving the tapioca starch in water. Dissolving means add a good amount of water, not too much (it will come out thinner and you'll repeat this process and NOT too thick too) When its dissolved pour half of it carefully into the broth. Make sure to stir it well to incorporate the slurry to the broth. Continue stirring slowly for about a minute or two. Let it boil and sit for about a minute or two. Check the consistency if it's how you like it. If you want it thicker, then add the half of the slurry that you set aside. What I noticed with tapioca starch is that it tends to still thicken up while not boiled, so check the consistency)
10. Press CANCEL and Let the thickened broth sit for about 5 minutes. If you can do longer, then great! Because that's the only way you can see the thickened consistency.
11. When you achieve your preferred consistency, then you may add the pork pieces that you set aside. You have two options.
OPTION 1 is to serve it as (no more heating again)
OPTION 2 is to bring it to a boil again since the pork pieces are back
*Personally, I would bring it to a boil again because I like it
very very HOT, boiling hot.
12. Serve it in a bowl with or without noodles. I prefer no noodles, but my Panget and kids love it with noodles. You can also add scrambles eggs, but a true ma-ki fan knows – there shouldn't be any egg.
ENJOY!
**The recipe I loosely based the above from asked for Ginger Slices to be dropped in the broth. My Panget noticed it tasted too gingery for his taste, so I opted it out. Another is to put black pepper to the pork mixture marinade, I took it out because it tasted odd for me (but you can try adding it on your own bowl to see the difference in taste)