Radish cake is something I really enjoy eating. I learned it from the best, my mom! When we went out to eat dimsum, she would always order this and then tell the waiter or server to fry it a little more for a crisp to the cake. Since I grew up seeing and having that – well, that's what I also do! So whenever I order radish cake, I make sure to tell the server to fry it until golden. Most of the time, it doesn't turn out as crisp as I wanted – but that's good enough.
In other countries, they call is turnip cake, some go as far as labelling it as carrot cake, but no matter that it's call – it will always be radish cake for me. Most friends and loved ones call it by it's local Hokkien name – TSAI TAW KE.
To be honest, my benchmark for a good radish cake are those served in Hong Kong. I grew up eating them and so when I get to try different version from all over – the Hong Kong radish cake will always come to mind and I would compare the taste to that memory.
Believe me when I say, so many claim their's are the best, but none has come close. There are many good ones out there, but not the best. I may sound snooty, but I think having eaten so much radish cake (look at my size!) I would know on the first bite if it's any good. I would utter the words 'masarap/it's good' or 'hamham/it's okay' or 'pai tsia/not good'.
LoBakGo's radish cake, I saw from Leslie's IG stories. I ordered immediately, and when I received them. I made sure to fry them to try. I even forgot to take pictures, but while patiently frying – I saw the bits and pieces of ingredients. I made sure to remember to take a picture and here it is!
I like my radish cake like this. Honestly, even more burnt/tutong! The true test was when I took my first bite. I uttered, MASARAP NGA! Because it truly is gooood! If you like/love radish cake, I swear this is the BEST one in Manila!! I had to cook more because I ate this up so fast! I was even contemplating, that if I share the other loaf to my mom – I won't have more! So, I ordered more. Yes, it's that good.
Price wise, its P650 for a small loaf pan. Tricia, the HK trained chef who made this said the weight is 700grams. You'll need to order at least two loaves if you're a radish cake fan. I swear to you, one pan is not and will never be enough. I'm sure many would raise their eyebrows on the price, but I swear to you it is WORTH EVERY PENNY!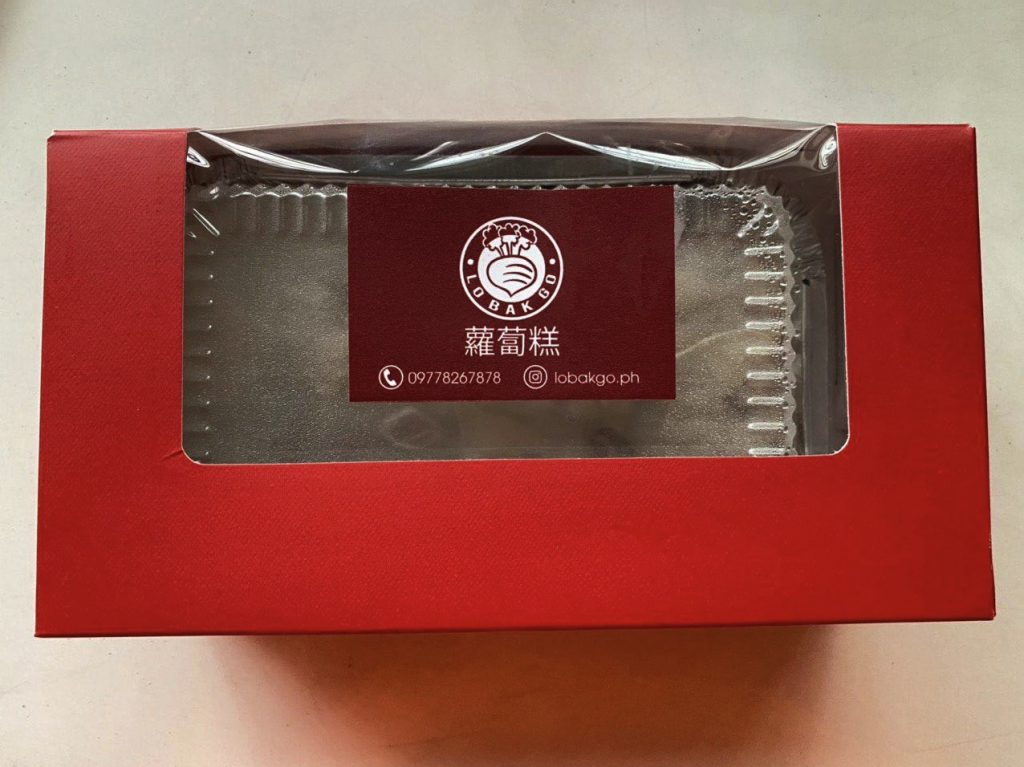 It is truly THAT GOOD!
Flavor wise it hits all the spots. The radish chunks you can taste and everything else like the mushroom and pork bits. Once you bite into it, you'll know just how good it is. I can just throw adjectives around but the best test is that you try it. Honestly, I haven't tasted this good of a radish cake that is homemade.
Order yours NOW!!
P.S. This is not a sponsored post ha, I paid for my orders. I want to order more! Pero hoarder na kalalabasan ko. This is my good deed, give change to others so they can try!! Sharing is caring after all!!
TRICIA of LoBakGo
09778267878
Instagram – LoBakGoPH