For the past year or so, I have been seeing so many bento meals for kids in my social media feeds. I know for a fact that bento is something Japanese but it has evolved now to what I know – as a creative way to make a kid's meal more fun! Last month, Kailee and I attended a Bento workshop by The Bento Mommas and Oreos. I swear, I have a new found respect for mommies/daddies making bento meals for their kids. It's not an easy task – I mean, you have to have (major) creativity and ingenuity and patience and lots and lots of time.
I initially thought that it was easy, well – do this and that – voila, a bento. But it's more than that – one should be able to plan what kind of bento to prepare, the available ingredients, tools to use. During the workshop – I've a gained an admiration for the parents who make bento. It takes a lot of getting used to . The cutting, the preparing, the molding and the presentation. The meal planning too! So to the dedication of all parents – I salute you guys!! Look at the different tools you can use! I was told that when you start bento making – it becomes addicting! Addicting to make and addicting to collect the tools!
Hello BentoMommas!!
Together with Oreos, we were taught the basics and mind you, it wasn't easy, but man was it soooo fun to do! I guess, through time – when you get the hang of it – it will come naturally. I learned that making a bento is not just a 'do whatever with whatever' we need to incorporate the Go, Glow and Grow food into the bento for it to be more practical. Of course, we don't want to compromise the health of our kids right?
These were the tools we used in the bento Workshop.
OREOS galore to help us with our creativity!!
Some of the things that we used in the workshop:
Brown Rice, White Rice, ChizWhiz, assorted candy sprinkles,
Broccoli, Corn, Pretzels, Cutting tools like scissors and punchers,
dried Seaweed (Nori), mini choco chips, marshmallows, and OREOs!!
Step One (1) Wash your hands! Yes, we have to be very clean in preparing our bentos! Remember, our kids will eat what we prepare so we need everything to be clean and sanitized! You can use plastic gloves to prepare, but nothing beats using our actual hands to mold and shape the rice. Just make sure you wash your hand before and after! Make sure too that all that you will be needing, tools and ingredients is within reach. This saves you the time of going back and forth looking for them and getting them. The OC in me talking says that everything should be organized, prepared and planned out! Step Two (2) Molding the brown and white rice. There was a reason why we were given two kinds of rice. I initially thought that it was there because some of the moms preferred brown rice. I was wrong! It was for the bento making really. See the brown and white rice below. Guess, what do you think we are making?
Honestly, with the picture above, it looks like – a hidden Mickey! But actually, we were taught to make a bear! So see my bear's transformation!
It's quite getting there, right?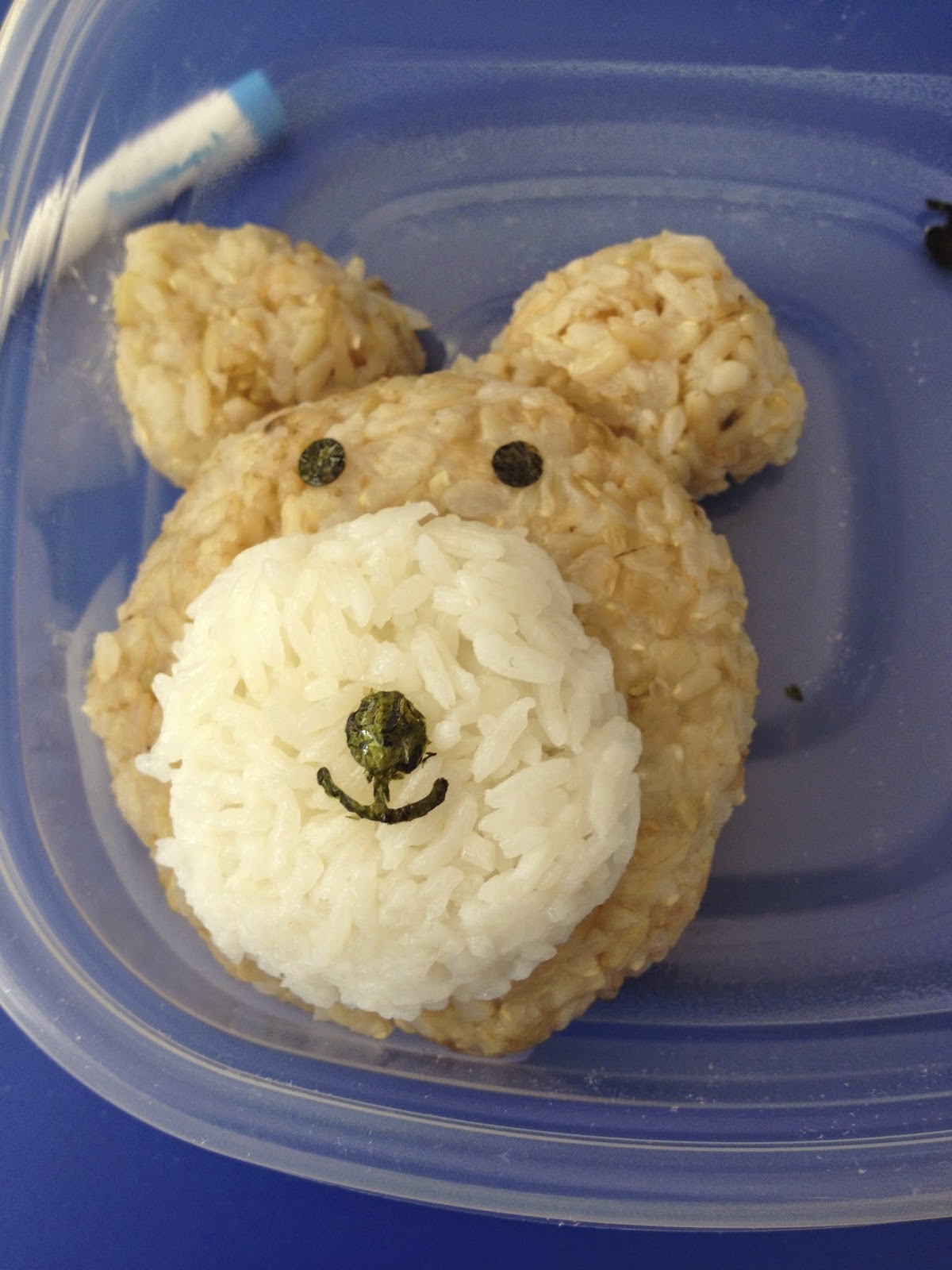 Yes, it's officially a bear made of rice! Brown and white!
I think I went overboard and made a fat bear! Hahaha..
Look at that double chin, well – sort of double chin!!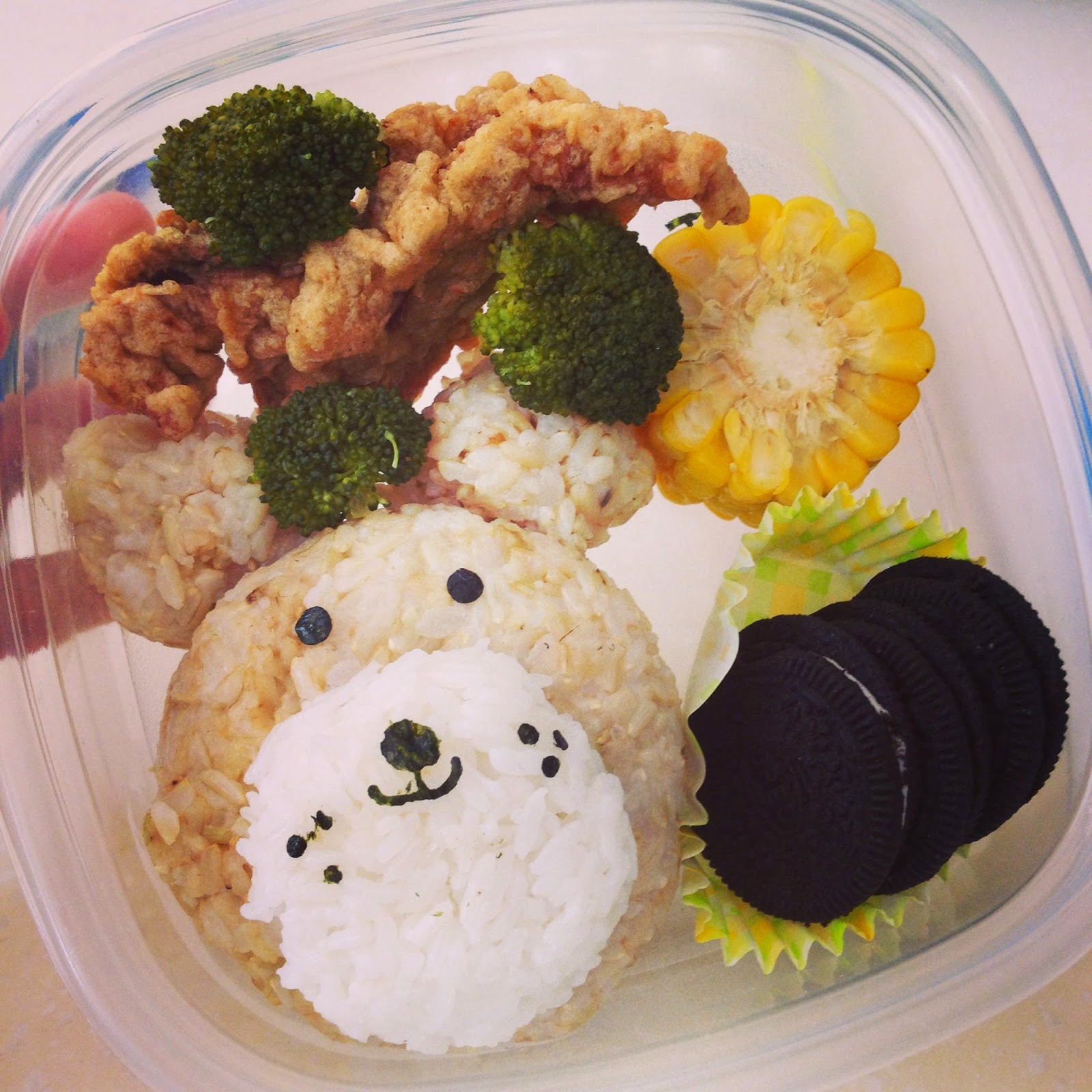 Go, Grow and Glow Food!
(Go – Rice, Grow – Chicken, Glow – Veggies)
And of course – OREOs!
The SoMoms and their kids hard at work!
Everyone enjoyed the chaos and the workshop!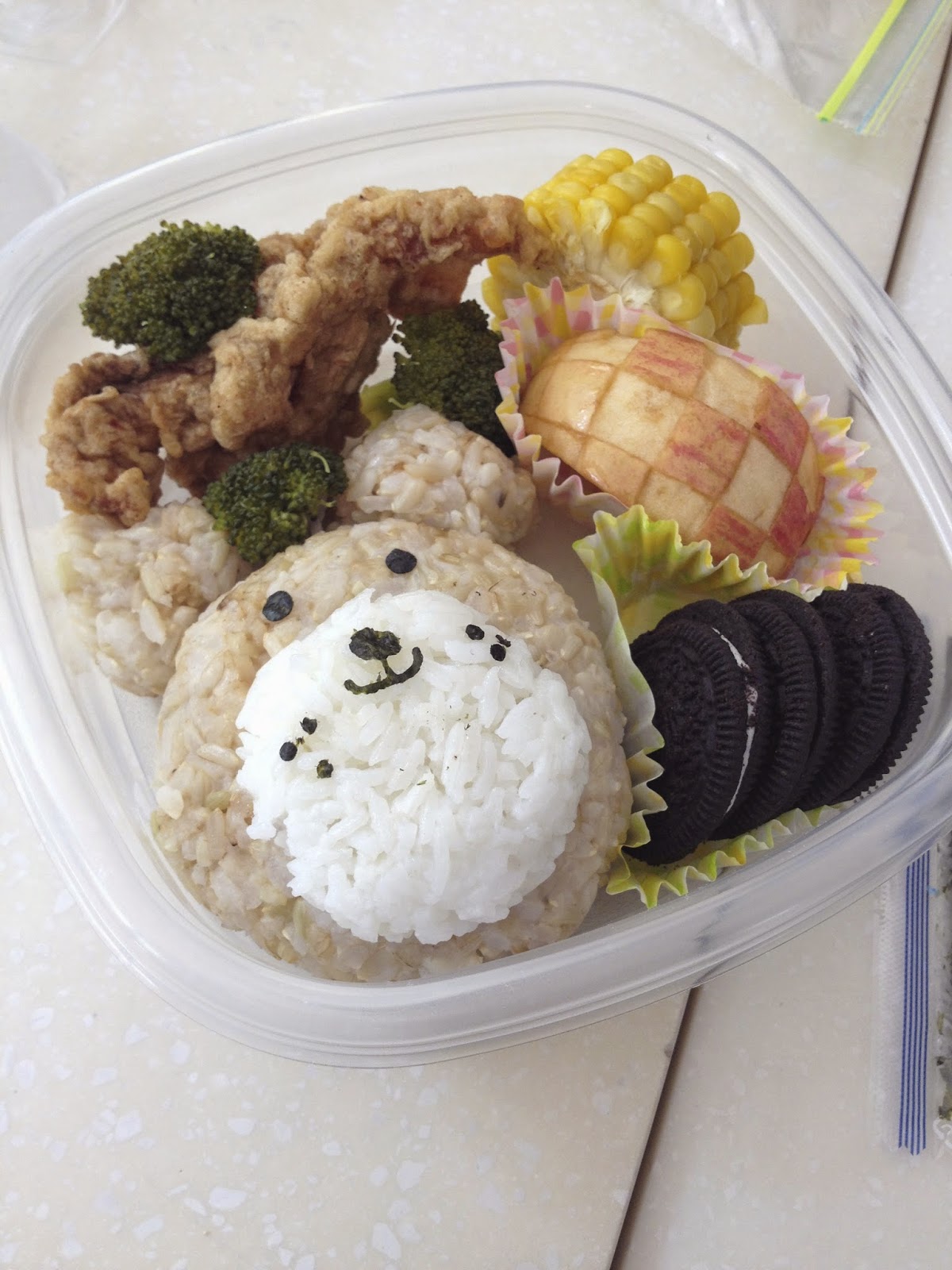 Here is my finished product!
What do you think?
I was so very proud of this, my FIRST ever bento creation!
And here is where the SUPER fun started, we had to make our own bentos using OREOS!
The challenge: Make a BEE out of Oreos.
For a person who is not very creative, it was such a task! But in fairness,
Kailee and I had such a blast! We had unlimited OREOs! I actually just wanted to use as few Oreos as possible why? So I can take them home and eat them! Hahaha.. Katakawan! But seriously – we had all the Oreos that we can have and look at what I made below.
I have to be honest, Kailee was of little help because she was eating all the Oreos! Hahaha..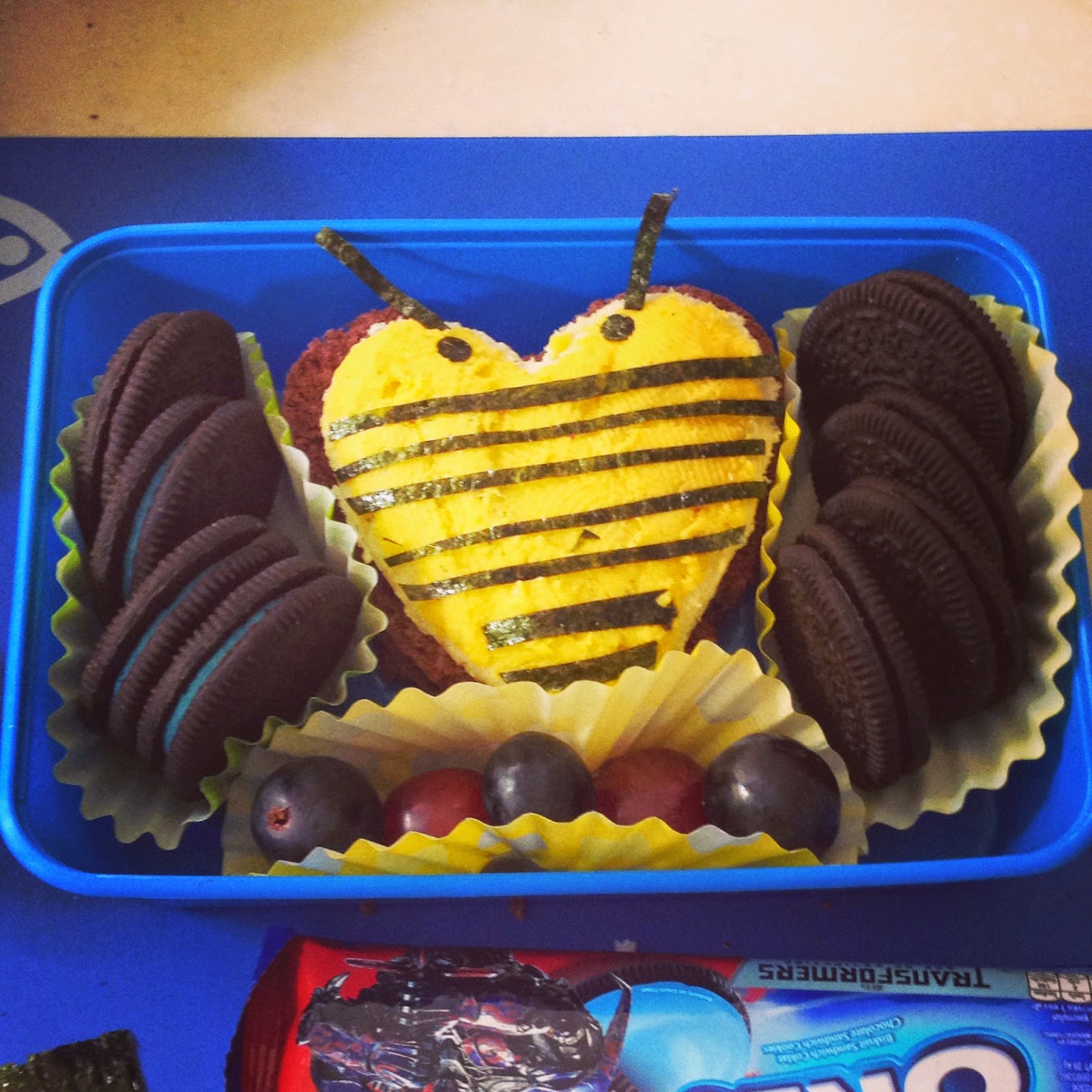 What do you think?
I think I did well, on my first ever bento challenge.
I know it needs a lot more work and CREATIVITY! But I'm sure I'll get there with practice!
As they say, practice makes perfect!
(Kidding aside, I'm OC that way that I will make one dish over and over again until I perfect it! Hahaha. I'm sure when that happens, Kailee will just tell me to stop making one! Hahah)
Here's a step by step guide on how I made my Oreo bento:
1. Get one Choco bread and one White bread. Using a heart shape cookie cutter, cut the Choco bread using the biggest size cutter, then use the next (smaller) size cutter to cut the white bread
2. Scoop out all the yellow cream filling of the Action Fruit Oreos (I used a LOT, i mean a LOT!)
3. Use some of the yellow cream filling to bind the heart shaped choco and white bread. Make sure to put the smaller piece on top and the bigger piece at the back (so there is an accent!)
4. Spread our as much yellow filling from the Action Fruit Oreos to the smaller (white) piece of bread. Make sure to follow the shape of the heart!
5. Cut up strips of Nori to make the black stripes of the bee and also his antenna!
6. Use a circular puncher for the eyes of the Bee
7. Now, place the strips carefully aligned using tweezers! (It's really helpful!)
8. Place the heart shaped bee on the top center of the container
9. Use cupcake liners to (separate the bee from the other food) and fill it up with Oreos to make the bee have wings! I just added the grapes to fill up the container! But it worked well right?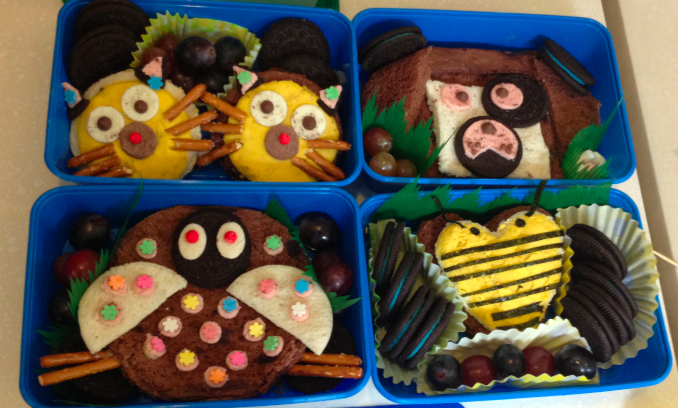 Here are what the other creative moms on my table did.
Mine looked the least imaginative compared to theirs! Hahaha..
Top Left was the winning bento made by The Phenomenal Mama – Tina!
Top Right was by Cai of Apples and Dumplings
Lower Left was by Candy of The Corporate Housewifemom
Lower Right is by yours truly! Hahaha..
Here is Tin's of Manila Fashion Observer Oreo Bento Creation!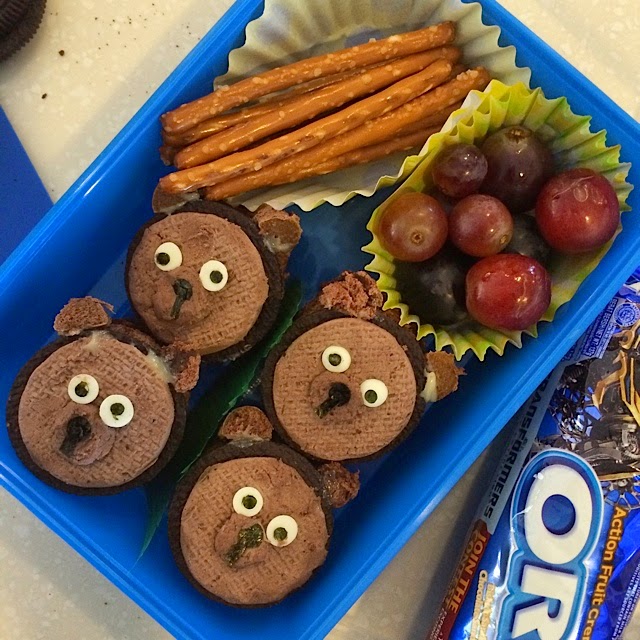 Read about her experience and how she made these cutie Oreo bears bento! I wish I were that creative! Hahaha..
Thank you so much Oreos! Kailee and I had sooooo much fun!!