We so enjoyed our meal in Green Pastures more than a month ago, that we decided to come back last Sunday. Here is my previous post on Green Pastures. We were ready for the wait – we got there at 11am and the place was still empty. I left my name and funny that the staff remembered it, strange right? I guess, I am not forgettable and very charming? Just kidding. So I told her that we'd like to be listed for the 12noon and she obliged. But after walking around the mall, my Panget realized that it was nearing 12noon and we walked to Green Pastures. When the staff saw me, she immediately led the way – we had a table! Yahoo!!
Ordering was quite a task. I wanted to get everything on the menu. I was so confused on what to get that ordering for both me and my Panget took a while. We got the Autumn Salad, Duck You Fries, Duck Fat Fried Chicken, Porchetta and Fish and Chips.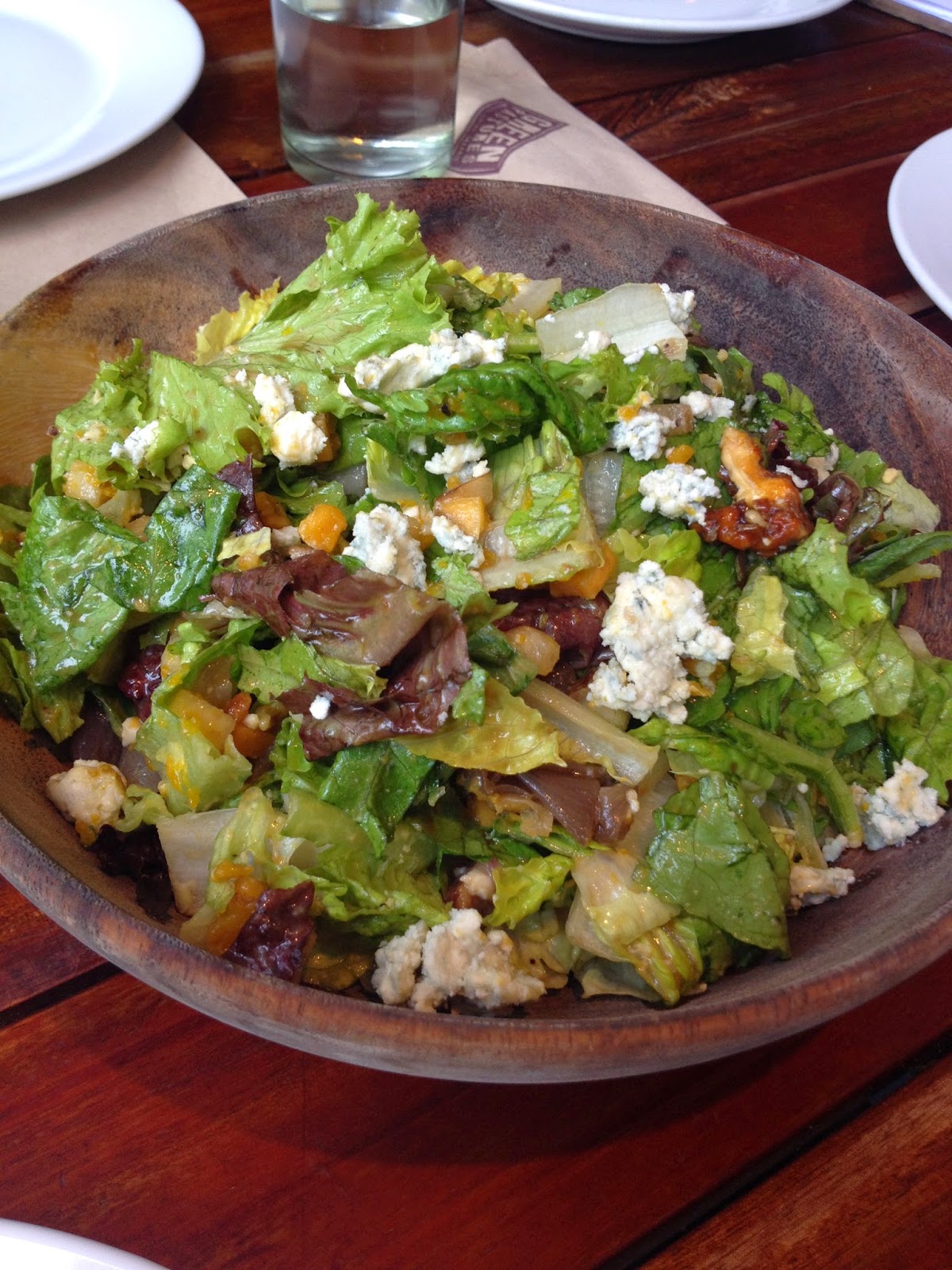 This is the Autumn Salad and its also good!
I've noticed before that Green Pastures' salad is neverending – this one is the same! Even if I ate a LOT of greens already, there seems to be some more in the bowl! We even had to take home some since we weren't able to finish it!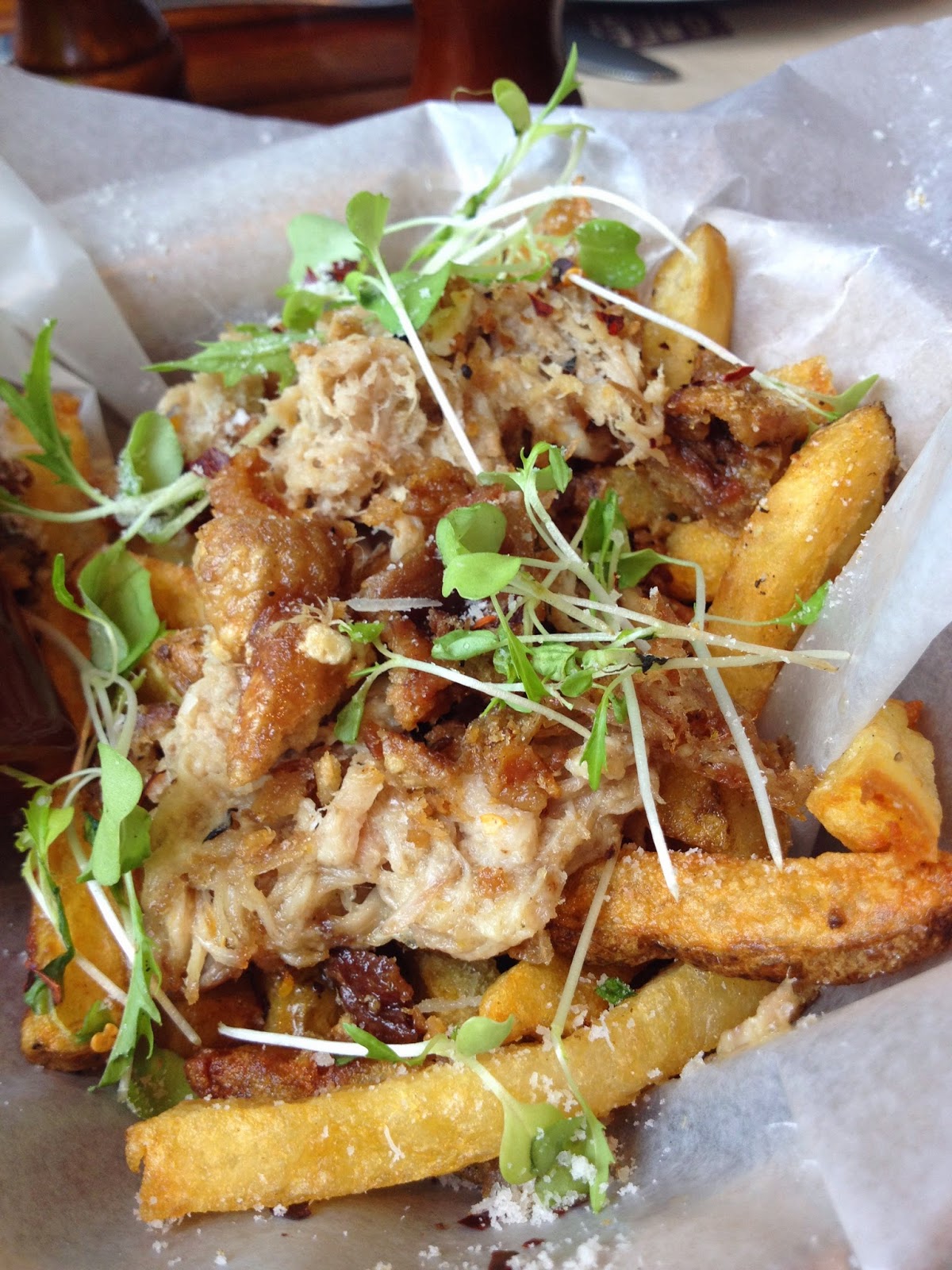 I had to order the Duck You fries once again because I love love french fries and my kids love it too!
So enjoyed this appetizer, especially the spritzer vinegar!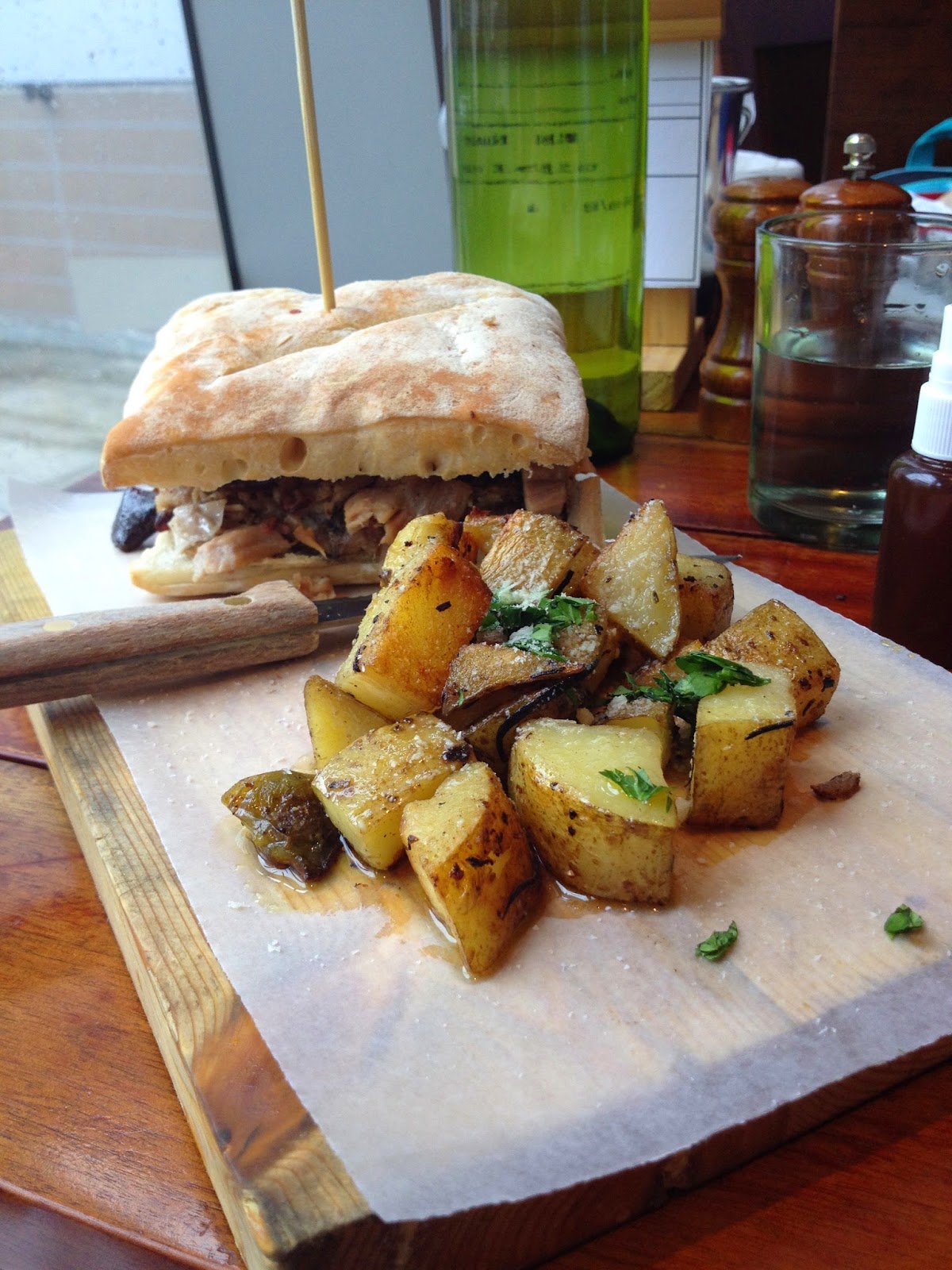 This is the Porchetta. Meat on bread – literally. It was love at first bite. I so looooooved this dish!
If you like tender meat on bread, then this is the perfect dish for you. WIth my first bite, I knew that my Panget would love this dish, and so I told him to have it. But he insisted on waiting for his Fish and Chip – and in the end, we exchanged orders. This is how much I love my Panget, that despite loving this dish so much – I had to sacrifice, but not after a few bites here and there. Hahaha!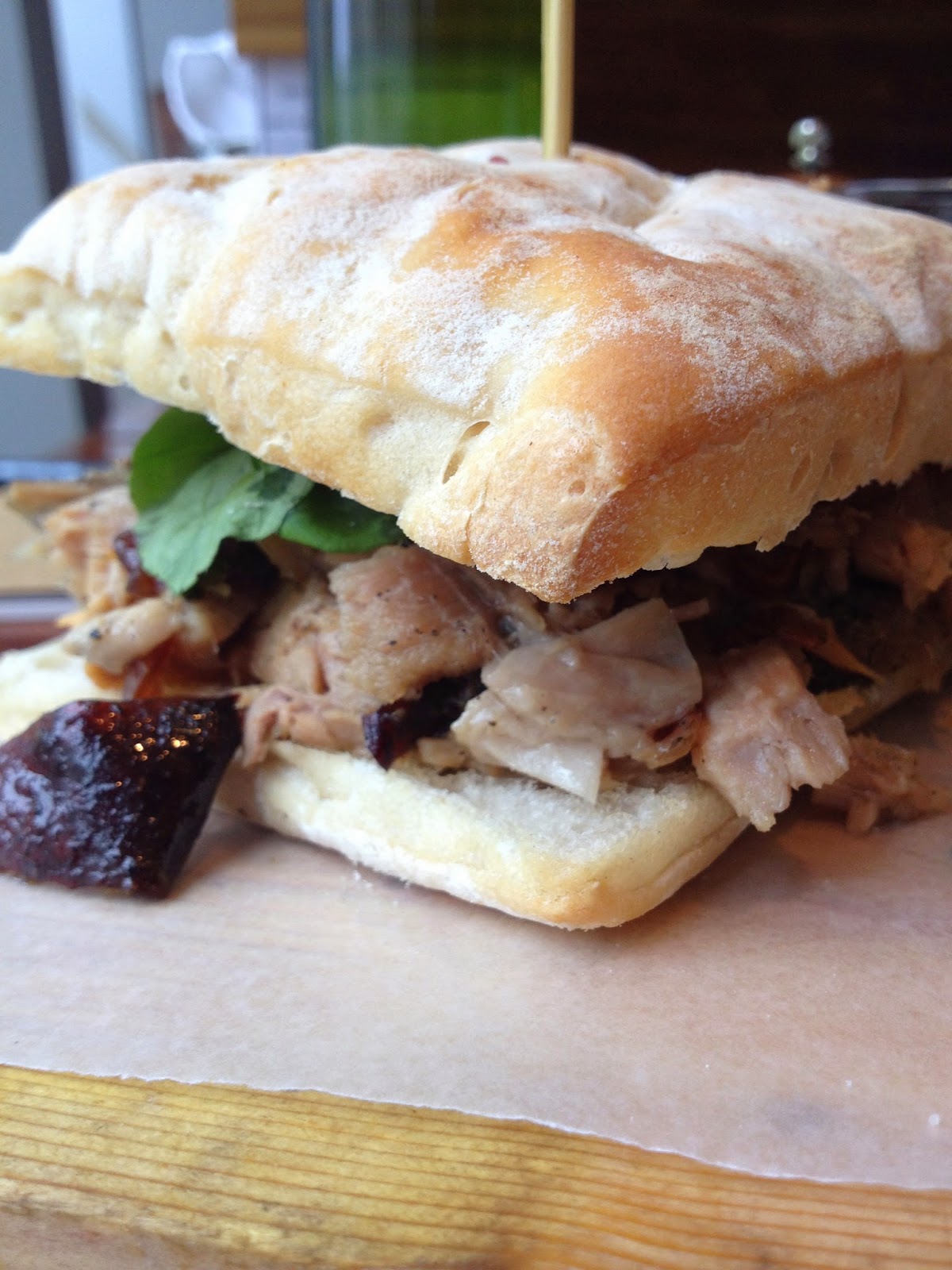 Here's a closer look on the Porchetta. Looks very good, right?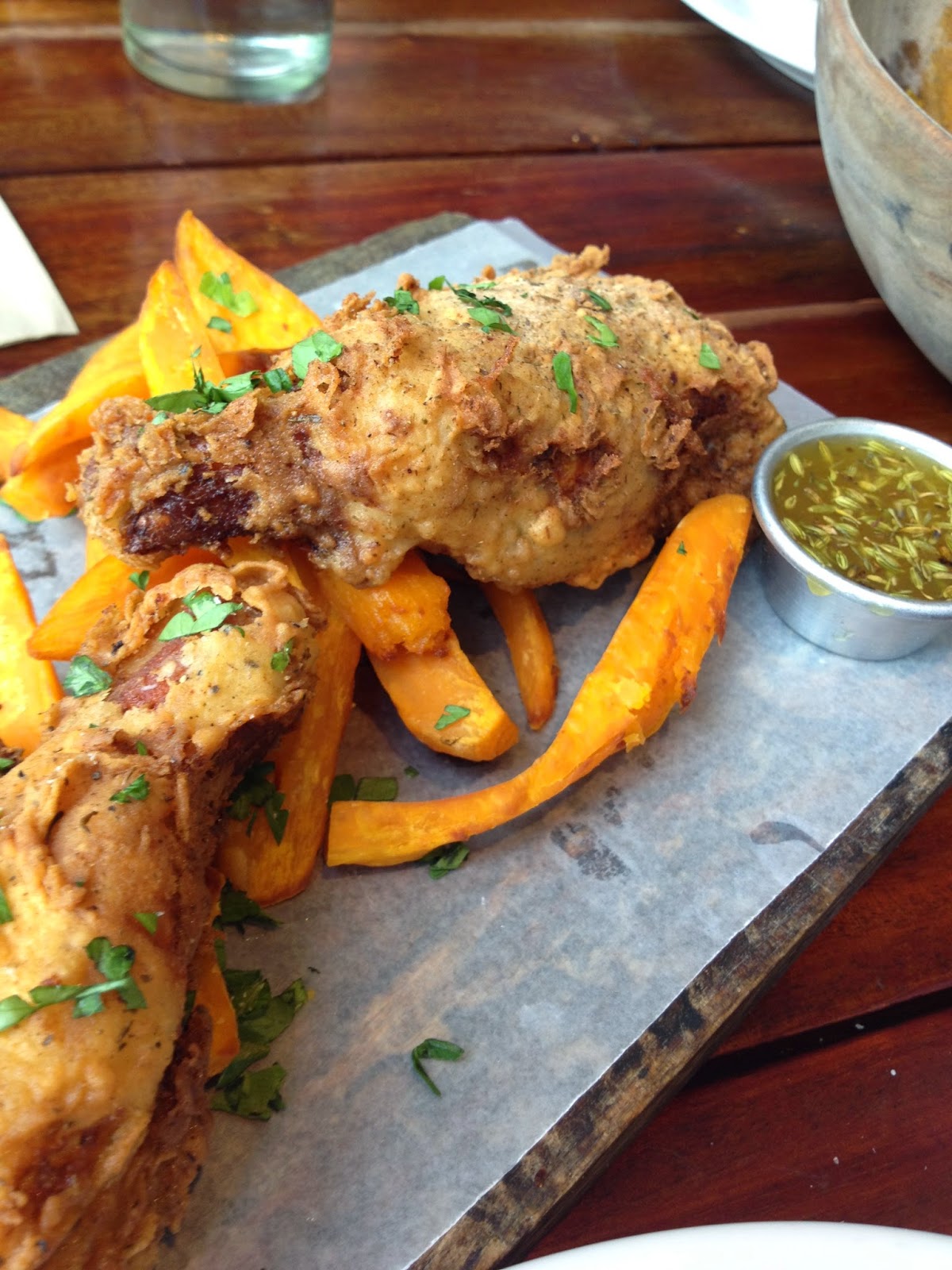 This is the Duck Fat Fried Chicken – and it's soooo tender! Kailee loved this and I liked it too! It was so very flavorful! The skin was crispy and the meat was very juicy and oh so very tender! The bones of the chicken were practically non existent! Haha.. The magic was in the sauces – the roasted catsup (Kailee loved this and ate it all!) and the honey something (this was marvelous, I can't explain it but you know the taste of something that you don't like but you like? The type that you know the taste is weird YET you still try it every time? Ganon!). Oh my gosh. I was so bowled over with the combination. Winner!!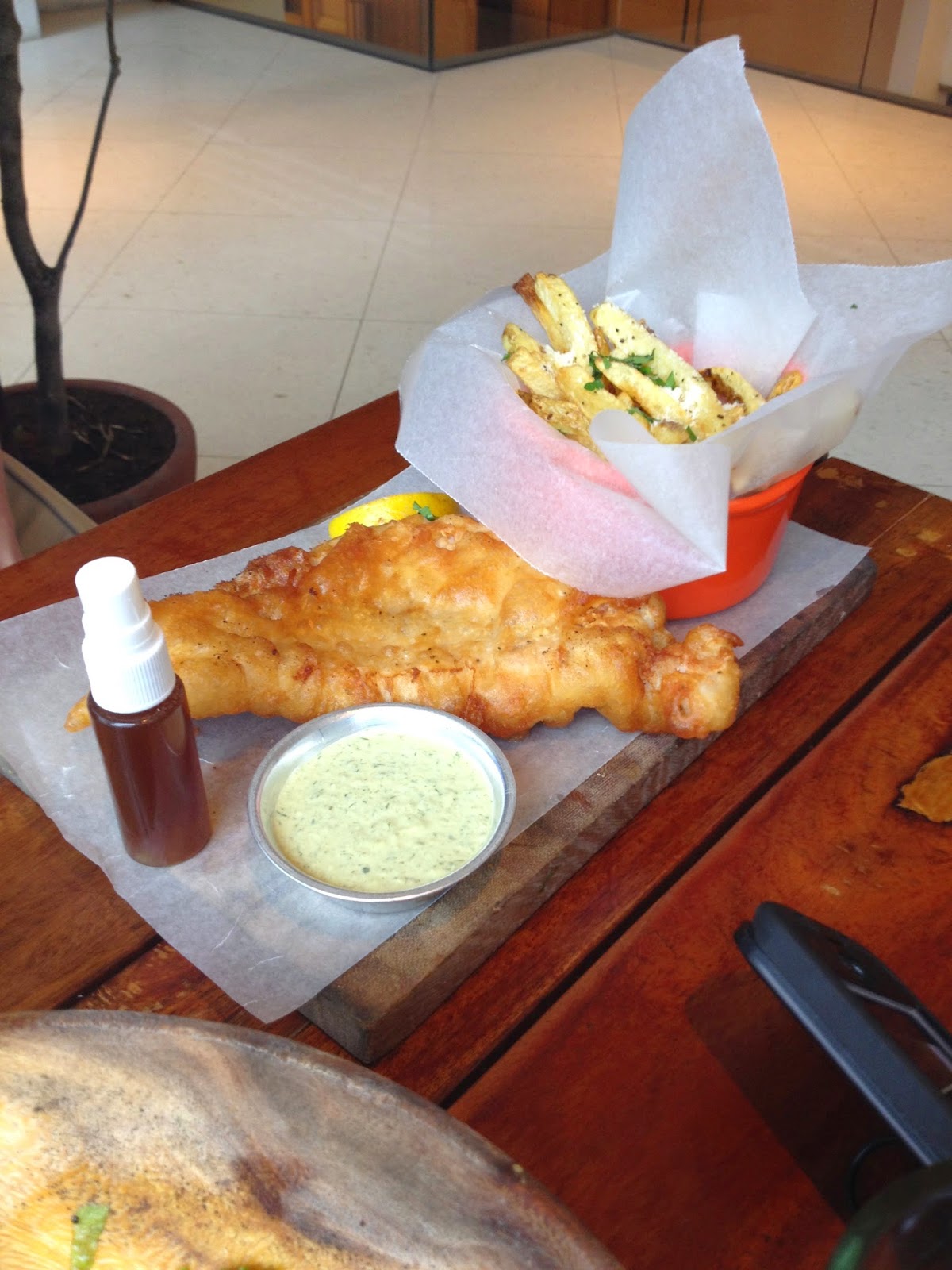 This is the dish that arrived so very very late. John, who was very nice apologized for this and said that there was something with the kitchen because all of the fish and chips orders were delayed. Fish and chips for me is a very basic dish that you just get as a back up in case you're undecided on what to eat. So if you aske me, I don't usually get this – unless I am unimpressed with the restaurant, but my Panget wanted something 'healthy' so he got this. Since it arrived late – it was freshly cooked. When my Panget cut a piece – you can still see the steam from the fish meat. He had to wait for a few seconds to eat it. But he was too hungry! So I just gave him my Porchetta. He then tried the fish and wasn't impressed. I on the other hand was liking it. The fish was really good and light, it wasn't the ordinary dory fish that most restaurants serve for their fish and chips. It tasted really fresh – I was impressed with the body of the fish. Add the spritzer vinegar and the flavor comes out. The breading too was lovely as it was very crispy!
We again enjoyed our meal at Green Pastures. The service was also impeccable – I have to say that service makes a huge huge difference. Thank you to John – thank you for your wonderful service to us! Kudos to the staff and crew behind Green Pastures! You have a fan in me!!