I have a confession, the first time I explored the area of Bugis – specifically the Arab Street area was in 2019. This was because this was the area of our hotel. I fell in like with the place because it was so colorful and I felt the place has so much character. You see, I feel that Singapore really is a melting pot of cultures. One of my high school teachers kept mentioning this and I only understood what she meant when I visited Singapore for the first time in 2004.
Because I wanted to expose my children to this kind of culture – I wanted to bring them to the area for them to see for themselves, that in Singapore – there is diversity. So this was the first place we went to after settling in our hotel. We took the MRT, and got off the Bugis station – we then took the Bugis Station exit and walked towards Haji Lane.
During my last visit, I found Haji Lane very charming as it was filled with restaurants, bars and small independent shops. I found it very cute and quaint. I promised myself that I would come back again – well, we did plan to go back – that was last March 2020. The pandemic started and so all travel plans were scrapped. It's been more that two years and so I was so eager to show my children and enjoy the area.
We got there on a Thursday afternoon – I was surprised to see that there were people already there. As we walked down the small street – well, I noticed that some restaurants and bars were closed. As we walked further down the road – I noticed store spaces were empty, it was only then that I realized that everyone was affected by the pandemic lockdown. I felt a bit sad to be honest – I mean, I never thought that stores in Singapore would be affected like how businesses were affected in the PH. It's truly worldwide – what a sad thought. Panget and I pointed out stores that we remembered that we visited in 2019 – they were now empty spaces. I saw some new constructions of stores – so let's hope this is a new beginning!
Another reason why we were at Bugis was because I wanted to eat something middle eastern or arabic. Keyword to remember – I, that means me, myself and I wanted to eat this. Nope, I did not consider if my children will like it – I honestly took a gamble. I thought, in case they didn't like the food – which was most likely they won't like it – we can just run to a food court in Bugis Junction to feed them. I knew that I wanted to try out Tabbouleh Restaurant because it was what I saw when I googled 'kid friendly restaurants in Arab Street'. Tabbouleh is very easy to spot because its blue facade – it's quite unique and stands out. I motioned the staff that we needed a table – and that we were 6. It was late in the afternoon so I think we were too early for the dinner crowd, thus we were the only ones there.
Panget told me to order since he'd like to walk around the street and let the kids see it some more. I was honestly nervous because I didn't know what to order for the children, yikes! It's a good thing that the menu had pictures. I really appreciate menus with pictures especially if the dish is foreign sounding – it give us tourists a better grasp on what the dish is about.
Tabbouleh is a Lebanese restaurant, I've honestly NEVER tried Lebanese cuisine. I was ordering blindly hoping and praying that what I ordered will would edible (for my children). I ordered the following:
– Cheese Pizza (please don't ask me why)
– Fish and Chips (this was for Kailee)
– Mix Grill for Two
– Mandi Set of Two
What arrived first was the Cheese pizza. Kailee and Connor loved this – I think we were too hungry to think and just ate it, haha! Next to arrive was the Fish and Chips. That dish I ordered for Kailee – because I knew the she liked fish and chips – but she didn't like it because there was a spice on the fish, but Shobe ate it the most, she enjoyed it! There were fries that came with the fish and chips that Connor absolutely loved – he kept asking for more fries! Panget said that the fish was good and it was – it was an arabic fish and chips, if you know what I mean. Panget, Yaya B, Shobe and myself liked it.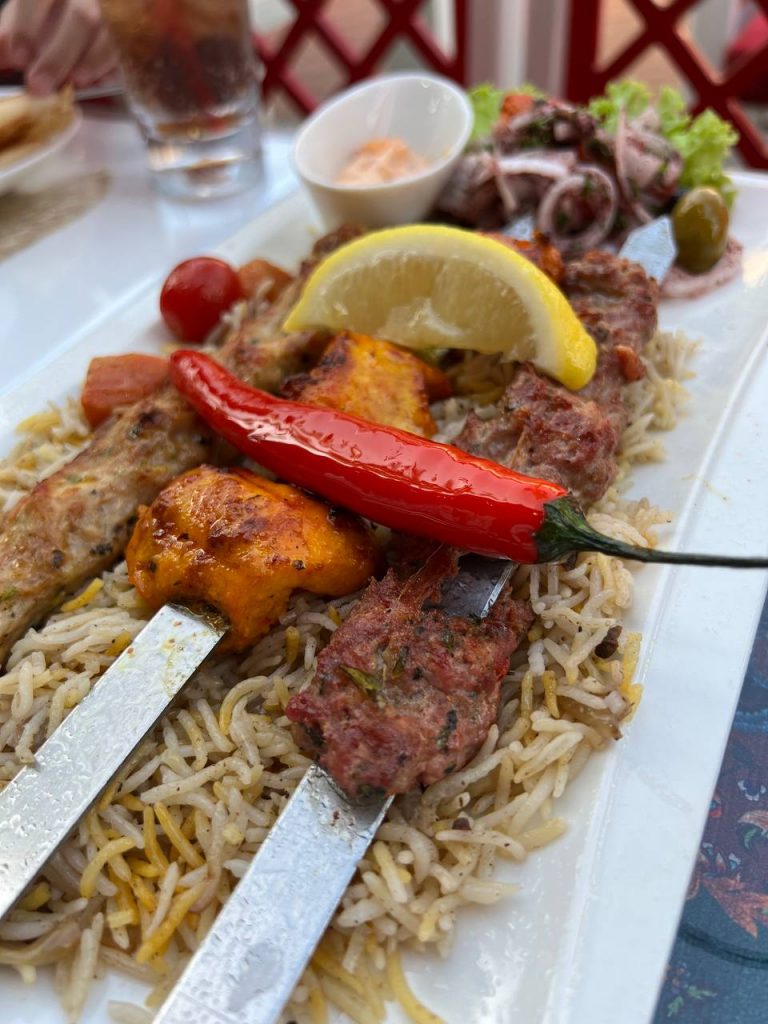 I was really waiting for the Mix Grill platter to arrive and when it did, the aroma was just wonderful. I immediately scooped the rice and ate it. IT WAS SOO GOOD! I mean, pikit mata good! It was so good that I ate more and more, every spoonful that I ate – I uttered ANG SARAAP. This made Kailee curious and say out loud that she wanted to try the rice, and when she did she became an instant fan! It think we were all enjoying the rice so much! The grilled meats were also perfectly seasoned and came out hot hot hot! We were warned that the metal skewers were still hot (from the grill)! Last came the Mandi set for two – this had a leg of lamb (well, I think it was a leg) and chicken – they were grilled too. Panget said the lamb was very very good. I trust him because I don't like lamb (sorry!) He showed me how the meat was falling off the bones.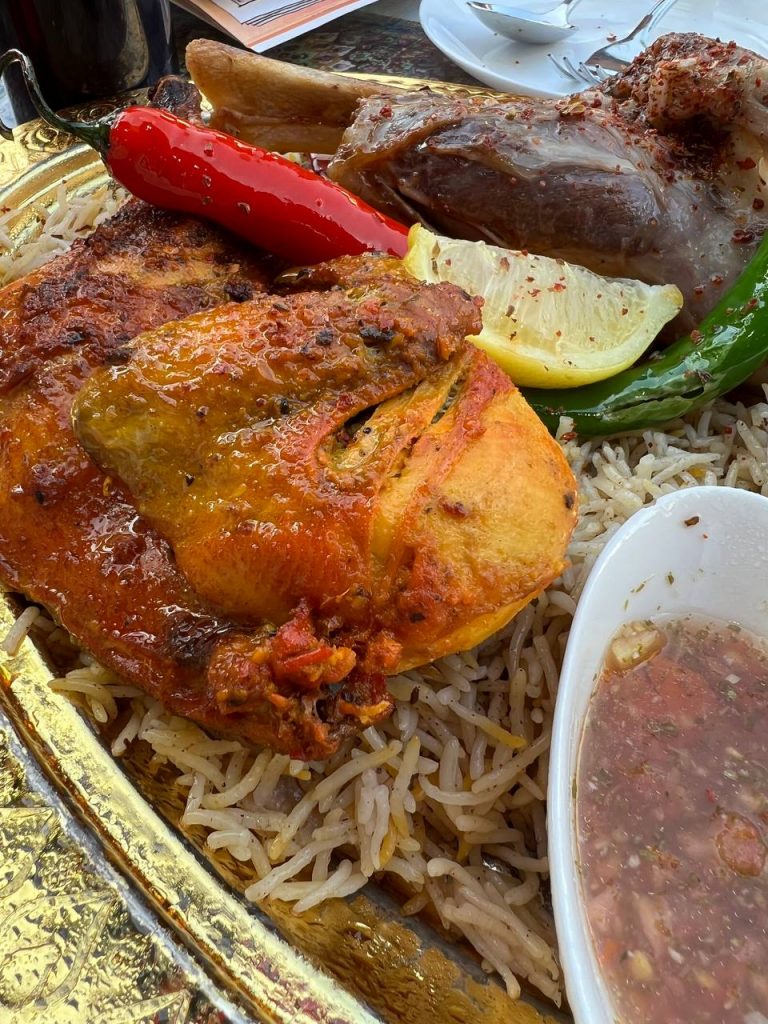 I made sure to give Kailee & Connor portions of the chicken kofta, the mandi chicken, and the lamb. Kailee liked all except for the lamb mandi, Connor LOVED ALL of the meats! He didn't eat the rice because his carb of choice were the fries! Kailee like me loved loved loved the rice! Yaya B was also saying how great everything tasted, Lebanese food rocks!
The rice, I just need to emphasize on the RICE. I can't tell you how much I loved it, I ate and ate and ate. I didn't care anymore to identify the spices, basta it's super duper good! I think I saw on the menu that it says the rice was made with 7 spices. I so enjoyed it, you can ask Panget, Yaya B and Kailee, hahaha!!

If you ask me, the meals I ordered were enough – but guess what?! Panget complained that he was still hungry! He then asked me to order Lamb Mandi again so I did. And when it arrived, it was wiped out – Panget ate most of it, I gave some to Connor and Yaya B because Panget couldn't finish it all. Panget kept noticing how soft the meat was and it was really falling off the bone! I think that impressed Panget the most.
Overall, we enjoyed our meal so so so much. We LOVED it! Every dish was bursting with flavor, it's not subtle at all – but it wasn't too much in your face. It was just right that you'll enjoy every bite, you'll keep eating and eating – and that I think is a true test if the food is good! It's so hard to stop eating! Hahaha.. The taste profile is just amazing, it hits all the right spots at the right time.
If you ask my children what food they enjoyed the most during this trip – it's hands down Lebanese cuisine! My heart is bursting with pride because they enjoyed the food that I picked for myself. Hahaha! I told them, that they have tried a cuisine that not everyone has tasted – and this somehow pride in their eyes! It also serves as in ego boost if you ask me! Hahaha.. I'll take that ego boost anytime, I'm so happy for my children and for myself! Hahaha..
So, if you have time AND if you are willing, try this restaurant. I know it's not for everyone, but I promise you – it's really really good!
These might interest you:
Traveling to Singapore this 2022 – What you need to know, do & have before going to SG
Staying connected in Singapore 2022 – Sim cards and data
Traveling back to Manila 2022 – One Health Pass before the check-in counter and ARTs