When the idea of an #EnhancedCommunityQuarantine was brought up, my Panget told me that we should stock up on food and some essentials. I guess essentials mean different things to people because we were alarmed that people started buying a LOT of bathroom tissues! But I guess priorities are aligned differently. But who are we to judge, right? What I have learned with this #ECQ is to look for reliable suppliers. Before the lockdown occurred, I was lucky to have found a seafood supplier – Malabon Fresh. I just found them on #Instagram. I tried them and was very happy with the service. I guess it was meant to be because they are now my ONLY seafood supplier. Fast forward to when the lockdown began, I was lucky enough to be included in a Veggie delivery group. The prices were fair and I loved that you just need to message them your order and voila – it gets delivered the next day! This particular group became a community and so many others joined. There are really good souls in the planet because a few customers stepped up to help the supplier. It was a true to life bayanihan spirit because, strangers practically helped the veggie supplier out to organize their orders. Until now, I am still ordering from them. As for the meat supplier, it just so happened that a friend sent a screenshot of an intstagram account of a meat supplier, I tried them out and was very very happy with the products. I am sharing them to my readers because I believe that sharing is caring. Please be respectful to them and extend them your patience. Remember, they have the right to refuse to serve you if are disrespectful. We live a different time now, and so kindness and trust goes a long long way. So who are they?? Here they are!!
MALABON FRESH
Seafood Supplier
Joy and Jigger are a husband and wife team. I discovered them in Instagram before the lockdown happened. I was looking for halaan and I asked for their price and found it very very reasonable. When the package arrived at home, it was packed neatly and the halaan was very fresh. I ordered again and then during the lockdown, I ordered again for my household and my inlaws. We're very happy with them.
What I like about them is that they pack their seafood properly – and it's cleaned already!
Please extend your patience when messaging them as they are handling quite a number of customers. We live is a different time now and we all have to be reasonable and understanding. These people risk their lives to continue serving us.
THEO'S HOLISTIC FARM
Veggie Supplier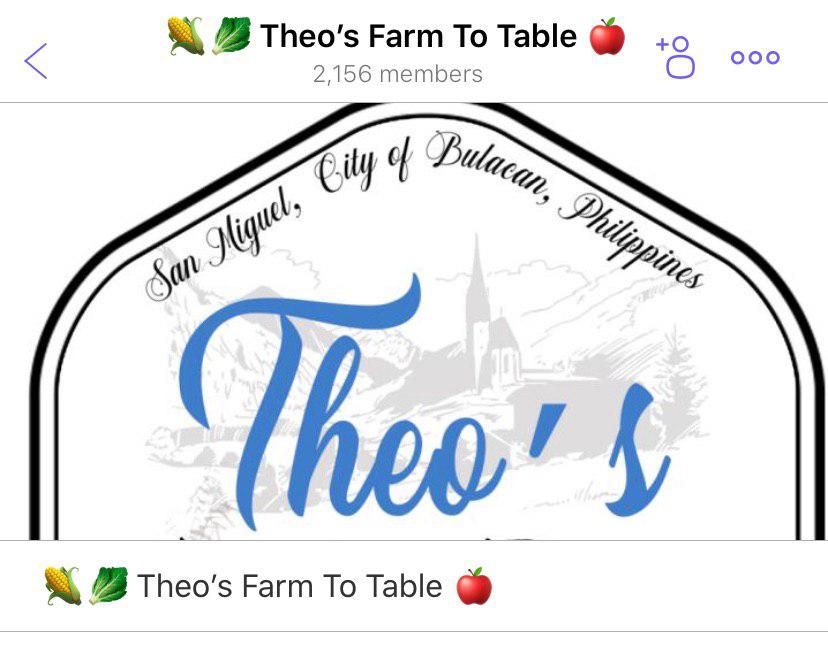 I was added by a friend to the group, first we were less than 200 members and then it ballooned to a thousand. Dennis and Edith are still serving those who order. They have met a few setbacks but are overcoming them one by one. Their system in ordering is still a work in progress but I'm quite happy with the produce delivered to me. I do understand that there are some who are unhappy with the quality of their orders, but I am very lucky with mine. I guess, it's really a risk. There are a lot of veggie suppliers out there, but I am a creature of habit, so I just return to my trusted suppliers. I would message them personally for complaints, but that's just me.
URBAN MEATS
Meat Supplier
I was desperate and my supplier of choice had decided to stop taking orders. A friend just sent a screen shot of their IG account and I just took a chance and ordered. Price wise I thought it was higher than others that I've seen. But when my orders arrived, I was very impressed to see that the meats were packed NEATLY and LABELLED properly. It was labelled per pack, mind you – in bold readable letters. Their beef belly sukiyaki is good, it honestly looked rubbery (because of the cut) and I was nervouce, but when I cooked #gyudon and ate it, it was perfect! It wasn't rubbery at all, the beef and fat ratio was just perfect. Their liempo, lechon kawali, pork steak and ground pork were very good. Walang amoy! The taste is very very malinis! When this lockdown is over, I will not buy in the supermarket na, I'll just order directly from them. I swear their meats are goooood!!! I'm a very very happy customer!
Again, these are my trusted suppliers, so please extend them your respect and patience.
Please do not anymore bargain or be picky. Let's just be happy that they're doing that they are doing to assist us in this trying time.
THANK YOU Joy & Jigger, Dennis & Edith, and Candice.
THANK YOU TALAGA!