There's something with Korean food that I really like. I think it's the pieces of meat that they serve and the grilling & cooking of them right in front of you. I feel it's 'healthier' since you don't use any oils to cook it. I love seeing all the drippings after meals. I feel a bit healthier. Hahaha!! I think I also really enjoy the experience of cooking the meats as you eat them. It's fresh off the grill! My kids call it 'luto luto' Last weekend, we were able to try Soban K-Town Grill in SM North Edsa. Soban K-Town is one of the Korean restos handled by Happyfoods Group of Restaurants. I have personally tried Sariwon (this was their first venture) so many times and I really love the quality and taste of the meats that they served. It brought me back to when I was younger and visited Seoul, Korea for the first time. Everything was quality. I would remember those meat pieces being neatly folded around a piece of square bone. It was also during that trip that I realized that we can use scissors to cut the meat! I was pretty amazed and surprised to see it. It was an experience I will never forget.
When we entered Soban K-Town Grill, the place was packed with diners. It was full on a Saturday noon time. And I think that's a good sign with how good a restaurant is. We were then shown our table and given menus to peruse. We chose the set menu for 4 people. Read through the text on the image to see the itemized list of food. Everything looked really good on the menu! Pictures really help you know. I'm not a very imaginative person, so menus with pictures, I really appreciate.
These were what was included with our chosen set. Unlimited appetizers! My Panget really LOVED the Kimchi and declared that it was the best he's tried in the Metro. He said that most of what he bought were not as good as this one. I trust him on this as I don't eat kimchi. Hihi.. It made a really good impression on him because he told me that if the resto was selling it, to be sure to buy! That's how much he loved it.
The peanut and dilis side dish below – I really really LOOOOOOVED! I told our server May that it was so good! I love love peanuts and the sweet taste complimented this wonderful appetizer! I can't stop thinking about it. Hahaha! While having it at the restaurant, I was thinking and hoping that they sell this by the jar! I would be the first one in line to buy it for sure! Haha..
The soup below was so comforting. I was expecting this to just be a generic thin broth, but I was so surprised to taste a hearty soup with body and warmth. The flavor was present in every sip it was perfect to have on a rainy day. It was comforting to be honest, something that I would like to have when I am under the weather. I know it doesn't look much – but as they say, don't judge a book by its cover! I had three refills of this.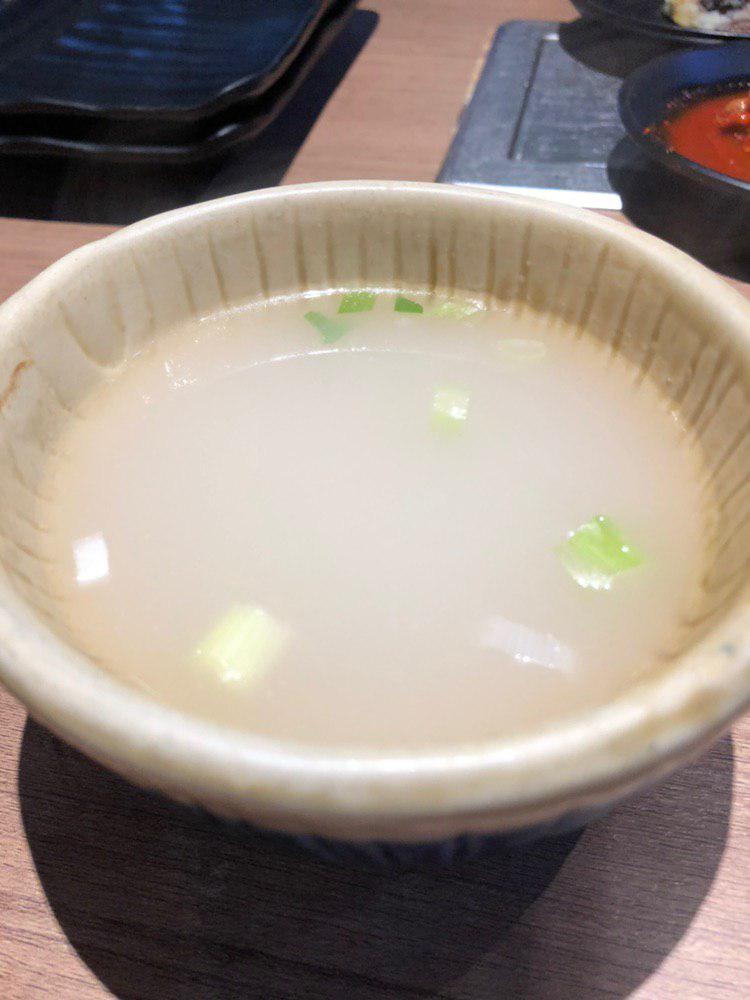 Below is the Kimchi rice – it's something different my Panget said. We tried a bowl just to have a go at it. I never expected it to compliment the meats as I thought that too many flavors would confuse the palate, but it didn't! We decided though, to have plain rice on the succeeding bowls (yes, rice is UNLIMITED!) so that the flavors of the meat would really stand out.
This is the Dak Ganjeong – the chicken dish. We felt that this was a bit dry, but the taste was there. I would love this to be served freshly fried – the batter was crispy and flavorful.
This is the Yangnyeom Tohsisal (marinated beef) in Garlic and Soy. This was so good! I don't usually lean towards those marinated meats as I am afraid of the freshness. I love the generous serving of the marinade. Look at the image below – those in top of the meat are all bits and pieces of marinade. Fresh, right? The bits of garlic when grilled was superb! I was picking up the small pieces on the grill! Hahaha.. I like to cook my meats, especially the marinated ones a bit browned so it'll taste caramelized.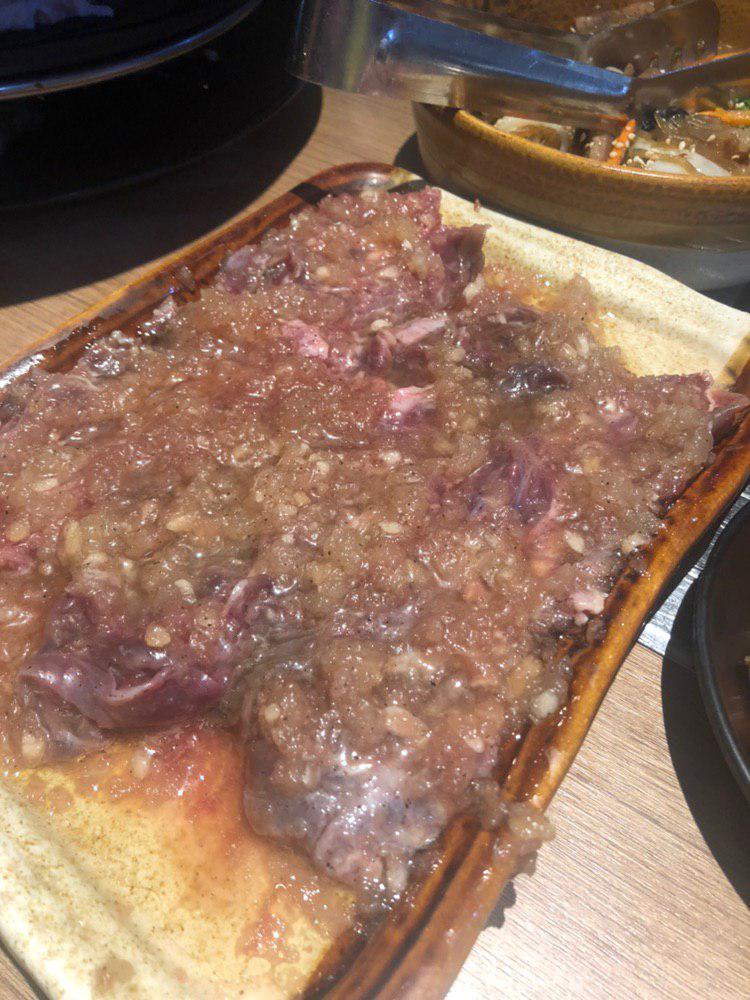 Below are the thin slices of meat. Look at the marbling. I was impressed when I saw it because I was used to those served in the popular eat all you can places and they do not look like that, right? The slices were all even and was served in a symmetrical manner. I like that they have a stainless 'stackable' thingie that saves so much space on the table! That I must say was brilliant and well thought of. These thin slices of meat are always a favorite of Connor and Kailee.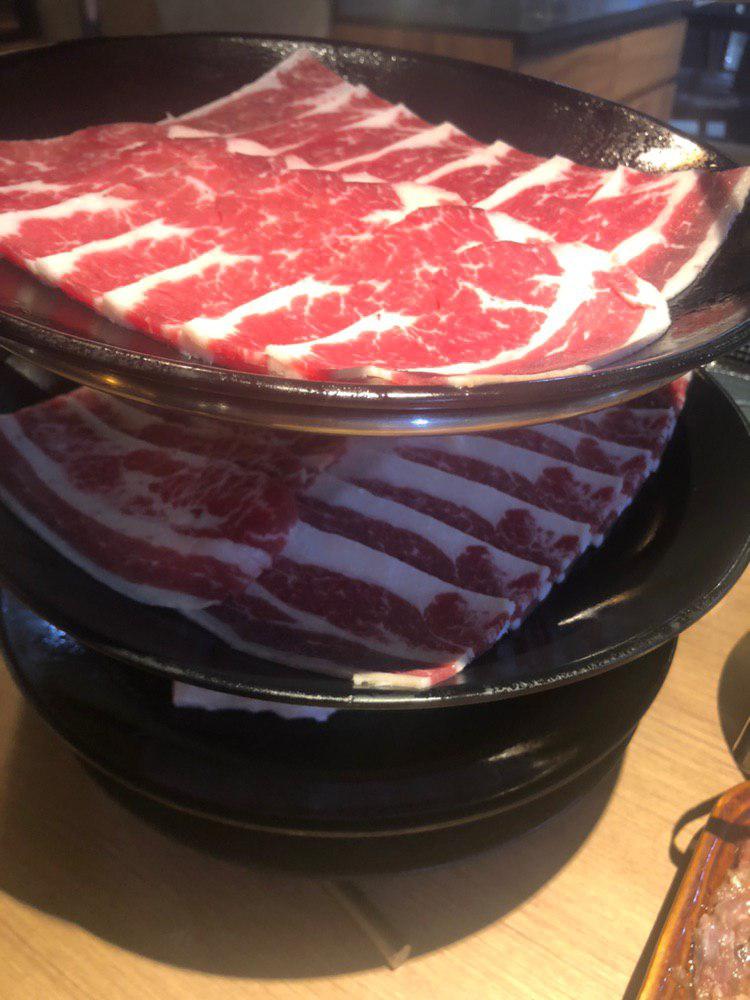 I have nothing but praised and looove with the Pajeon. This has to be the best I've tried. It's perfectly crisp on the bite PLUS the seafood toppings were generous. I especially loved how the shape is an even rectangle shape! I loved it more because it was already sliced evenly when it was served! I must confess, I ate 3/4 of this. Hahaha! I really liked it so much that I kept repeating how much I liked it to my Panget! I even told May our server about this. Hahaha!!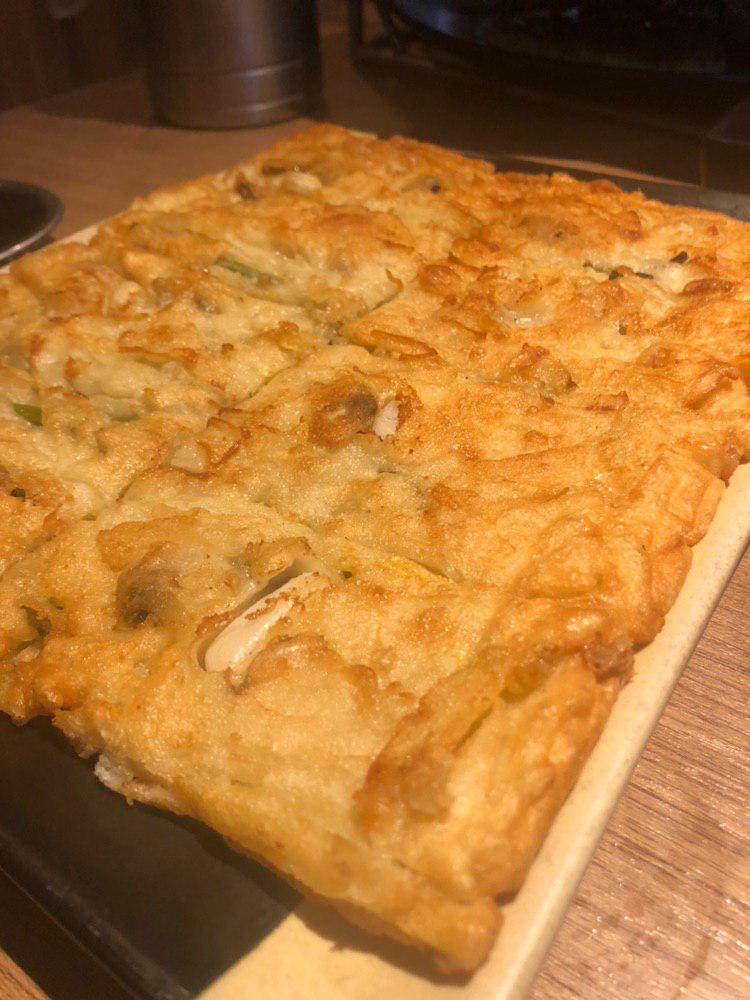 The Japchae was also good, Connor liked it so much and was so happy with it that he asked for more. He ate most of the Japchae without much prodding. I was so impressed with Connor because most of the time, I need to remind him to take spoons full, but this Japchae – effortless. I was watching him eat and he noticed that I was admiring him, he just said 'It's yummy, mommy!'
Because we were very hungry and excited – this was the only picture of the 'grilling' that I was able to capture. My Panget was the one who reminded me to take a picture. Hahaha! We were almost done here as you can see only a few pieces of meat were left on the grill.
This dessert was a pleasant surprise. It was a welcome end to the meal – it cleansed the palate quickly. It was after having this dessert that we realized my Panget and I ate so much! The set menu was good for 4 people – we were 2 adults and 2 kids. I asked my Panget had it been 4 adults, would the servings be enough – he said it would because of the chicken, the pajeon and the chapchae. The side dishes were all unlimited so he said – it would be enough. They won't be filled to the brim, but they well leave with filled tummies. I told him that the meat pieces were good too, he also noticed that.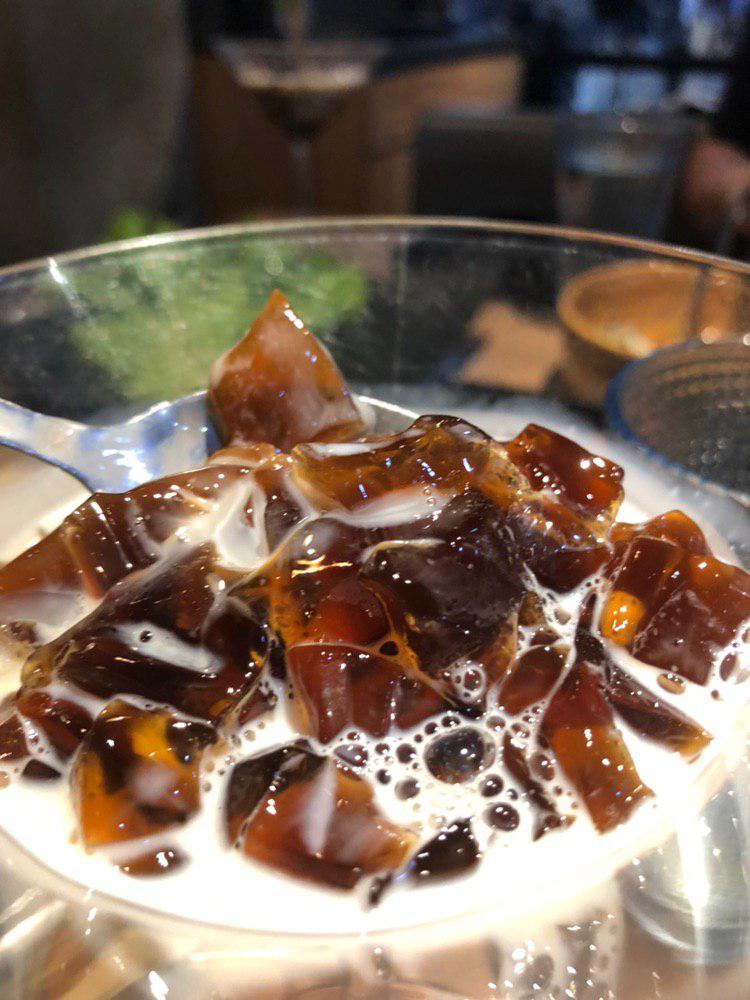 We enjoyed our lunch immensely. The staff and servers were very knowledgeable on the menu and the meats. It was so easy to ask them because they had ready answers and mind you THEY LISTEN to what you ask. The really know what they are doing. Our server was May and she was so pleasant and helpful. If you do visit SM North Edsa, please look for her. Believe me when I say, she will give you a very pleasant experience – from explaining, to serving to taking care of your every need. This exhaust was something I found strange at first. In my mind, was it too much that it had a protective grill around it? While grilling our meats, I then realized that this was perfect – mainly because it was permanent. The long tube wasn't moving from left to right – which means no one will be accidentally bumped in the head. I saw too that there was a chain around the exhaust tube – this was so the tube won't fall directly to the grill when one adjusts it. Brilliant, right? I love how they think about these simple things – simple, but very practical and safe!
Their exhaust system works really well too, because the restaurant didn't smell too grilly nor was it ma-usok. You know what I meant – there is no sight of grill fumes everywhere. No overpowering scent of burned meat or garlic. The aircon was cool and while grilling, it never felt too hot. The floors were not slippery, the tables were not greasy. The thongs and scissors were not contorted to different shapes nor were they dull. Plates used in placing the meats were clean and not watery or slippery. Everything seems to be quality controlled which is very very impressive. I must say my whole dining experience with Sobran K-Town Grill was wonderful that I will want to come back when I have a Korean food craving. I know that I will be served with quality meat and my experience will be very pleasant. Soban K-Town Grill has branches all over the Metro: SM North Edsa Greenbelt 3 One Bonifacio High Street SM Megamall Robinson's Place Manila Eastwood