One of the things I do not look forward to when it comes to chores is washing dishes. When I was younger, I would volunteer washing dishes – mainly because I wanted to play with water. But as I grew up, I found it really tedious – I'm OC so I make sure to use extra dishwashing liquid to really clean the dishes. Using more dishwashing liquid meant – drier hands. It's the chemicals really, right? Having a new baby entails a LOT of washing. Washing bottles, teethers, toys, breast pump parts, utensils and etc. It's a never ending cycle really. But what made me a bit worried was – how do I wash all the bottles and breast pump parts while traveling? I was stumped to be honest. I recall brining along a hand carry trolley that had ice packs to store my milk and pump parts – but that was traveling without any children. It's a different time now – we mostly travel as a family – with two older kids + now, Shobe. How will I do it this time? It was a thought that made me think hard of a strategy. A days turned into weeks, weeks turned into months – and I was stumped. I couldn't figure it out. I was ready to accept that I had to carry an additional bag for all of those things. Then one day, I saw on my IG feed – Nimble Philippines. I was really curious on the Milk Buster, so I inquired and bought myself the big spray bottle.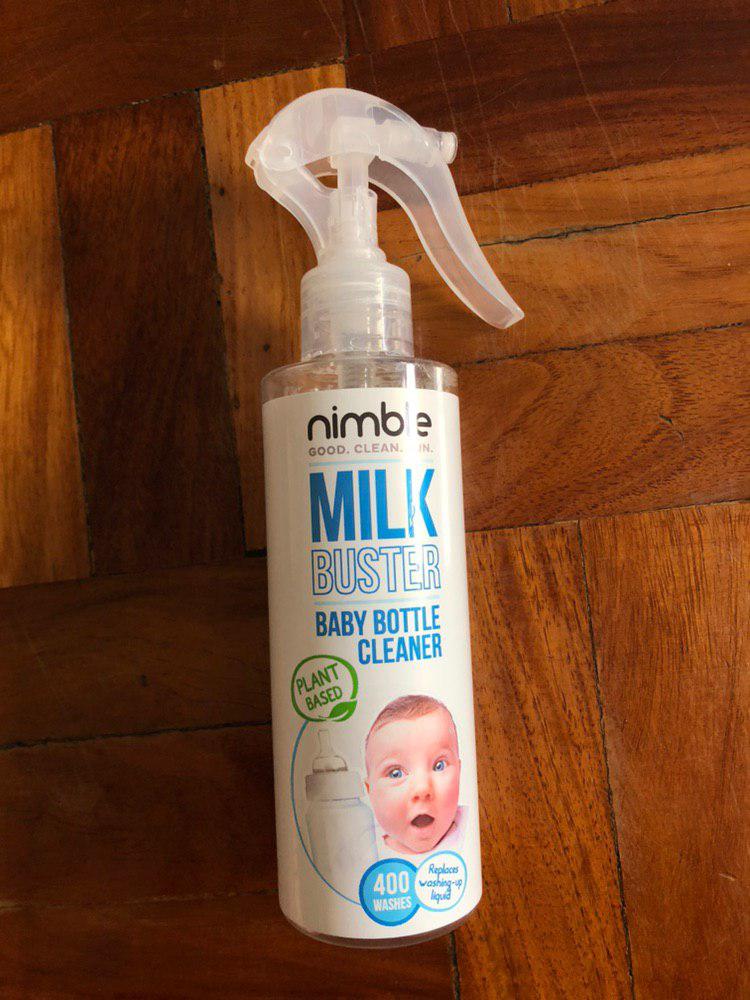 When I got it, I immediately tried it out on a bottle that I recently used. I made sure that the bottle was oily (You know oily breast milk is) I followed the instructions, and it said to spray it two times, put in water and shake. So I did just that. In my head this phrase was on repeat 'please work! please work!' because I really wanted it to work! So when I opened the bottle and emptied the frosty water content – I made sure to test it. I put my fingers inside the bottle and tried to feel if it was squeaky or if it was still greasy. It was squeaky! I was really amazed because most of the time, with regular bottle cleaners – my Yayas and I would always need a sponge/silicone bottle brush to clean out the bottles! It was ALWAYS that way. These brushes were needed to make sure that the bottles are squeaky clean. It was a concern for us if the bottle was still greasy, if it was – we would always make sure to wash it again until it passed our standards. Can you believe it? There was no need for any type of bottle brush to make it squeaky clean! That's when I knew that Nimble's Milk Buster is a winner. Not only was it handy and convenient, it is packed with the right amount of power to take away the greasy breast milk residue. Yaya B was also impressed because it has cut her washing time into half! We would still occasionally check the inside of the bottle for the greasy feel – but every single time that we do, we end up shaking our heads because – the Milk Buster is the real deal. I was so happy to have come across Nimble's Milk Buster in Instagram. I swear, it has been my companion since purchasing one. I have it in my pump bag ready for battle for when we go out. I am very happy to have found it at a perfect time too! It was meant to be, really meant to be. To show you how easy it is to use and bring around:
I had to re-pack the Milk Buster because of the Airport/Customs restrictions – but it's still Milk Buster inside the slim spray bottle. (Just so you know – Nimble Milk Buster really has a TRAVEL size, but I decided not to get it (at that time) because the hoarder in me always thinks of the worst case scenario – I feared that the travel size wasn't enough for my personal use! Hahaha.. But when I got back, I realized that the Travel size was really enough. Hihi) Watch the video below:
I am really in love with Nimble's Milk Buster, it's reliable, it's super easy to use and so convenient! It cleans most anything too! Baby bottles, breast pump parts, nipples, cups, utensils and etc. I swear, it's the easiest thing ever – it made me look forward to washing my breastfeeding stuff again! Hahahaha.. Nimble Milk Buster is made from plant based cleaning products. It doesn't have any chemicals nor dyes. The original spray bottle is powerful too – I mean at first I thought, was two sprays enough? It is enough! You can add more but trust that those two sprays are enough for to clean a bottle. And the best part it, all you need to do is shake shake shake! You can still use brushes to thoroughly clean – but if you're on the go – then shake shake it is! Cleaning bottles and breast pump parts had never been this so easy and convenient! I don't need to worry about sour smelling bottles that I will bring home after a day out. I can now conveniently just wash them after every use, anytime, anywhere! We are gifted our time back with Nimble's Milk Buster. I highly recommend this product whether you are traveling or not. Please visit Nimble Philippines on Facebook and Nimble Babies on Instagram for more details and information on their products (they have more!). Thank you Candice for bringing it in the country!