This is Riza Tepace.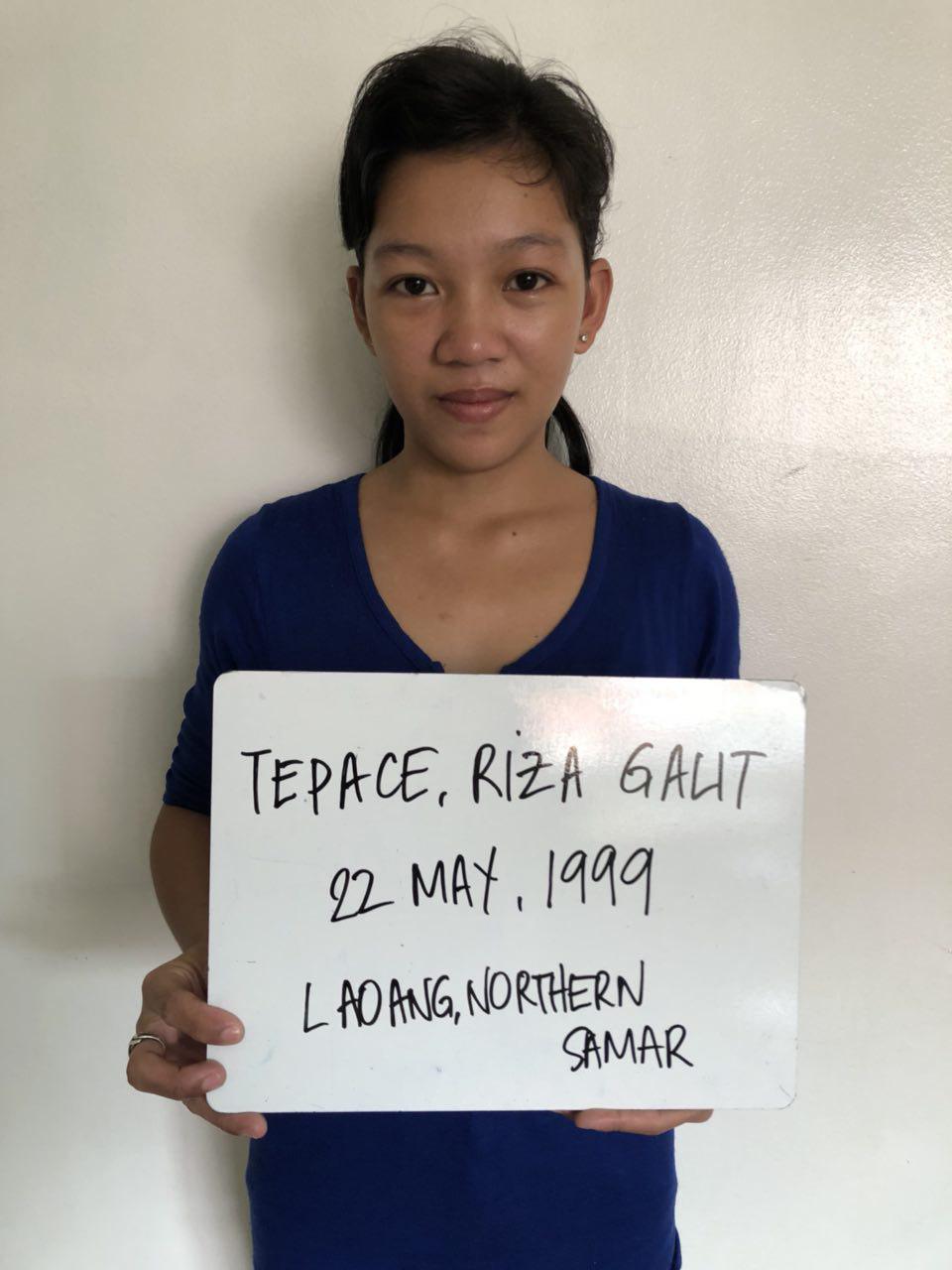 She worked as a helper in my household for a total of 23 days. To be honest, she is nice, hardworking and cleans well. She's smiley and is friendly. The kids like her and Yaya B said she works well. I got her from my mother in law's mom. Panget's Ama was the one who got her for us, there was a transportation fee of P1,500 that we needed to give to the *recruiter* because she advanced it. When I let her into my home, we talked about rules and she needed to do around the house – such has days off and how I go about making bawas the advances we made. She agreed and said that she really needed the work for her son (who is 1.5years old) even if her husband has been bugging her to come home – she told her husband that she was in Manila for just 2 days – how will she afford to go home? I thought, well at least this helper knew what she needed. The next few days went by without a hitch. Yaya B said that she was very easy to teach and she learns fast. The household really felt lighter when she was arrived because of her extra set of hands cleaning the house. Yaya B was much more relaxed and seemed happier. Everyone seemed happier, and I thought to myself, hopefully this was it. I think after a week, my mother in law calls me to tell me that the recruiter called her to ask an advance of P1,000 from the salary of Riza. This was because her family in the province really needed money. I told my MIL that I'll wait for Riza to tell me as I do not like the method of having another person ask for her. But then I remembered telling her that I did not allow advances as much as possible. My MIL tipped me off saying that if I didn't give the advance, the helper will leave. This made me a bit iffy – so I confronted Riza about it. She then told me that the recruiter was the one who taught her to ask for an advance *to test the waters* if I allow it or not. I then told her, that had she asked nicely, I would be willing – as long as she worked for it. But honestly, I didn't like it because she's barely a week old in the household and immediately needed an advance, she told me that she'd be working anyway – to which I countered, what if you suddenly had to leave? She was then quiet. So I asked her how much she needed, she said P1,500 – I said, I was told that she only needed P1,000 – so how come it became P1,500? She said the 500 was for her expenses – like shampoo and soap and etc when she goes out to send money. RED FLAG. I told her, I'd be sending the money as I had a feeling that when she goes out, she might not come back. I asked for the details of who to send money to and she gave it almost immediately. So, imagine – on her first week, she had already advances P2,500. But I guess, she was right – she would be staying and working, right? Yaya B noticed though, that nightly she would get calls from her husband, mother, sister and recruiter. Yaya B said that she always had someone on the phone at night. One time, she overheard the person on the phone asking if she wanted to move employers. It seemed too that her husband was bugging her to come home everyday, she would say that she can't yet as she still needed to work for her salary. As long as she was doing what she needed to do, I had no care in the world who she was talking to. Then last week, during our lunch out. My Panget and I suddenly asked Yaya B how Riza was doing, she then said that it seemed like Riza was going to make paalam to leave when the month ends, she said it might be because her husband and mother has been calling her every night. Riza mentioned to Yaya B that she would make paalam on the 26th. So my Panget and I prepared for it. But yesterday afternoon when I got home from hearing Mass, she went to me telling me that she would be going home when the month ends. She says no one was taking care of her son, it was her mother who convinced her to go to Manila, siya na daw bahala sa anak niya, but the son was too magulo and the mom couldn't handle it. That's why she needed to go home. Being 35 weeks in, I asked her if she can stay until after I gave birth – pakiusap lang since we needed her help. She just nodded. I then reminded her, that when the month ends, – I will need to bawas our advances to her and she will be left with less than half of her agreed salary – she said it was okay, and began to tear up and said she didn't mind that she didn't have a lot of money to bring home as long as they're together as a family – in Tagalog *Ayos lang po kakaunti ang pera, ang importante po is magkakasama kaming pamilya* When I heard it, all I could think about was this was all drama. Panget overheard it and snickered. I told him that I was a bit pissed because she knew my condition, yet she didn't care. I honestly was ready to let her go the next day – I computed the amount and found that her remaining balance was not enough to cover for her transportation back home. My Panget said to wait until the month ends, as Riza might still have a change of heart. After dinner, I thought about it – I gathered, her family might quit bugging her when she sends them money – after all, money talks, right? So I approached her and told her I was willing to advance the whole remainder of her salary, just so to help her and her family. But she declined saying that she has decided to leave at the end of the month. I guess, she really made up her mind. Then so be it, right? I felt really stressed out last night. I was at a loss, I am giving birth in a few weeks and this happens. Looking on the bright side – I was thinking, I still had at least a week to look for help and regroup. Then the unthinkable happened when I got home before lunch. Riza approached me CRYING – she said that she needed to go home NOW, as in right there and then because her eldest sister passed away. I laughed so hard, you know (it may come off as mean, but SERIOUSLY?!) – I was in disbelief of the reason she gave. She then started crying a bit more harder (maybe to sell the drama), but I told her she is free to leave. I then reminded her that what remains of her salary is not even enough to cover for her transportation back. But if she didn't care – then I shouldn't too right? I told her to pack up already, as I didn't want more drama – I didn't need it really. So I prepared her salary, made the computations (even if I made it the night before), so I took out the money and waited for her. I waited for 15 minutes and finally got impatient and went to the area of the helpers. I found her having her lunch. I was surprised, I then asked her if she was already packed – she said she hasn't yet. I was really pissed that she prioritized her tummy first before packing – when minutes before she was asking to leave RIGHT THERE AND THERE. I looked at her blankly, pissed and told her to start packing her stuff. I felt so disrespected and taken advantaged of, I mean – have her lunch first before leaving when she wanted to leave right away. I haven't had lunch too because I had to fix her balance and then this happens? It's really nakakainis! I mean, mahiya naman siya diba? Anyway, when I handed her, her salary it just dawned on her that her salary was less than 1,000. She looked at me and I showed her the computation. She then understood that it was really less than P1,000. So I gave her exactly what was due her, no more no less. After she left, Yaya B showed me a text message coming from *someone* I can only guess was her recruiter or sister or whatever.
Makes you wonder – WHAT WAS THE REAL REASON WHAT SHE NEEDED TO LEAVE? Reason 1: Her son needed her *badly* Reason 2: Her eldest sister died. Your guess is as good as mine.