I LOVE a good steak. Sadly there are only a handful of wonderful steak places within my area. I'm glad though that the steak prepared by Chef Victor impressed me. Thank you Michy for inviting me, I love you to bits!! I'm honestly very happy because finally, I won't need to travel far to have good steak. Vittorio's is located right beside Fanny Serrano's salon along Scout Borromeo in Quezon City. It's nearer to the ABS area, more quiet and less chaotic than the main Tomas Morato area. Going back to the steak – look at that beauty. I swear to God, it was heavenly. Chef Victor cooked it perfect – medium rare. This image does the food justice – it tastes as goodas it looks.
I cannot say it enough, it's a really really good piece of steak. This one is 660grams of beef goodness and it costs P2,050.00, not bad right? It comes with a choice of side dish too, steak rice, fries or mashed potatoes. I will definitely come back for this and I will make sure to bring my Panget with me.
This is one of their starters, the Butter Garlic Shrimp (P270.00)
This is the Clam Pasta (P285.00) with a spice kick!
Loved that the clams are not just a few pieces. I liked the flavor too especially the kick of spice
This is their Mac and Cheese for kids. Kailee would definitely LOVE this.
I'm amazed at the portion size, Chef Victor said that he made this an adult portion because most of the time, the parents eat off their kids plate! Hihi.. (P175.00)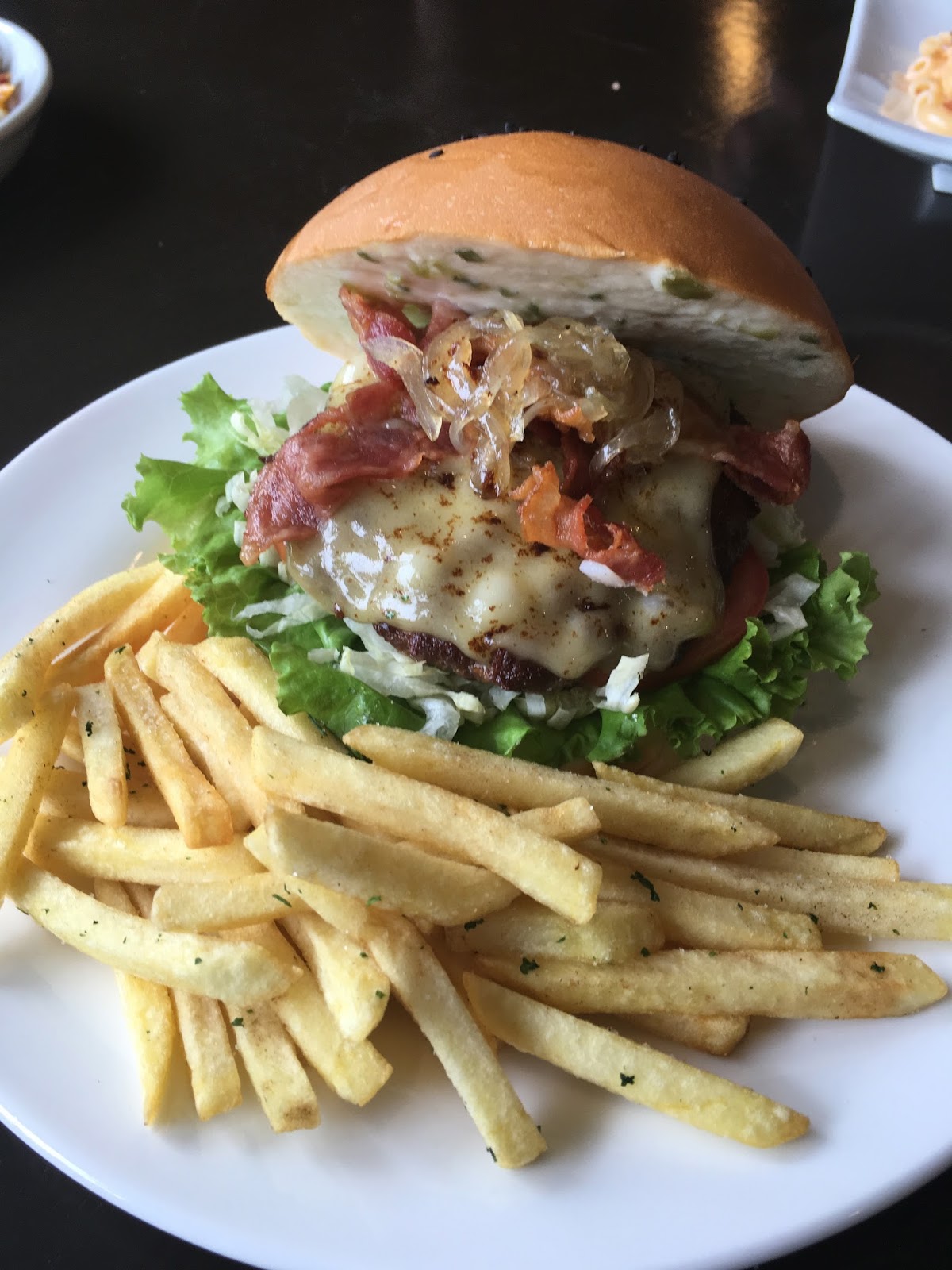 This is another kid's favorite – Burger in Paradise (P210.00)
We wondered why it was big, apparently, this is meant to be shared with one or both parents!
The burger patty is juicy, tasty and not rubbery. I'm sure my Panget will enjoy this hearty burger.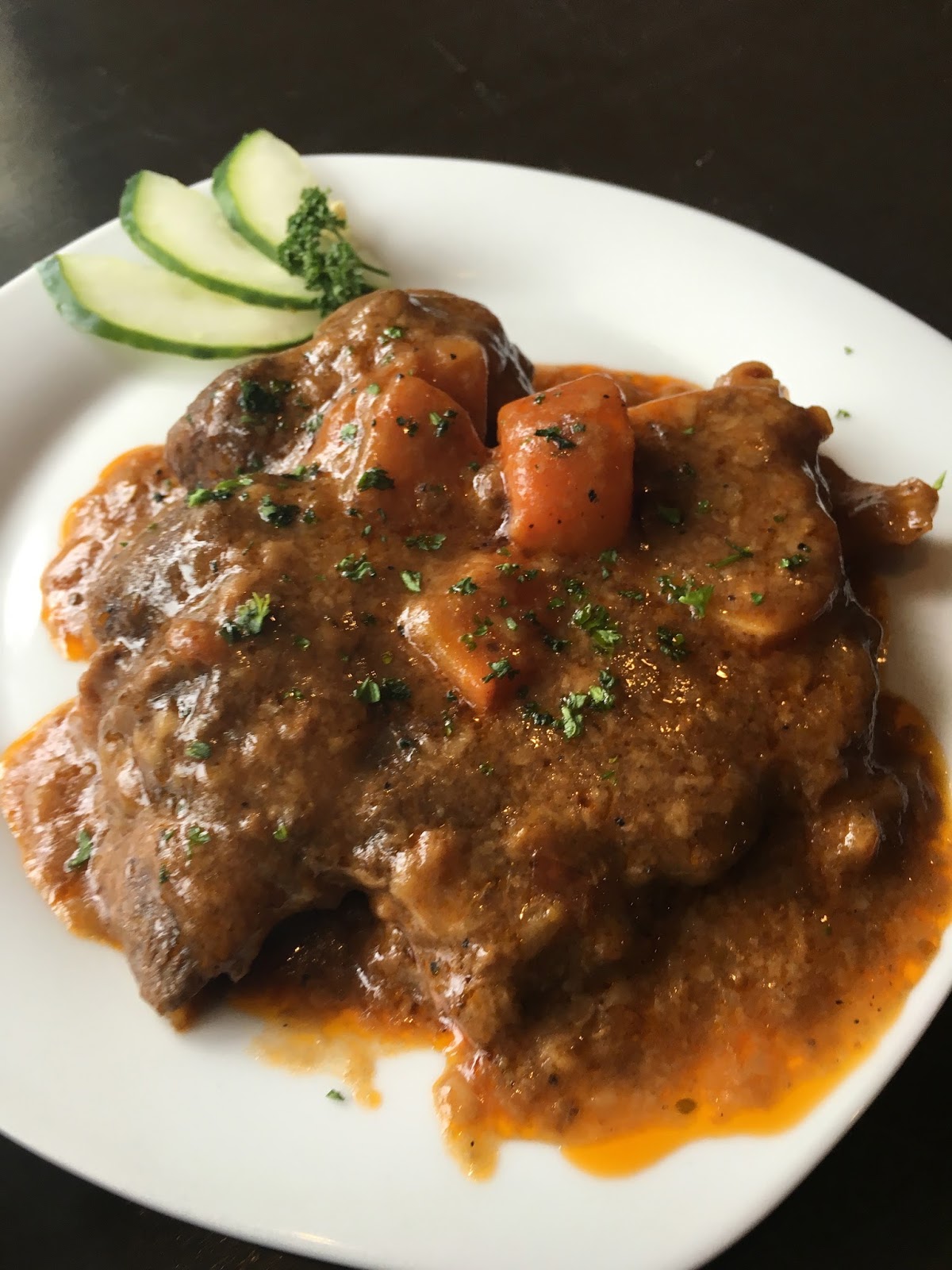 This Osso Bucco (no pricing yet) was tender and flavorful.
I think it was overshadowed by the steak. Sorry!
Here's the Chop Noodle Salad with Miso dressing (P199.00)
The Steak Rice, the side dish you can pair with Steak. I know, I know. Rice? With Steak? Well, yeah I do that some times. Hahaha!! I'm sure every Pinoy has. Diba diba?
Look at Kuya holding the Tomahawk, this 1.4Kilos prices at P3,280.00. What do you think?
I ordered the Chocolate Milk Shake!! I LOVED it. Hahaha! I'm such a newbie with chocolates but this passed my standards. Hihi.. It's P120.00
If you crave for steak and pasta, well – head on to Vittorio's if you're in QC, it's along Scout Borromeo, it's not hard to find – if you get lost just as where Fanny Serrano's salon is – it's right beside it. There's parking space and the road is big, so I'm sure you'll find a spot immediately. They have a security guard that can assist you. I'm excited to go back to be honest, I was so very impressed with the steak. Thanks Chef Victor for opening in QC!! Woohooo!! Let me also say that I like their price points, I feel they're very reasonable. No need to break the wallet for good quality steak and more!! Vittorio's FB – https://www.facebook.com/vittoriosph/