On thing I really really dislike is going to government offices for renewal of passports and licenses. Last week, I was supposed to go late in the afternoon because three years ago, it took me less than 45minutes. But when I called the La Loma District Office (LLDO) the person who answered the phone told me that they have a cut off at 4:30PM (why should there be a cut off? Aren't they supposed to serve EVERYONE regardless the number as long as it's before 5:00PM??!!) And he said that since all the satellite offices are closed EVERYONE comes to their branch. Hell. My friend Kris, went to the LTO last week to renew her license on her birthday and was welcomed with long lines. I didn't want to ruin my day, so I decided to go a day after my birthday. I decided to leave at 7:30am because I was advised to go early since the *Medical Exam Office* opens earlier than 8am.
So at 7:45am – I was already at the La Loma District Office (LLDO) of LTO Firstly – THERE ARE NO SIGNS ON THE PROCEDURE OR STEPS. So I had to ask the security guard what to do. He said: STEP 1: Go the the sign that says MEDICAL Get a number and wait for them to open. I find this really silly to be honest, they were supposed to open *earlier* right? But they're still having a pancit canton breakfast inside. This is the best that I could take. So my apologies. I was there by 7:45am and I was already #7. If you're a PWD, Senior Citizen or Pregnant, you can cut in the line. There were 2 senior citizens that cut in line – I didn't mind because they had priority anyway. I was called in at about 10 minutes later. When you get in, you are to give your license (keep your old OR you won't need it at all) to the lady seated down and wait to be called in the doctor's office. I got called in less than a minute – the doctor (who looked like a phony one) was seated across me, I handed him my license and as if he was a robot – began to answer a series of questions automatically: Doc: Do you wear glasses? Didi: No Doc motions for me to sit on a bar stool and hands me an object that will be used to cover my eye, but all I could think of was *Malinis ba ito?* Eww.. I had no choice! Doc: Cover your right eye and read aloud Line 9 I read aloud Line 9 Doc: Read aloud Line 10 I read aloud Line 10 Doc: Now, cover your left eye and read alout Line 7 I cover my left eye and read aloud Line 7 Doc: Good! Now read alound Line 8 I read aloud Line 8 The doctor hands me my license back with a piece of paper attached to it and motions me to go back to the lady receptionist. I then hand her my license and the paper, she then asks for P200.00 payment with matching *Please give me the exact amount*, I look at my bag and since I was in *fighting* mood hand her P500.00, she gets it and gives me P300.00 back. May sukli naman pala e!
Step 2: Go to the EVALUATION TABLE and hand your license and the Medical Certificate I do not understand what this step is for. It baffles me. I mean the person assigned there just reads through the medical certificate, staples your license on it AND staples a number. Then motions you to provide a photocopy of your license. I asked why I needed to provide it – he replied with *Kasi hindi niyo po isusurrender and license niyo* (because you're not surrendering your license to us). I then need to walk near the entrance and have my license photocopied for P3.00.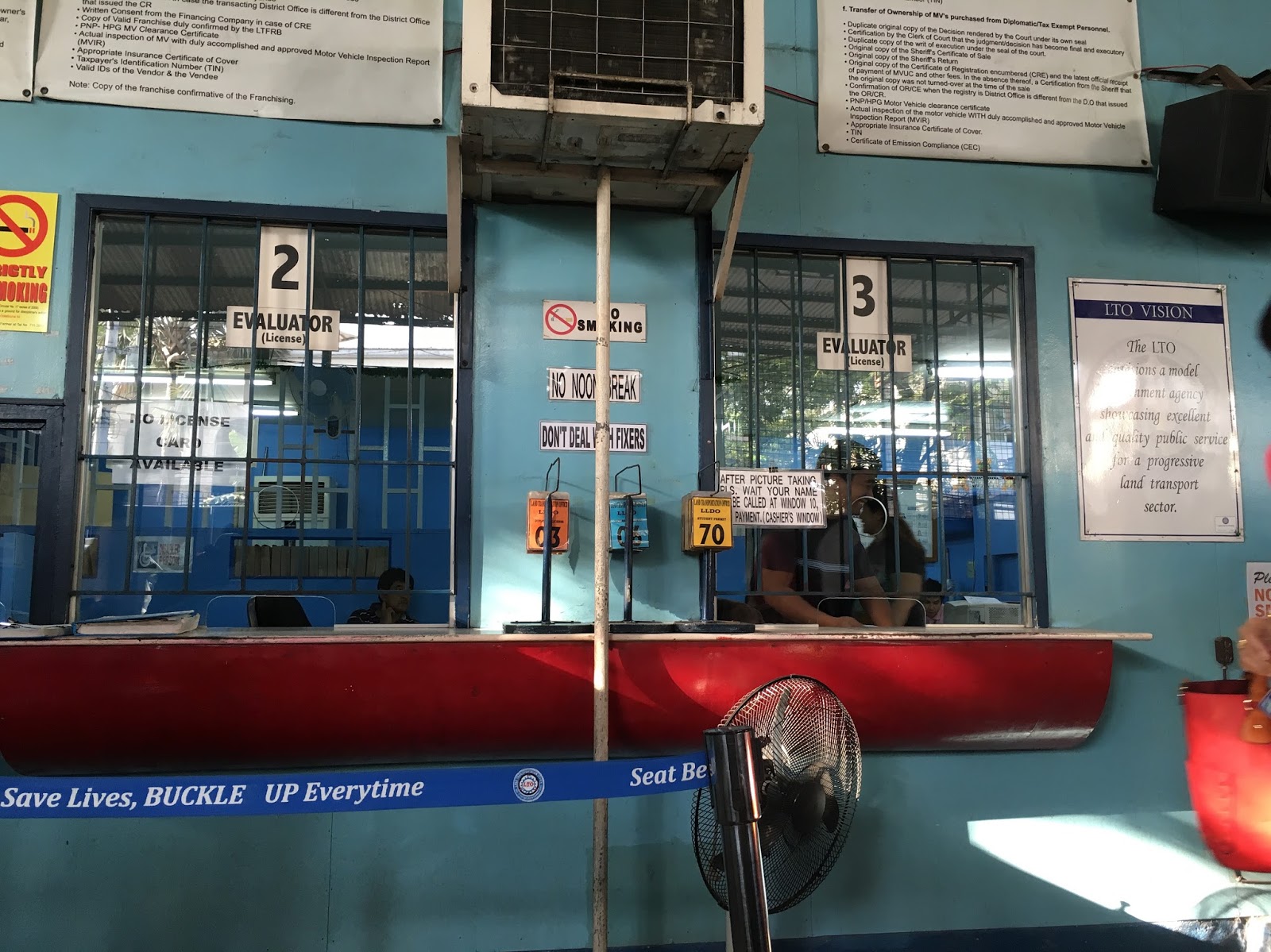 Step 3: Go to Window 3 and hand all papers (License, LTO # from the evalulator, Med Cert + photocopy of license) Then you wait for your NAME IS CALLED on their crappy sound system to for picture taking.
Step 3: Go to Window 1 for picture taking When your name is called you will need to go behind a blue steel board. The person behind it will motion you to look at the camera and after sign your name on a digital plate.
Step 4: Go to Window 10 to pay I already incurred a penalty since I was 1 day late for my renewal. Penalty is P75.00. I waited and waited for my name to be called. I must say, I am an impatient person when it comes to waiting because look at that – THERE WAS NO LINE! Yet the seats were slowly getting filled up! FINALLY my name was called and I was told to pay P493.00 – I hand P500.00 and was given a change of P7.00.
Step 5: Go to Window 2 for releasing I waited her for about 17 minutes. On the 10 minute mark I went to the window to ask how long the wait was. I was told that the cashier hasn't printed the receipts yet and that they're waiting for that before calling my name. My name was called 7 minutes later, I was handed a receipt and my license with a hole. I was given instructions *Tawag tawag po kayo kung available na po yung card niyo* (Call from time to time to check if your license card is available). I asked how long that was and was just given the same line *Tawag tawag po kayo* WTF? I then saw that my OR had an amount printed P492.63.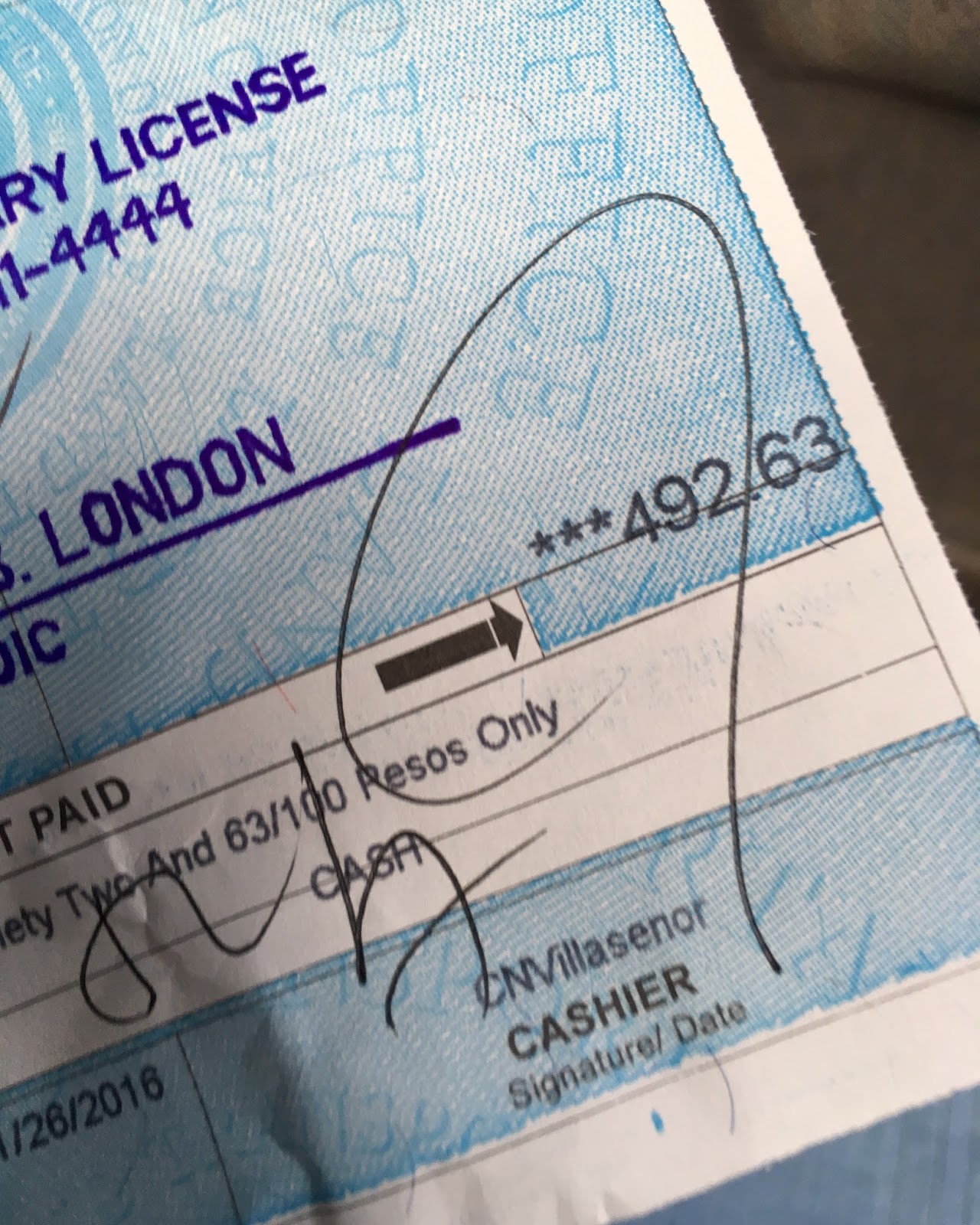 What? I paid P493.00! Where did my P0.37 go?? I checked my timer and it was exactly 56 minutes. No, don't tell me that it's not bad. IT IS BAD! Waiting for 56 minutes total? The process should have just taken at least 30 minutes since there is no printing of the card anymore! Does it take 15minutes to print a receipt? And another thing – why do we need to walk back and forth to pay, to submit and then to pick up? Can't they group counters together so that you remain in just one area? So that the people inside the office won't need to walk all the way to the other side to hand in the receipts? EFFICIENCY! Where is the efficiency? My gulay.. A friend of mine commented *They don't have to line up for their licenses and passports kasi that's why they don't feel a sense of urgency*. Grrr…