When I made plans to go to Alabang, I immediately texted Jane of Sugargospicethat I wanted to see her even for a short while. It was because of her that I charmingly fell in like with Alabang and it's chill out vibe. The drive to Alabang was fast – it was the traffic around the Manila area that was terrible. We left the house at 11:00am, dropped by a party – stayed for 10minutes and gah – traffic was so bad! We reached Alabang at 1 in the afternoon. Perfect timing because the baptism I was attending started a bit after 1pm – so I was still on time. Jane and I agreed to meet at TUS' – it's this new place in the West Gate area. I have to be honest, I've never been to West Gate – or I was totally clueless that it was West Gate. Hahahaha!! From Outback Steakhouse – it was a short distance to TUS'.
I was so happy to see Jane and meet the women behind TUS's. While Jane and I were chatting away (she was so eager to meet my Panget in the flesh and I was just soooo happy to see her, Jena and Jana after soooo long!!) Our horsts Kai and Chef Krsna served us delightful dishes, they were really very good!
This is the yummy Bacon Croquettes fried to a golden crisp.
Wonderfully made, it was soft but it didn't crumble!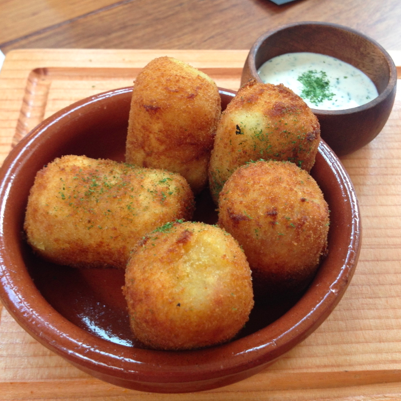 This is my FAVORITE – the Meatball Calzone! (P460.00)
Jane & my Panget agrees that they look like boobs! Hihi, but seriously – this is so good! The meatball was so good – the consistency is perfect! The taste was just right – it wasn't very sour but perfect! I soooo looooooooved the crust! I am such a sucker for crusts and I looooved it! I had one meatball (I think) and the rest – I munched on the crust. Ask Jane, Jena and Jana!!
I've said time and again, that I am a fan of pizza, and this Margherita Pot Pie's (P380.00) crust is looove. It's a deep dish kinda pizza, the flavor was good too! I like the simplicity of this pot pie, I only wish it were bigger, so I could have more! Just kidding! No I'm not. Hahaha!!
Below is the Half-Baked Cookie (P160.00)
This reminded me of what I used to make when I was young!
I deliberately half bake my cookies because I want them semi gooey!
Thank you Kai and Krsna for making this!!! 🙂
This is the limited edition White Christmas Special Half Baked Cookie (P210.00)
Available until January 15!! Hurry and try it!!
TUS' is really nice and quaint, it has a high ceiling which makes it more attractive to me. It has a second floor seating area too. There are books for everyone (available in a corner) Kailee kept on handing me books! Hahaha.. I wondered where they came from and when I turned around – I saw it. Kailee and Connor enjoyed playing around the restaurant. Thank you to the very patient staff! The servers are really nice and helpful too – they also know their product well because when I asked them something, they answered right away. I'm sure to go back, honest! When I visit the south, that is! Hehehe.. They had me with their crust – it's really very good. I love crusts! Haven't you noticed by now?! (Count how many times I've mentioned it!) The place is very homey and is not intimidating. I would love to go back and sample more dishes and have some of that wonderful Calzone and Pot Pie!! Do visit their website below to get a feel of what kind of place they are. I love the homey feel and I sensed from meeting Chef Krsna and Kai that they serve food from the heart – I don't know, I just sensed the real passion in bringing good food for diners to enjoy. Thank you for serving Kailee ice cream! She loved it, so much that she couldn't forget you guys and your restaurant for days. Thank you!! Anyway, I love new restaurants, especially those that have women chefs! Hahaha.. So, hats off to Chef Krsna and Kai!! Girl Power!! See you soon!!
(L-R) Chef Krsna, Moi (forgive my siopao-ness), and Kai
TUS' (Please visit their website, it's so cute!) Facebook TUS' West Gate Center, Alabang #tusrestaurant