When I hear Hong Kong, the first thing that comes to mind is FOOD! Yes, I think since I was little, I was led to believe that Chinese food in Hong Kong is the best – until now, I still believe this to be true. So whenever I go to Hong Kong, I am sure to eat my fill of Chinese food.
For the past few years, I have staple restaurants that I go to. This year, with Kailee and my Panget – we decided in places that we haven't eaten before. On top of the list is Fu Sing Seafood Restaurant. I read about it online and was so sure where it was located. I was convinced that it was located at the back of Din Tai Fung in Causeway Bay but then was confused. I then asked a friend and was told that it was on the same building as DTF. Ohhhhkay! So THIS was the restaurant on the second floor – where we go up when we need to go to the toilet! Argh.. I didn't know!
So on our second day, after a tiring but fruitful trip to Ikea – I told my Panget that I wanted to try out this restaurant. And we did, I was so happy and excited! I was too excited actually, because I didn't get to take pictures! I think we were very hungry and excited that we chowed them all down.
I ordered Dim Sum of course – the Baked Barbecued Pork Bun, the usual fare, Siu Mai, Hakaw, fried Turnip Cake, fried Tofu, Steamed Pork Dumpling with Chili Sauce, we ordered a noodle dish that was recommended by the waitress and my Panget ordered this Salted Egg Yolk Custard bun, he said that he wanted to order this because it looked and sounded odd.
Sorry, I just took a photo of the menu! We were so hungry that I didn't get to take a picture of the actual food! But mind you – their baked BBQ pork buns are really good too – but comparing it with the pricing of Tim Ho Wan, this is much more expensive. If I am correct the price I think is around HKD40.00+ per order of 3 pieces. BUt it was nevertheless, good!! The steamed dumplings were good too! The spicy sauce is one that you will call 'traydor' because when you first taste it, its harmless – but as you bite on and enjoy the flavors – it is then and only then that the spicy-ness will come out!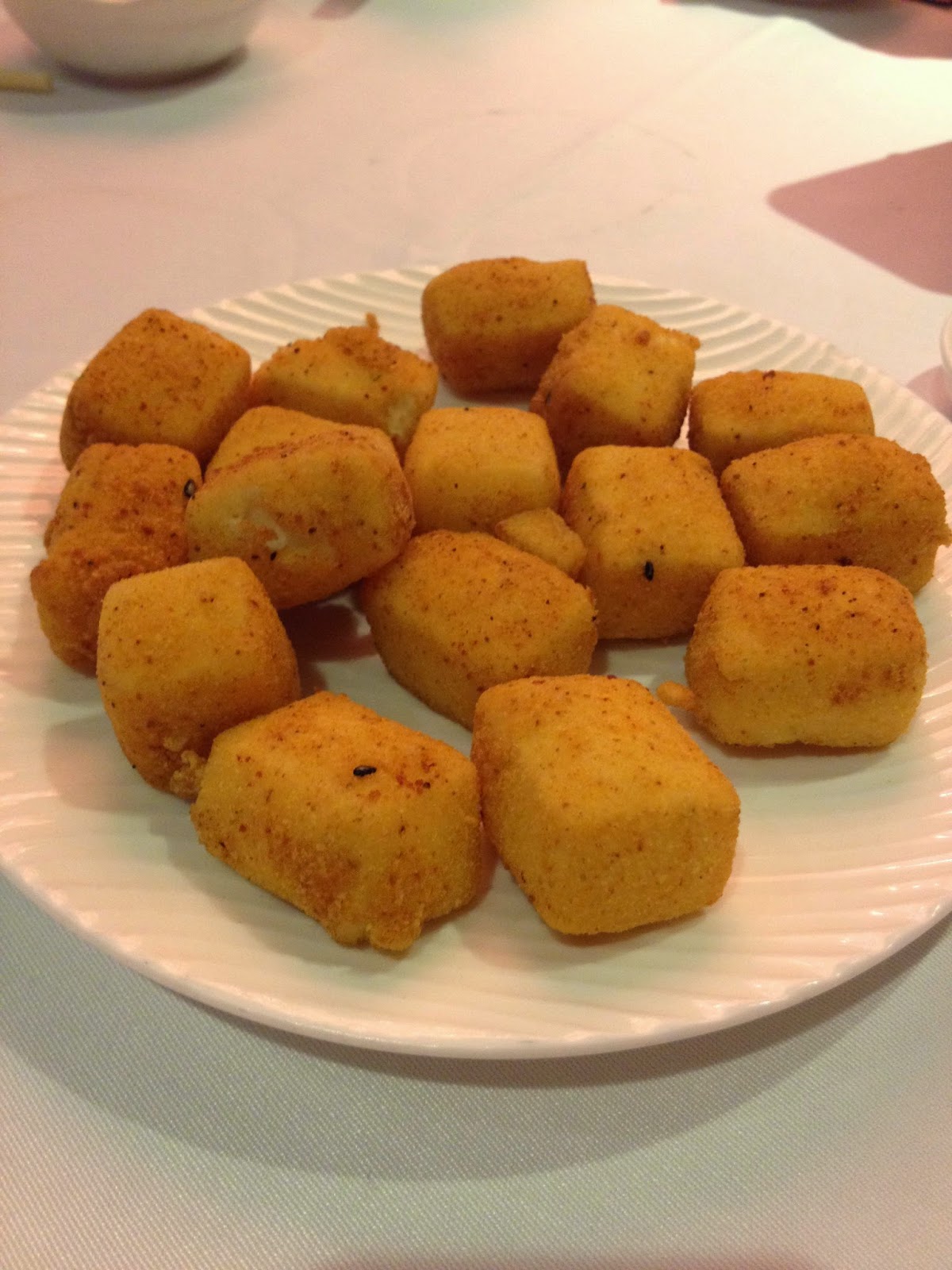 I really like tofu and when I saw a picture of this, I just had to point to it and order!
I remember that Boon Tong Kee has this same dish. The simplicity of the dish is what draws me to order it EVERYTIME! I like the softy silky-ness of the tofu inside the crispy outer layer!!
My Panget really liked this noodle dish – mainly because it had wansoy in it. Keyword is wansoy – thus, I didn't like it so much. Hahaha! My Panget said that it was the wansoy that made all the difference in the taste. It was the kick that he had been looking for and the scent!
I totally don't understand it because the smell and taste of the wansoy – well, it repels me. Hahaha!!
This turnip cake was something different. I initially thought that it was a radish cake, but I was wrong! The texture of how they made it into a cake is entirely different from the one that I am used to in Manila. This one was smoother but with a crispy bite to it. It was really good too!
My Panget declared that this was the best dish in the restaurant. He told me to try it immediately, and so I did! I was honestly hesitant because I didn't know what to expect! But when I bit into the soft yellow bun – the salty-ness of the the salted egg and the sweetness of something and the creaminess of the filling – wow, it was really really really good! It was such a contrast of taste that was so very beautifully combined. It was indeed love at first bite.
Look closely at that goo!!
It made all the difference, I swear!!!
Make sure to order this when you visit Fu Sing Sharks Fin Restaurant!
I just had to take a picture of this because just a few minutes before, she was eating and eating. Then suddenly she declares that she's sleepy. I told her to sit in her stroller and that I would be reclining it so she can sleep, and within minutes, she fell asleep – leaving me and Panget to eat our fill. Hahaha!!
I am so happy that I read about this restaurant. For one – I have a new place to go to when we're in the area! Plus – new dishes to try! Especially the Salted Egg Yolk Custard Bun! I can't for family and friends to try this place even if its not new anymore!!
Fu Sing Sharks Fin Restuarant
Yee Woo Street, Causeway Bay
(just look for Regal Hong Kong Hotel – it's on the the same building. Fu Sing is just above Din Tai Fung in Causeway Bay)