UPDATE: I'm giving away a Starbucks 2014 Planner in Yellow!!
The red cups are back! 🙂
This year's theme is Create Wonder, Share Joy! And Starbucks is doing just that! And I'm excited to share with you the three holiday drinks this year!
Toffee Nut Latte
This seems to be most everyone's favorite. And I'm so glad its back (well, it always is back!) because I look forward to this drink every Christmas!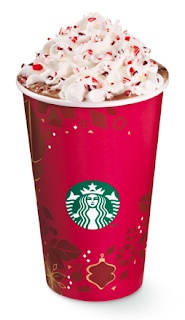 Peppermint Mocha
This drink will definitely be always representative of Christmas because of candy canes! What different this year? Instead of peppermint sprinkles, this year Starbucks is using crushed candy canes as the topping! Believe me, it makes ALL the difference.
This is the new addition to complete the trio of Holiday drinks. I must admit – when I tasted the hot treat, it was LOVE at first sip! I"m sorry, but I have a new favorite this year. It tastes so wonderfully Christmas! I know its odd, but the taste reminds me so much of Christmas! It was only after a few minutes that it dawned on my that the drink tasted like – Cookie Butter! Yes – this is the coffee version of the cookie butter! So, I'm sure this will be a hit this year.
So there, a preview of this year's holiday drinks! It will be available starting tomorrow! So start collecting your stickers for the 2014 Starbucks Planner!
Remember to use your Starbucks Card in purchasing your drink because not only do you earn a sticker, you earn a STAR as well!
Officially, let me greet you – a very Merry Christmas!!