How to register yourself as a Household Employer: (Updated as of June 16, 2013)
Fill out the R-1 form (Click the link to download the file and fill-up and print!)
When you are given your SSS Household Employer Number, you'll need to get this
R-1A
form to register the helpers that are with you. Fill in all the details like your SSS employer number, name and addresses. You need to print two copies of this (SSS will get one copy and you get to keep the 2nd copy)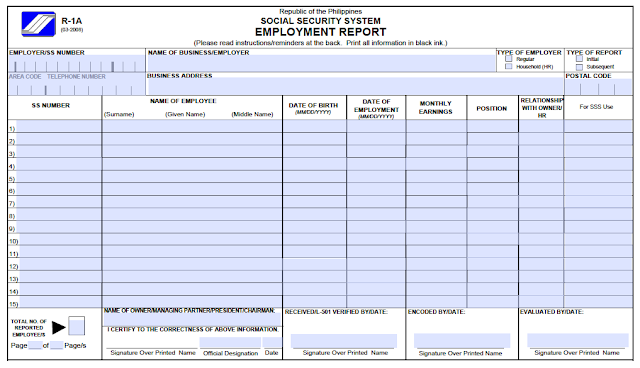 UPDATE

: You can ask a representative to do these things for you!
a) Authorization Letter (authorizing him to do the transaction for you)
b) Your ORIGINAL valid ID (so SSS can verify your signature, that you are the one requesting)
Make sure that you fill out all the details CORRECTLY!! Because if you make a mistake, then you will personally need to appear at SSS to verify the details! Hassle diba? But oh, well! At least..
How to get an SSS number for your helpers:
Get an
E-1
form and fill it up.
You will need a photocopy of your helper's birth certificate or baptismal certificate.
In the event that your helper has NEITHER (birth certificate or baptismal certificate), you can still fill up this
E-1
form and they will still be issued an SSS number.
You will use the SSS numbers when you make the quarterly reports.
The only difference with submitting & not submitting the birth certificate or baptismal certificate is the availment of the benefits. To receive all the benefits – your helper MUST submit any one of them. These benefits will be put on hold and cannot be used UNTIL any one of the documents is submitted.
Here's the Schedule of Contribution: