I am a Serenitea loyalist and addict. I have to admit that.
But last Monday – while nearing Serenitea Banawe, I noticed that there were a LOT of cars. This prompted me to drive away and go to nearby Funtea. It was my first time there – I've been passing by it numerous time – but never got the chance to try it yet. You see, I'm the type of person who likes going back to the same place and ordering the same thing – every time. So making this trip – was a little hard for me. Hahaha!!
When I entered Funtea – I was greeted with smiling faces of the owners. I immediately asked for their bestseller – and sure enough, it was their Milk Tea. I ordered two large ones with pearls and my request was that there be no ice put in it. I didn't mind that I wasn't asked for the sugar level and I love sweet things! I remembered my recent trips to Hong Kong that my Panget and I would have Milk Tea every single day – it was because the Milk Tea places were everywhere – I mean, literally everywhere.
The service was really fast and I was impressed! I was really excited to go home and try it. But then, there was this urge to go back to Serenitea and order what I usually take – the Okinawa Milk Tea.
So, I headed over there – and sure enough, there was parking already. When I got there – I was second in line – I ordered the Okinawa, my Panget told me to get him something new, so I got him the Malt Assam Milk Tea and for a change, I tried a hot Roasted Milk Tea. The cold Milk Teas I always request 'No Ice' because I want to taste the full flavor of the milk teas, the ice for me makes it cold – yes, but the taste is diminished when the ice melts.
As usual – the wait was longer. I really find it odd that it takes them a while to prepare the milk teas – considering that they're very well staffed! I had to wait about 30 minutes for my drinks to arrive. My drinks were actually done BUT they failed to call out my number. I had to go to the counter to follow-up the drinks, and they have been standing there. Hmm.. It was only then that I noticed that the large cup wasn't full. I don't know why, but for my previous orders – the cups were really full even if I requested 'No Ice'.
When I got home – I took pictures to compare.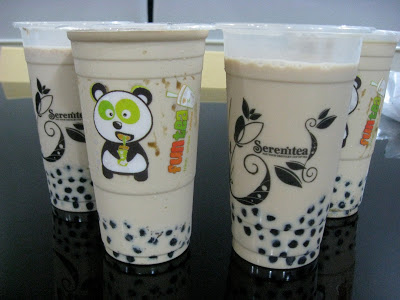 I really don't know why with this order, Serenitea's milk tea wasn't filled full.
I'm sorry, but I'm very anal with these things, here's another look: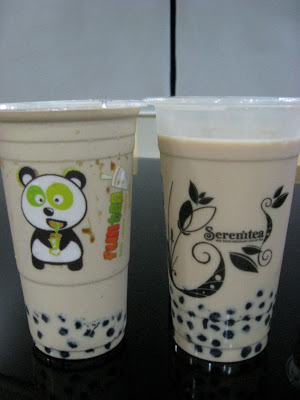 As for the taste, Funtea's was not bad. The sweetness level is okay for me, it wasn't too sweet. The taste was good – like that of Hong Kong's milk tea. I honestly prefer Okinawa, because it's my favorite. So I'm a little biased. But I was really disappointed with the milk tea not being filled full. I mean, sorry – but what was that about? I felt tuloy that I was cheated. Hmmm…
I have to stay – the Malt Milk Tea was really good – now, that's something new to order! Hehehe…