I've actually only been to Fish & Co. once and I loved their fish and chips. My only complaint was that it was very expensive – for a fish and chips, but man it was really good. Their tagline, the best fish and chips in town – is very true.
Last Thursday night, I was invited by friends Tita Jane and Carlo to try out their new items on the menu that were non-fish, which were chicken and lamb.
The dishes were good, the pasta side dishes were even better! Hahaha.. I especially liked the pasta side dish of the Breaded Chicken Piggyback, it was really good!
The best Fish & Chips in town..
Breaded Chicken Piggyback
Grilled Lamb Chops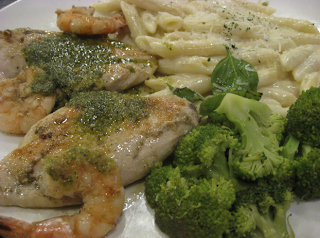 Shrimp and Chicken Breast Al Pesto
Thanks to Fish & Co for stuffing us with a superb meal!!
Hurry and visit the nearest Fish & Co. to sample their new dishes!