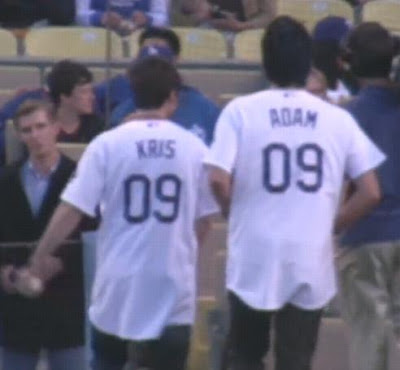 Photo borrowed from
THIS
site
I love this finals!!
A subdued singer vs a music theatre singer!!
Exact opposite, but equally good.
I am partial to Adam because he's made the show more entertaining and he's the one who thought of every move, every song sung, every gimmik to make his performance different and exciting.
On the otherhand Kris has been fighting it out to the finish – he's been putting out all efforts, giving us a taste of a different Kris with or without his guitar. He's the dark horse for me.
Whoever wins – deserves it.
They're both very good – I'm so glad Danny's out!! He's become boring you know, predictable! I said time and again to friends (you know who you are) that Danny's rise to the top won't last long – he'd already plateaued mid-season – his best performance for me would be that of the Rat pack era. As my twin brother would say – 'malamig ang boses niya, bagay sa theme ng Rat Pack'
This has got to be my favorite Americal Idol ever!!