Gloria Maris has been a staple for birthdays and celebrations with the family. I remember when my Panget and I were still dating, his parents would always choose to have dinner in Gloria Maris when they didn't want to think of a new place to go. We know that food will be good and that everyone will enjoy it. When they moved to it's current location in Greenhills, everyone expected it to be the same. Well, the menu was upgraded, the price too – but the quality well, in my personal opinion it deteriorated. Well, you see – when you upgrade the prices, people will expect the food to taste better right? Well, that wasn't the case. We found ourselves going to Gloria Maris less and less. So when news that a new owner was coming in – well everyone was all on the edge. I'm sure everyone was curious on what would happen. Would the name be changed? Will the menu change? Will there be changes or will it just be maintained. Everyone was excited to see what's in store. Last week, we were invited to try the new dishes and old improved favorites. And here's a photo roll of what we had. I'm sure the pictures will be enough to entice you to go back to Glora Maris Greenhills: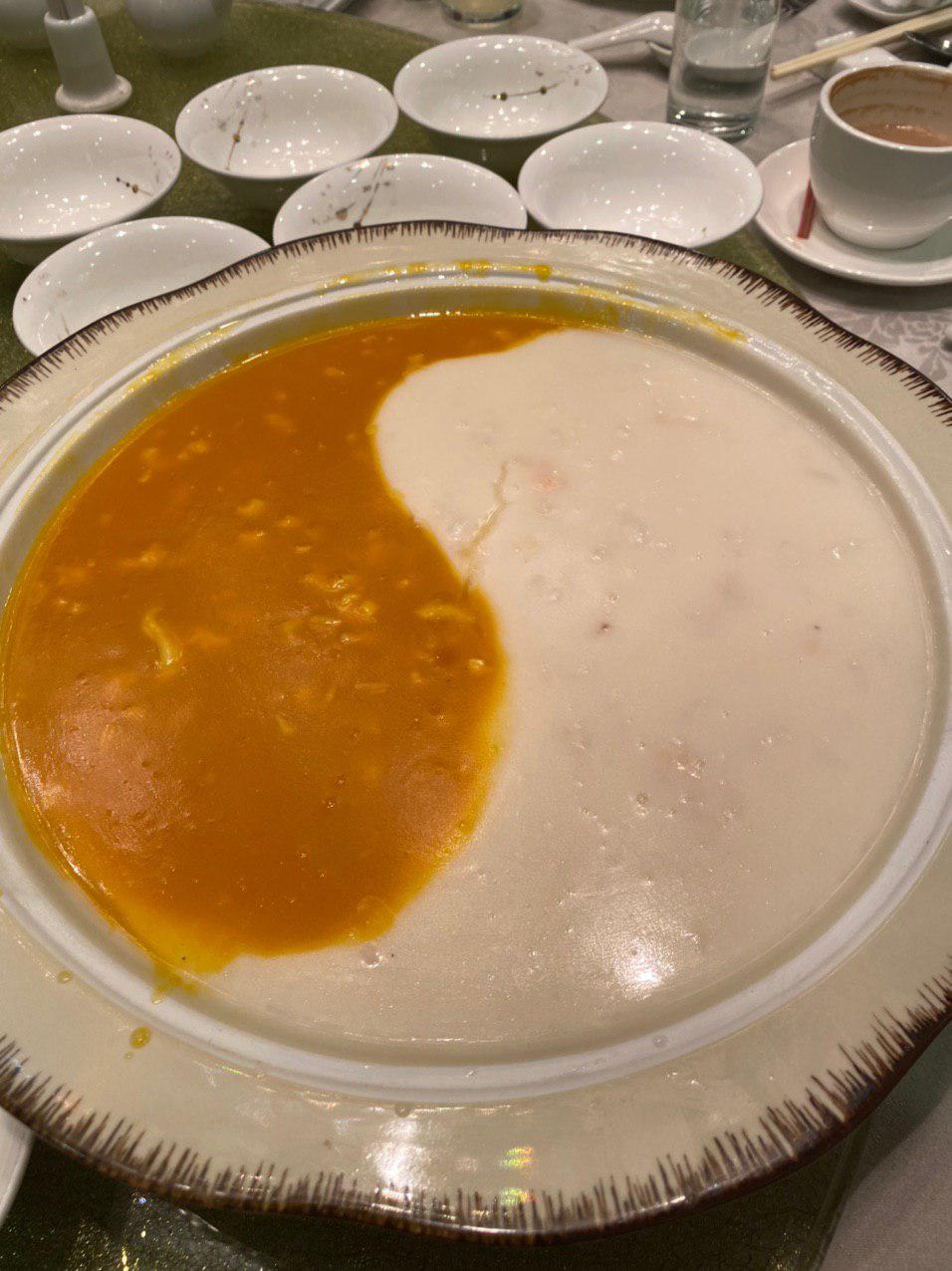 Two Tone Almost Seafood Soup
I don't remember Gloria Maris having this, but as I said I haven't visited in a long while.
This was a good introduction to our first meal at #TheNewGloriaMaris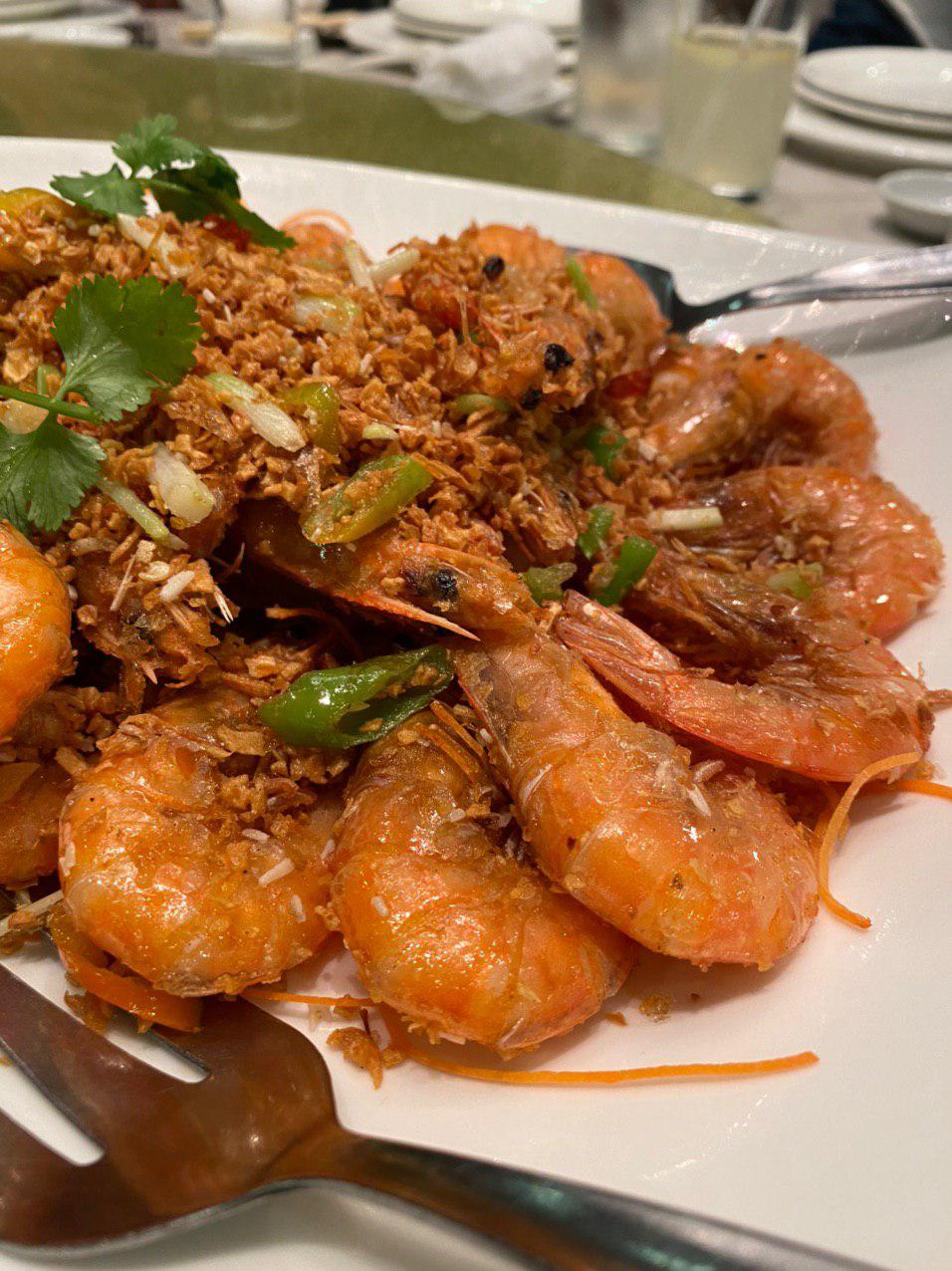 Salt and Pepper Shrimps with Garlic
The aroma was divine! We were told to enjoy these shrimps with skin on.
And I did – and it was good! I usually take the skin out, but this one was a good experience!
Peking Duck
Two ways – this and the minced duck.
This dish needs not introduction at all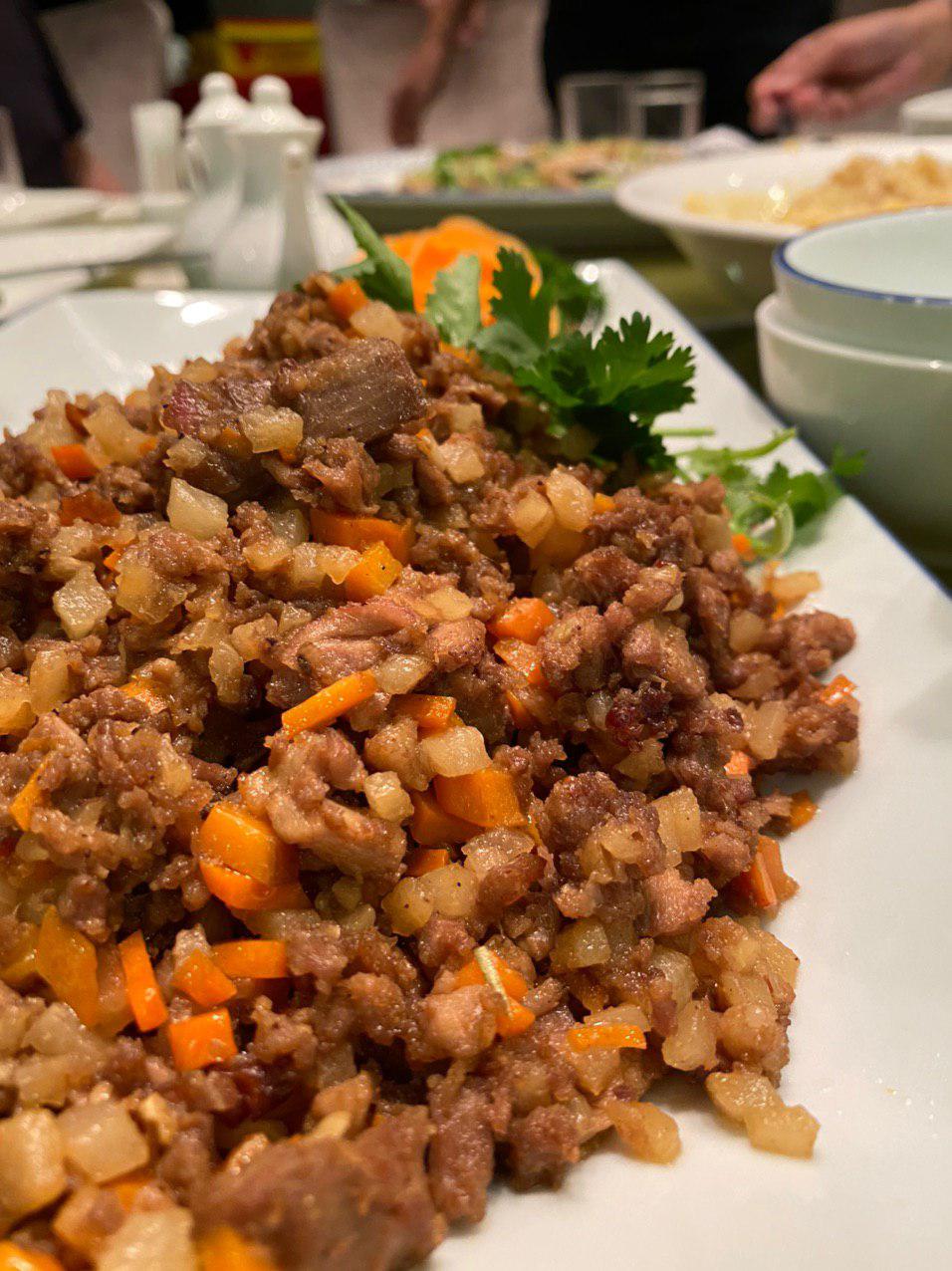 Mini Taro Basket with Prawn Scallop
When I was younger, I didn't like taro. I slowly tried it and I really liked this version simply because they serve it with a sauce on the side so it won't get very dry. The shrimp and the scallops were really fresh and cooked very well. I loved that the shrimp has a crisp bite to it, it wasn't overcooked!
Dimsum Sampler
(Siomai, Hakaw and Egg Tart)
Really good siomai. Really good hakaw. Really good egg tart with a buttery flaky crust.
Fried Lamb Chop with Mint Jelly
I don't eat lamb, so I trusted my tablemates when they said this was really good.
It was tender and didn't have an aftertaste.
This is one of the new dishes that Gloria Maris will be serving,
Lechon Kawali
Perfect ratio of meat and fat. Crisp to the bite and oh so wonderful with the mustard dressing!
Australian Wagyu Beef in Black Pepper Sauce
Wonderful tender beef. I was just too shy to ask for a bowl of white rice.
Steamed Live Oyster with Garlic
This has got to be my FAVORITE dish served. There were so many oohs and aahs when they placed the dish on the table. It was love at first bite. The huge pieces of oyster were cooked perfectly and it was not malansa at all. The sauce was a dream, the flavors worked seamlessly with the steamed oyster. Have a closer look at the image below.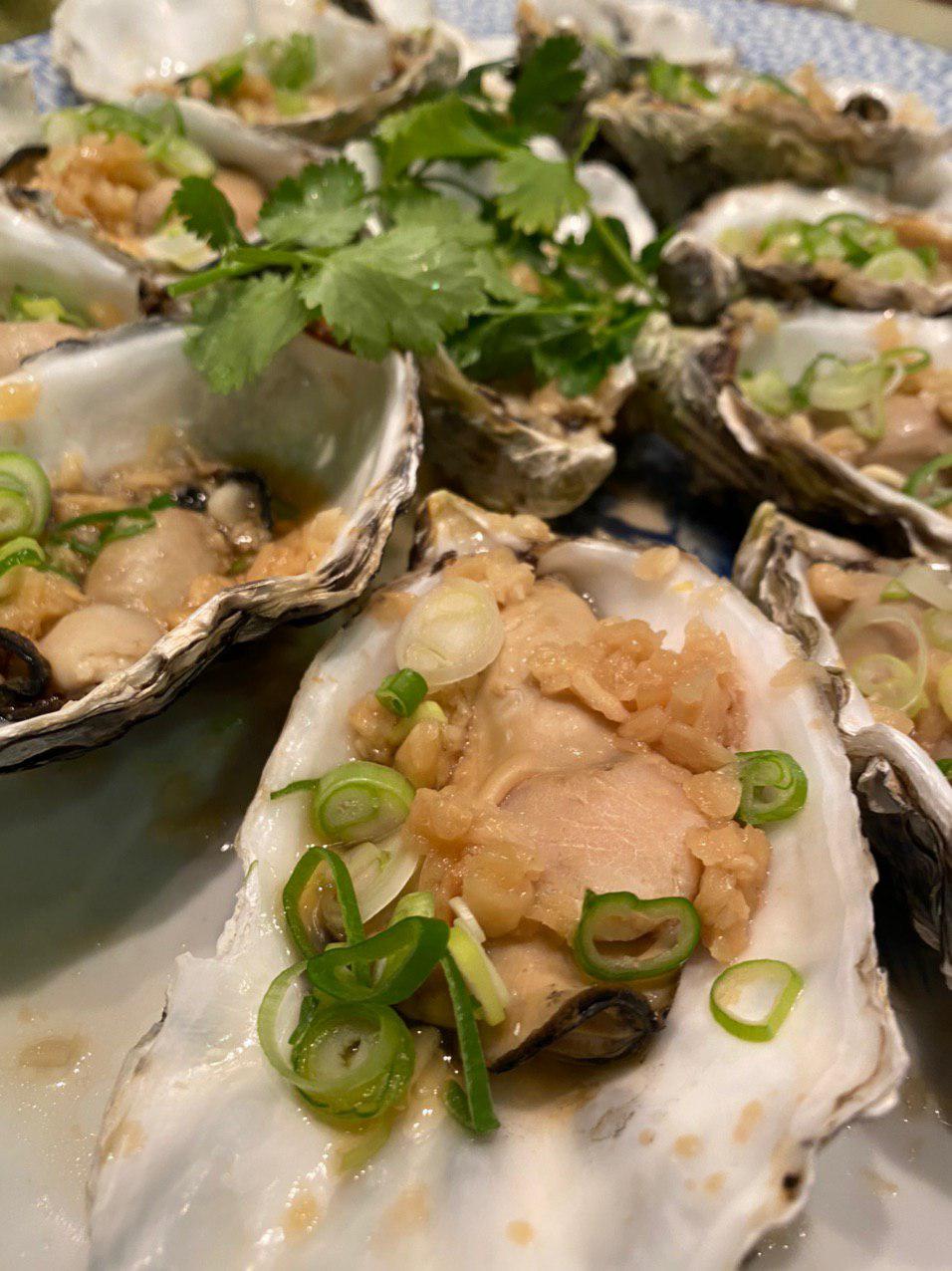 Frank's Fried Rice
We met Uncle Frank – the new owner of Gloria Maris and this is his signature fried rice.
This is just one of the few new dishes to be served!
Steamed Apahap with Tongchay
Tongchay is not usually served with Steamed Apahap, so this is a new twist to an old favorite steamed fish!
Birthday Misua
Always a good end to the savory dishes served us.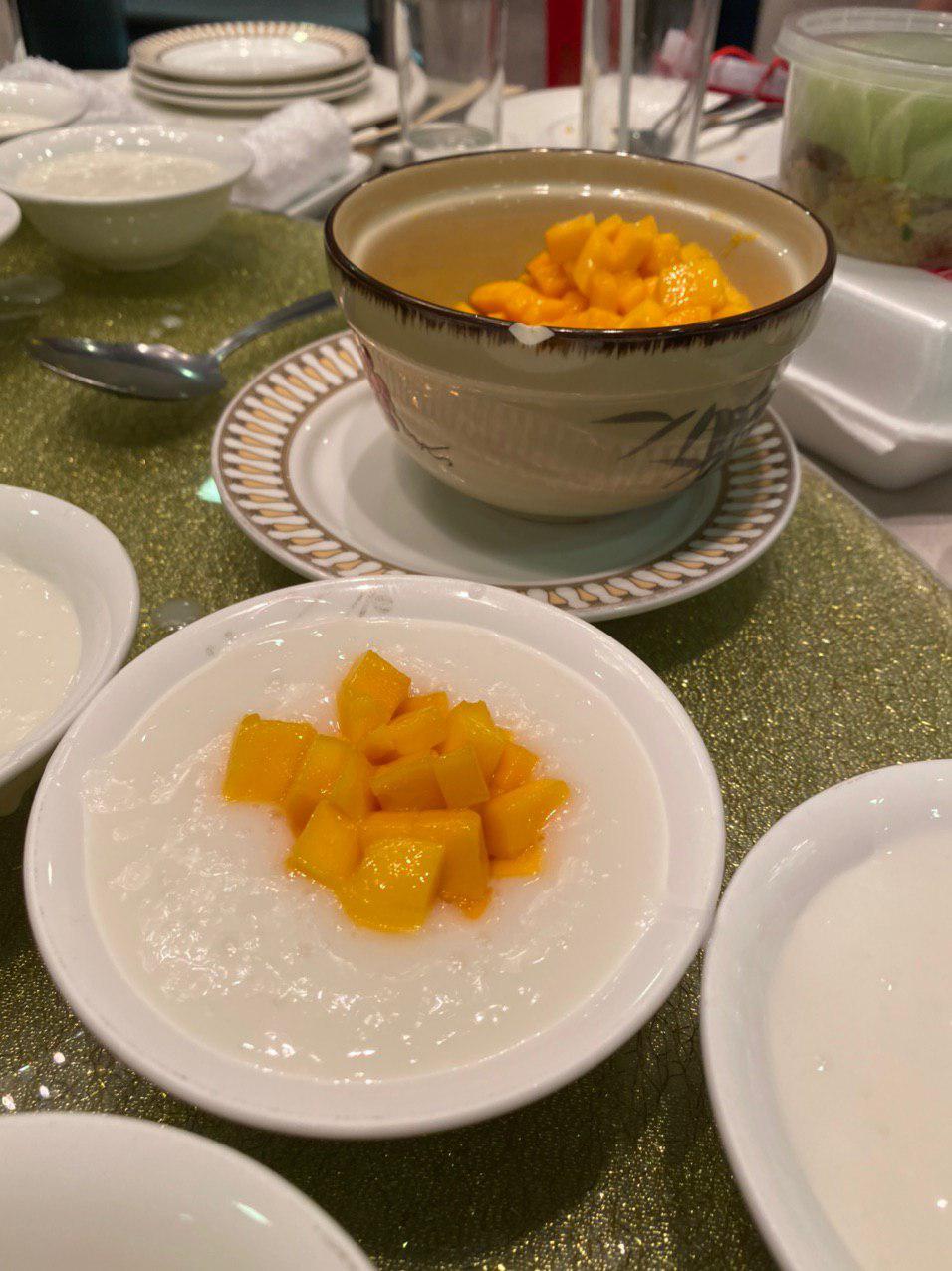 Almond Shake with Mango Cubes
A wonderful sweet treat to the sumptuous lauriat lunch spread.
Please do visit #TheNewGloriaMaris soon to try their new dishes and improved old favorites. I'm so happy of this change – claim your old glory Gloria Maris! So many of us missed it! We are looking forward to more wonderful dishes!