Love hurts. There's no easy way to saying it because that't the truth! To cope, you put up walls to avoid getting hurt again. But no matter the height and strength of those walls, only two things can happen: You get trapped inside those walls forever or someone breaks it down eventually.
Through the years, we've all built walls around us. Personally I've built so many walls that I've somehow become numb to certain things. One example is the *Love Wall* that I've built, unconsciously. Being married for 6 years, I think I can say that I've felt hurt and unloved at times, and as a defense mechanism – I've built walls to protect me. I've become numb and indifferent at times. I guess life experiences make you have those feelings to cope.
So when it comes to *romantic* love – I don't think it exists anymore. Seriously. I would often hear people say, *you already have kids – why even think of romantic things, we're past that age!* I then look at the younger generation with dopey in love eyes, and tell myself *Love will fade, hintayin mo lang!* (cue in Evil laugh) Hahaha. I would also think – those romantic movies and romance books are all overrated – it's not REALISTIC! Hahaha.. I guess I've become bitter – tumatanda na kasi.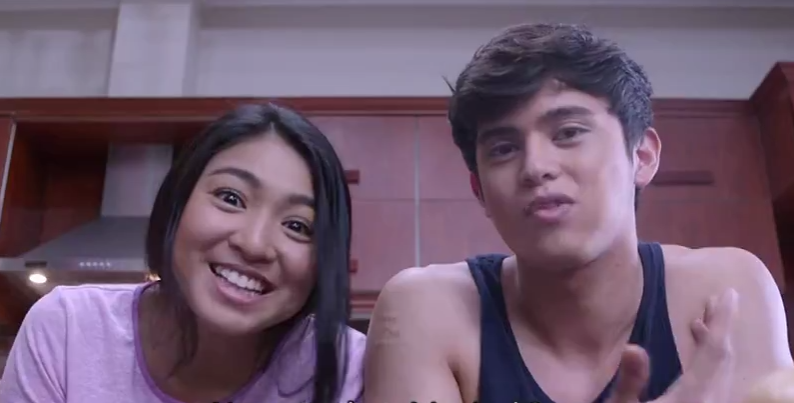 When I watch romantic movies and tv shows, it entertains me. It pinches a nerve but it doesn't make me think, think. It just makes me smile and cry but that's it. But surprisingly for the teleserye On The Wings of Love #OTWOL – I know, it's so uncharacteristic of me, but it made me believe in love again. Baduy noh? I mean at the age of 35, a local teleserye about young love makes me realize that? Why? How?
I can't explain it really, but I guess the only thing I can say is that – #OTWOL has ignited something in me, in my mind and in my heart. I know it's silly how a local teleserye can do that to me but it did. As corney and as jologs as it seems – something in me has changed. I have said it time and again – Iba na ang life ngayon. Our favorite Napa Valley mechanic, Mang Bobot said it best – Ang sarap palang pagmasdan ang mga batang nagmamahalan. It truly is. There was a time that I looked at them and did an evil laugh in my head, but after watching more than 50 episodes worth of #OTWOL – I look at young love differently now. Now, I sigh and smile and wish that their love will make them feel inspired. So this is what I forgot. Hahaha!! I admit that I stopped believing in love. I lost faith in love. I pushed all those romantic feelings aside and concentrated on loving my children. And I have to say – it's very fulfilling. But you see, it's a different kind of love – romantic love. It has a different effect on people. I was surely surprised that I felt what I did – at this stage and age. Pwede pa pala yon? Often times, we do things because we need to. Not because we want to do them but we cause we have to do them. Like for married couples – wives are supposed to *serve* their husbands – it has become such a routine that we do them because we have to. We're like robots functioning on cue – but what I realized was that, if you do it with love – then it feels a bit different. But hey, take note ha – one person in a relationship CAN NOT and WILL NOT revive those feelings on their own. It can cause a start, but it has to be both parties in the relationship to sustain those feelings. That's the ideal set up, but come on – in real life, that doesn't happen. Take for example, me and my Panget. When he comes home from work – I make sure to flash him a smile. But what does he do? He looks at me naka-simangot. Nakakainis diba? What would you feel like when someone does that to you. After doing the smile thing so many times, I simply got tired so I don't smile at him anymore when he comes home – I mean, why waste my energy in smiling when the other party refuses to acknowledge that smile. Even on a tired day, when I come home – I still smile. But I guess men are really wired differently. I hate men. Hahaha.. I've honestly lost all faith in love. I was starting to become those bitter old ladies that we hear of, but I'm glad that I caught the show just in time for me to believe in love again. It's hard, to tell you the truth, and it's quite silly that just because of a teleserye, I've suddenly regained my faith in love. I've forgotten what it feels to be giddy, excited, smiley all over, cheery and *in love*. Clark and Leah made me feel those lost feelings. The feeling of *In Love* is a different high. My friends have told me that I'm looking better recently. I've said it time and again – that's the effect of watching #OTWOL. This is the effect of #OTWOL – I'm happier, I remember now what it feels like to be *kilig*, I wake up everyday with a bigger smile. I used to think that cheesy lines are sooooo corny, now I get kilig just hearing them. It's a good feeling, pala. As I said, iba na ang life ngayon. Hahaha!! So, THANK YOU to the actors, directors, staff, crew, scriptwriters of #OTWOL for making me feel those forgotten feelings once again. It's a different high, a different happiness. Now, I look forward to everyday watching Clark, Leah and the whole cast. I think having these happy loving feelings – there's only one person who will benefit from it – my Panget. Buti nalang happy ako or else, I will also make simangot to him everyday! Hahaha… 🙂 Previous Posts on #OTWOL #JaDine On The Wings of Love: James Reid & Nadine Lustre The MAGIC of #JaDine & #OnTheWingsOfLove Addicted to #OTWOL & #JaDine + Love Teams Falling in Love ala The Proposal & On the Wings of Love OFW Life in On the Wings of Love #OTWOL