I wrote this on my FB page:
I felt that what they were trying to do was half baked. At first, she submitted a *fake* draft speech. Why even do that? It's shows that she didn't have good faith when she submitted it, it's even misleading. Then when speech time came, she veers to another direction. The school the stops her. She then goes on TV and says that there was nothing wrong with what she did and that she exercised her FREEDOM OF SPEECH. My dearest lady, if you are ballsy enough to say on TV that what you did is an act of Freedom of Speech – then be an ADULT and accept the consequences of your actions. It takes one thing to deliver that ballsy speech and another to accept the consequences like an adult. Children make mistakes – but then if these mistakes are found by the parents as correct, automatically the child will assume it's correct! Parents should be able to guide us to the right path. Parents are more mature, have much more life experiences to be able to impart the proper wisdom to the kids. I felt that it was anger that pushed them to do this – anger begets sudden attention, but what's to do after the sudden attention? I really believe that this should have been handled differently. Now that she needed to secure a slot in UST, she's being asked for a good moral certificate – why will the school require such document? The school was disrespected. Obviously they will give her a hard time. Simple logic lang yan! If you disrespect your parents, will they still allow you to go out? You will be punished obviously. Every action has a consequence – like a reaction for an action. And so, if you did something – stanby it! But there is another thing she can do – APOLOGIZE. Maybe then just maybe, the powers of forgiveness and compassion will melt the school admin's heart and give maybe (just maybe) her good moral certificate. But let me just say this on record – what she did? It doesn't deserve a good moral certificate. She didn't act in good faith. She submitted a speech that she never planned to use! Why even bother? Go that far? She knew what was coming (the media attention) but what she didn't expect was the sudden need to for a *good moral certificate* from UST. To be honest, I don't recall ANY university asking for that when my friends and I were trying to secure our respective slots in our chosen universities. Was this a sudden change? I'm baffled. I'm sure she wanted to make noise – and she got her attention because most everyone sympathized with her. But what she didn't expect was the backlash from her university of choice.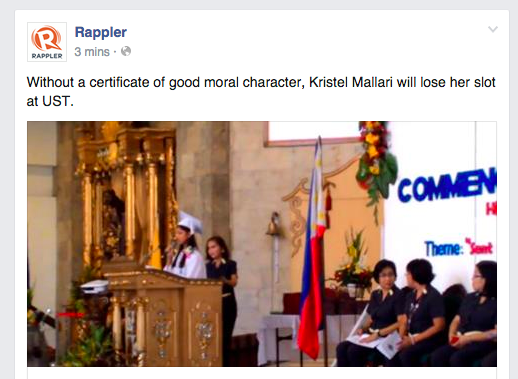 At this point – I pass the blame to UST. Why even demand such certificate? Does it matter that she won't be given one? Can't you make an exception for her? Or are they banking that she not be given one so you don't *need* to take her in? We are solely responsible to the words that we say. That is why I believe words are important, they are very important, so be careful to what you want to say. Think twice, thrice or more times before you say what you want to say – because words can heal but it can also cause a lifetime damage. Choose your words carefully. Think before you speak. If you have decided to say what you say, then be an ADULT to accept all the consequences. ALL THE CONSEQUENCES. Life happens. Shit happens. Man up or shut up, diba? You can always apologize – it's a start you know. If I were the parents of Kristel, I would have thought of an elaborate game plan in plotting revenge. I would make sure to protect my daughter first and foremost and then make noise. Cover all the bases and then attack. But nope, like the speech – it was half baked. We all have evil-ness in ourselves, put it to good use by thinking, sorting and planning properly. Being systematic works you know. Use it to your advantage.