I've been to Taiwan a number of times when I was younger, but to be honest – I don't remember what the food tastes like! Was it because I was much younger and didn't care about food yet? Hahaha!!
Whenever my Panget and I are in GH – it was such a chore to think of a place to eat with the kids. I have stopped going to Crystal Jade because during my last 2 visits – the dishes we got were poorly made. I have to be honest – it wasn't the same anymore. I hope though, that they can improve.
Anyway, so there – looking for a resto in GH is quite a chore for me (sorry!) and then I remembered seeing Tai One. It was always the place I remember after eating a not so impressive meal in the area. So when Panget said that we were to go GH – I immediately remembered to mention Tai One.
Tai One is hidden at the back of Promenade. I guess the location is good IF you come from the back. Since we always park in Unimart – the location of Tai One was always hidden to us. But we found it. Hahaha!! 🙂
The menu is fairly simple – the restaurant had noodles, pork, seafood, beef, veggies and poultry dishes. I was very curious on the Beef Noodle because the pictures on the menu looked enticing. So we ordered a Beef Brisket Noodle so Kailee can enjoy eating the noodles. I apologize, but I wasn't able to take a picture – I was too hungry and excited!
The soup from the Beef Brisket Noodle was really really really good. It had the perfect combination of spice and sweet and tartness. My Panget said that it tasted *Taiwan*. When we (my Panget and I) would refer to Taiwanese cuisine – we would always associate it with tasting a bit *Chinese* medicine-y. I don't know why! Hahaha.. But this one wasn't very strong in the Chinese medicine-y taste – it was just perfect. The soup packed a punch – and I sipped and sipped and sipped the soup – that my Panget asked me for a bowl (for he feared that I would finish the broth). Yes, for me it was that good! Kailee loved the noodles, by the way. The slices of beef brisket were soft and flavorful too. I wish they were as big as the slices in the picture (in the menu) though..
We also ordered the following: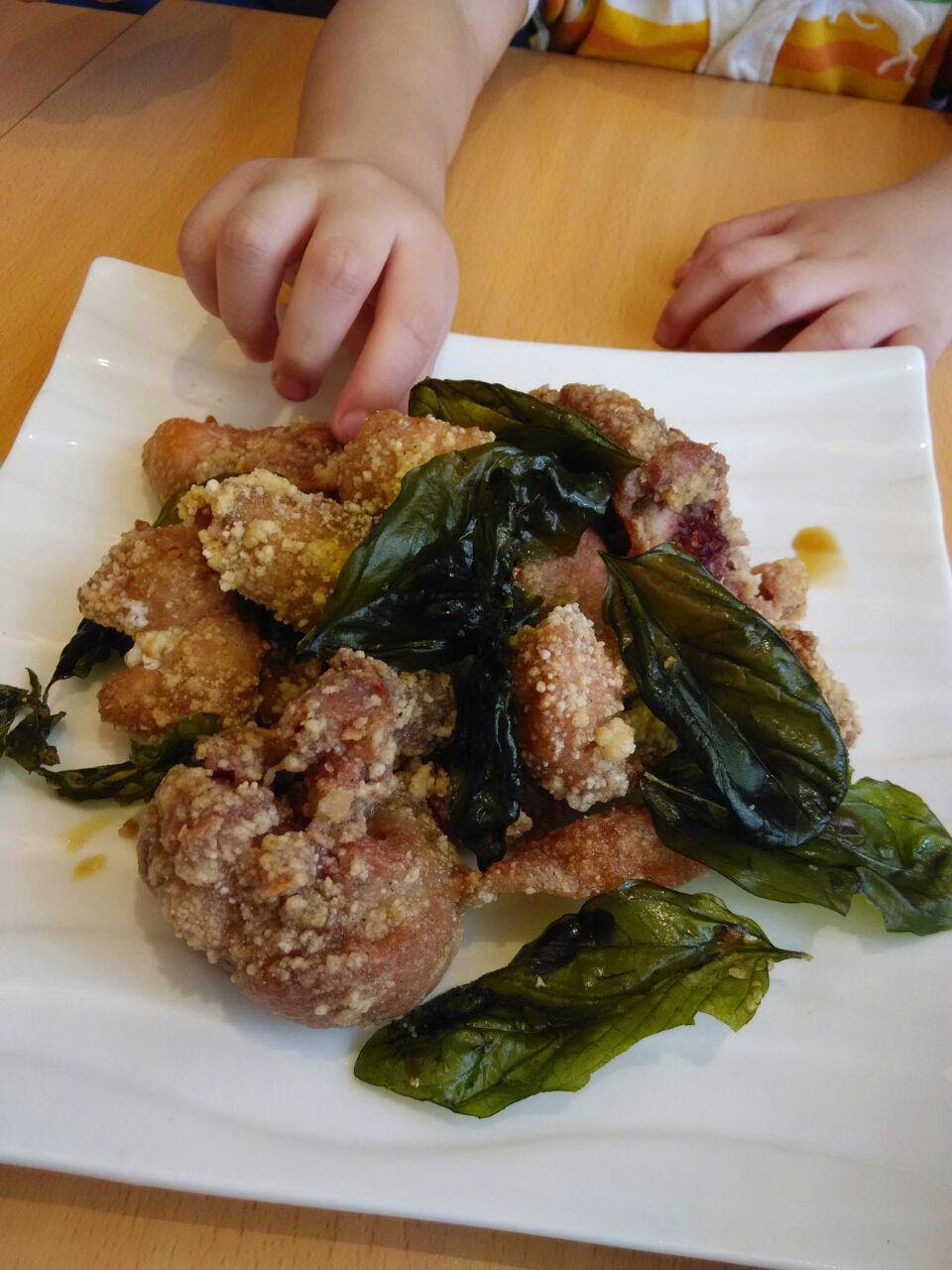 The Chicken Nuggets
It was tasty, but reminded me too much of Serenitea's chicken chops.
Sorry for Connor's hand – he was excited!
Beef Satay Fried Rice
This was really good! Very flavorful! I would order this again.
Oyster Omellete
The liked the taste but it lacked oysters since they were very small.
I wish restaurants wouldn't scrimp on the *main* ingredients
Overall, we enjoyed the food. Service was also good as they were very attentive to our needs. We would come back to try the other dishes. I will make sure to order the noodle soup! Hihi..
Panget declared that if Taiwanese food was this flavorful, we would like to go to and visit Taiwan!
Tai One Beef Noodles
Greenhills Promenade