To welcome the NEW year – I'm having a giveaway, a GIVEAWAY!! Thank you to the folks behind Mommy Mundo for hosting this giveaway! Here are some images to show you what's in store for the winner.
I just love the soft color Chevron design, very easy on the eyes!
Well thought of layout which is very useful to mommies!
I especially love the To Do List!
This planner is not just us moms, but also for our kids's activities.
So we can keep track on whats going on in their lives too!
Very organized, right?
Write down all of the information – so as not to forget!
So LOVE these two pages (Above and below) – helps me keep track of when I visit the doctor!
This will guide us all in checking our kid's health.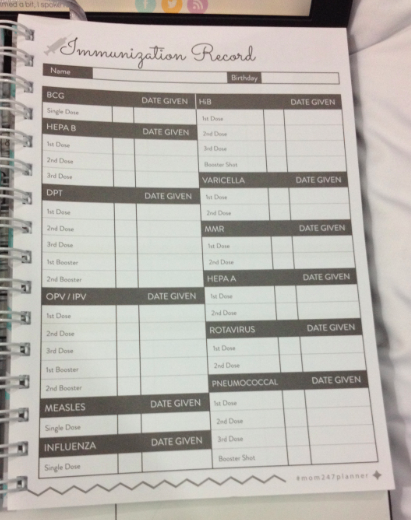 And, it's not just for kids – it's for US too!
We like to host parties at home, so this really comes in handy!
I just have one page to look at now!
Going on a trip?
This helps you outline your trip.
More useful pages – lists!!
Here's the part you all have been waiting for!! The GIVEAWAY!! Just follow the simple steps: LEAVE A COMMENT a) Name b) VALID email address (I need this, so please don't ask me to *delete* your comment for *your* privacy when the giveaway has ended – as this will compromise the integrity of the blog giveaway c) Answer the Question *I want to win the MOM 24/7 2015 Planner because _______* d) URL of your Tweet (Please link back to this post) f) URL of your FB Share (Please don't forget to link Facebook.com/candishhh ) I will pick out the answer that I like best. Since I will pick, it will be based on my decision and opinion. Let's get rid of the crab mentality and the *Pag natalo, nadaya* mentality. Good Vibes guys, Good vibes!! This giveaway will run for only a eight (8) days, last day of entries will be on 11:59PM of January 12, 2015. I will announce the winner right away so please check your emails! This giveaway is OPEN nationwide, but make sure that you or an authorized representative can claim the prize for you in Quezon City. Please don't force me to ship the prize to you just because it's the new year. No, no no. So there you have it! Good Luck!! —– Here's the winner that I picked: