Been seeing UBER for the past months popping in and out of my feeds in social media. I have a cousin who is an Uber addict! Honestly, I have been collecting the P300.00 credit codes of friends. It was just a few weeks ago that I was told that those codes are useless since I have already registered! Oh well. I was very curious and so I googled UBER. I was surprised to learn that UBER is not a local company instead it's an international company with locations around the world. Here's what UBER is all about:
Well, when you think about it – it's quite practical and safe. With UBER – you don't need to carry cash as the payment is automatically charged to your credit card. Brilliant right? So, two weeks ago – I had my first experience with UBER. My friend Rowena suggested that I hitch a ride with her going to an event, she mentioned that she will use UBER. So we met up and there she showed me how to book a *Black* car with Uber. It was so fast as you just need to have the app on your smartphone and pin your location (as to where your UBER car will pick you up) within seconds, the info of the driver (his name) the car make and the plate number will appear and just below it – was how long the car & driver will take to get to you (your location)! The app said that it was 7 minutes, but the car was there in less than 7 minutes. I honestly wondered how you will know which car will pick you up – and it's brilliant because you will see a picture of the driver and the car model/color and plate – perfect right? We spotted the black car via the plate number. The driver was so nice to open the car door for us. I was shocked to see that there was an iPad Mini on the passenger side. Apparently, this was their smartphone! The iPad Mini has a driver's app – complete with information on where to pick us up and who ordered the trip. I was impressed! I'm very chatty so I spoke to the driver and asked him how long he has been with UBER – and he said 1month. He was able to bring us to our destination in a short amount of time – as he was familiar with the area. The iPad Mini also has a map to help driver maneuver the streets in case he isn't familiar with the area. Overall, I enjoyed my less than 10 minute ride with UBER – it was safe and clean. It was like being driven by your own personal driver or to be more blunt – it was commuting in *style*!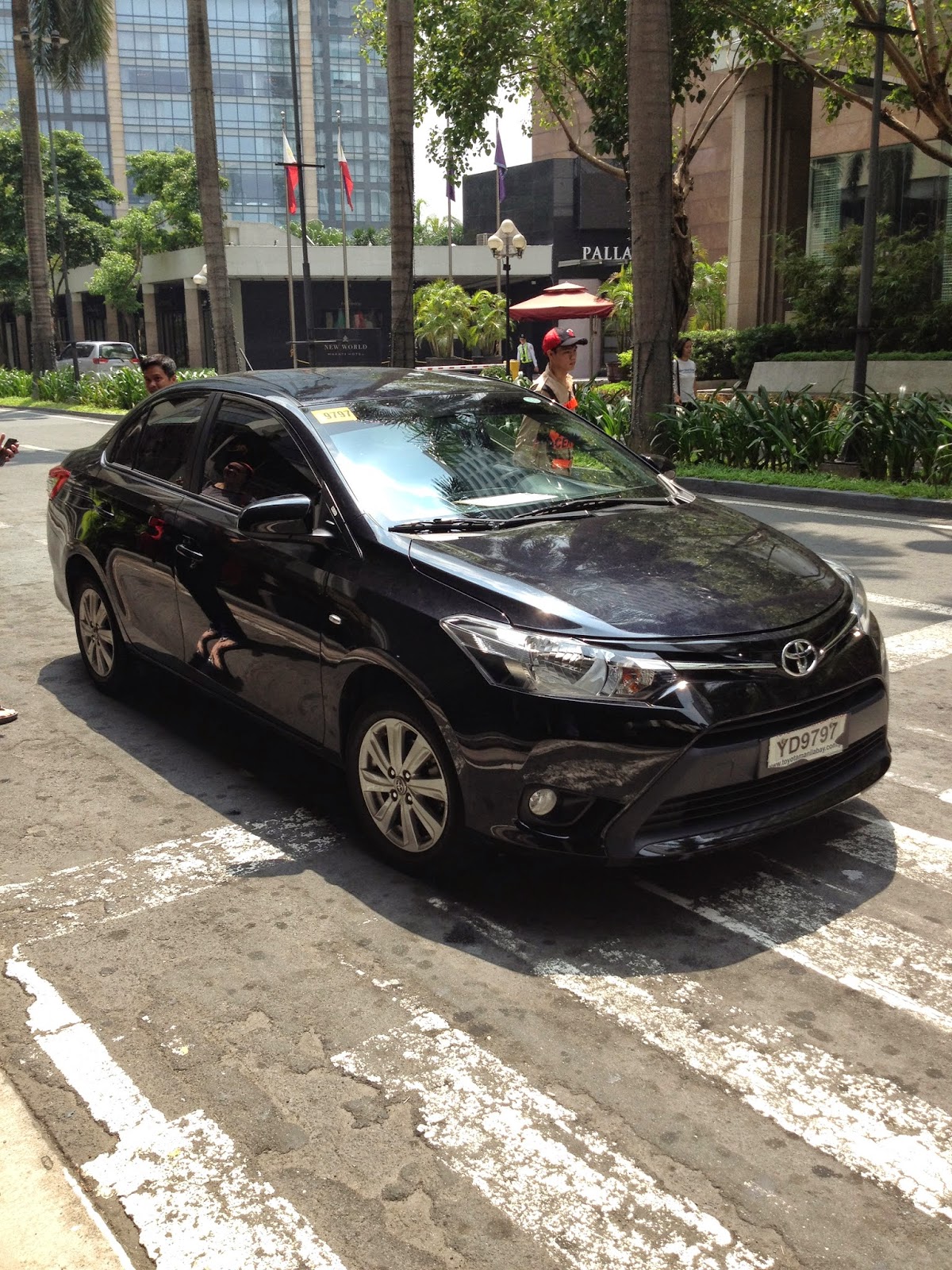 Black Toyota Vios
Very clean, right?
And this is our really nice and pleasant driver who endured my Q&A portion!
To earn your free P300.00 credit with UBER – download it's app or simply click the link below:
https://www.uber.com/invite/ubercandishhh or enter the PROMO CODE ubercandishhh
Earn FREE rides and hearts!
Thank you UBER for being in Manila. Will definitely ride with you again!
UBER na!!