Mid-Autumn Festival is an event looked forward by most everyone – simply because of the moon cakes (and also the dice games! hahaha..) The past few years, I have seen many variations of the moon cakes. Different ingredients, different versions – and now Viking's is presenting their own version of moon cakes to their patrons, from hot dishes to delicious desserts! These special moon cakes will be available on ALL weekends of September!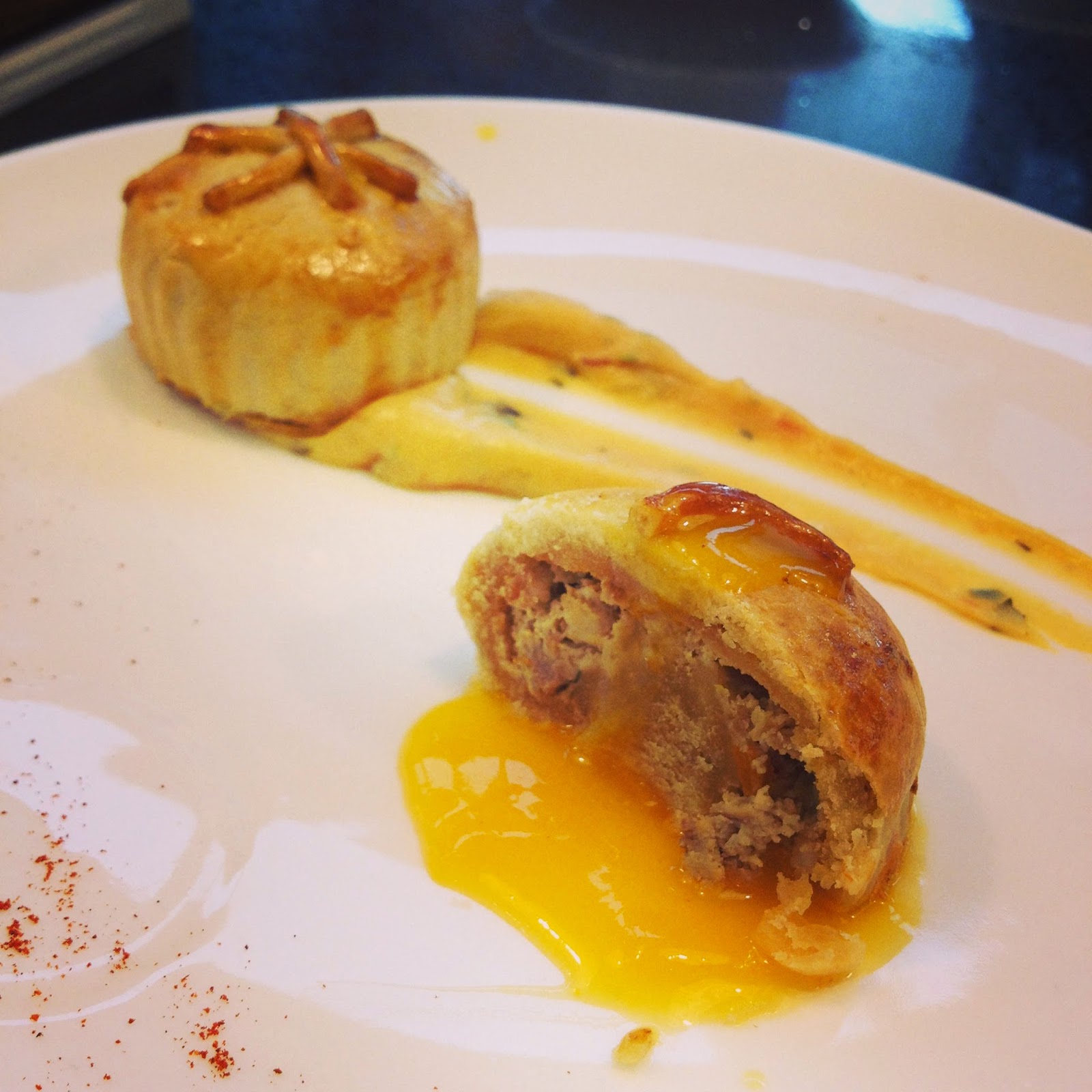 Beef Bourguignon Mooncake with Cahron Sauce (on top) is so meaty good. I especially loved the Choron sauce as it made this particular beef mooncake's taste stand out. The Minced Goat Cheese Mooncake with Mango Coulis (the one at the bottom) is also good – if you like the taste of lamb, the goat cheese's flavor is very strong, thus I'm sure you're enjoy it.
This is the Salted Lotus Mooncake. If you enjoy the traditional mooncake – then this is for you!!
On the left is the Asado Mooncake – it has bits and pieces of the asado tucked in the mooncake. The taste is different from what we are familiar with but still good. The one on the right is the Crusty Shrimp cheese Mooncake – it's made of a puff pastry and oh my gosh, it's really really good! This has to be my favorite mooncake of all the hot mooncakes presented. I swear, the taste is WOW!
The yellow one is the Choco Trifile Mooncake – one bit into and it and I fell in love with it! The texture and the taste is really really really good. If you like chocolates then this one is for you! I swear, every bite I made – I paid it a compliment. That was how much I loved this particular dessert mooncake! The pink on is the Wild Berry Cheese Mooncake – it has a cheesecake filling inside. If you like the taste of berries, then you will like this pink and sweet dessert.
Look at that chocolatey goodness. I wish they sold this though, because I would have bought a lot and hoarded it at home. These dishes are available on all weekends of September in all Vikings branches! Vikings Luxury Buffet