I got suckered. Yes, I have to admit it – I got suckered big time. You see, I have been looking for a househelp. My SIL sent me a message and it was in perfect timing. She said that her previous maid is looking for work, she asked if I needed a helper and at that time. I did. So I called Yaya Babylyn – I spoke to her and we exchanged text messages. She asked if I can send her money for her transportation. I was reluctant at first, but then since she came highly recommended by my SIL (my SIL said she knew how to cook and take care of a child and was nice) so I agreed. But on the day I was supposed to send it, she sent me a text saying not to send anymore because she still had to attend to some things at her child's school. I thought, at least she was honest enough to tell me not to send it, right? After a few days, she told me to look for other prospects – she said that she doesn't want me to wait for nothing. And so I looked, and found one. But it didn't pan out. Last Tuesday, she sent me a Facebook invite via SMS. So, the following day, when my other helper left – I sent her a text message asking her if she has found work already – and she replied 'No' so I asked her if she was still interested to work for me. And she said yes. She then asked me if I was willing to send her P1,000.00 – I assumed it was for her transportation. I delayed replying because I was seriously thinking about it. Then last Friday, I finally decided that I needed a helper. I then told her that I was willing to send her the money, since she was coming from Bicol – I had to know when she's set to arrive. She then tells me that she can arrive the following day since she was already in Bulacan. Red Flag! Okay, so she's in Bulacan. So I asked her what the money was for. She said that it was for her transpo going back to Manila and for some miscellaneous expenses. I then bargained with her – that she come to Manila first, then I can give her P1,000.00 and she can send it to whomever she wanted to. But she begged and told me that she was unable to find anyone who can lend her money for transpo. The text message exchages were at 2PM onwards. She was really making kulit on sending the money. Red Flag! I kidded her that if I sent her money, she won't come – and she told me that my SIL has her Police Clearance – and joked that that piece of paper meant nothing because she can always go an hide right? But she said she's different. So I believed her, and at a little before 5PM – I sent the money through Western Union – to a name she texted me of a man – Romel A. Cebu of Tungko, SJDM, Bulacan. I asked who this person was and she said that this guy was her sister's husband and he is the only one with ID. She said that she will be at my house on the afternoon of the following day. The next day came and at 10am, I received a text message saying that she was just going to have lunch and then proceed to go to my house already. I said 'OK'. I was out with the kids and came back at 2PM. The clock show 3PM and there was no sign of her. A little before 4PM, I sent her a text message asking where she was, but I got no reply. I then sent another message a little before 5PM, and still no reply. By 6PM – I tried calling her but she wasn't answering, so I sent another text. After sending that text – I tried calling and the phone was turned off. Typical of a helper. By this time, I knew I was suckered. I was duped. I had to admit that already. That night, I sent her a stern text telling her that I was giving her a chance. That she needed to come to the house by lunch time. If not, I will make true what she told me – to call the police on her. After a few seconds of that text sending – she replies. And you know what she said? She said that she was invited by her sister to drink – and she was drunk that's why she wasn't able to travel. Red Flag! I was just shaking my head in disbelief. She then said that she will come the next day – before lunch time. And I believed her. This morning – she sends me another text that she won't be able to make it because her niece (her sister's daughter) ran away and she was helping look for her niece. With this text, I knew that she was making a fool out of me already. So I told her, that she needed to return the money to me or else, I will make true to call the police on her. She then begged and said that she will just return the money to me – she promises to do everything possible to return the money. I knew that this 'returning' is close to impossible. So, I gave her an ultimatum – that she needed to wire the money to me this afternoon before Western Union closes. She said that she will do everything possible and for me not to worry. She event went as far as saying that she will sell her cellphone just to pay me back. (I will post the series of text exchanges between us) At 4PM, I still haven't received any transaction number. at 6PM I sent her a text telling her that since it was already past 5PM, I will call the police already. And she replies to say that she will send the money the tomorrow morning because the money she asked from her father hasn't arrived yet. Red Flag! I told her that I didn't care anymore – that I will make true what she told me to do in case she doesn't show up. She them proceeds to tell me that she is telling the truth. I told her to just be honest to tell me if she wanted to work or not – but she was still making excuses. Here's the thing: Last Friday night, my SIL sent me a message that Yaya Babylyn was employed with her in laws for 2 weeks. That last week Yaya Babylyn asked permission to leave because her sister died. Okay – thinking back, I realized – maybe the reason why she told me not to send her money was because someone else already did. I didn't want to think bad of her but when my SIL said told me of the reason of death in the family – I assumed that she would resume working for her in laws after the funeral, but why did she want to work for me? Red Flag! The story was – Yaya Babylyn was went to work for my SIL's in law's friend but lasted only 3 days – thus her in laws took her in. Red Flag! Helpers are notorious for killing off their relatives to make excuses to go home or leave work. When my SIL told me this – I knew I was duped. But I gave her a chance – I always believe that people are good – and I want to be proven wrong. And I was proven wrong. I saw the red flags, but I chose to ignore them out of desperation. I have never been duped this way before. I was always careful when it came to sending money for transportation. But with this one – since I've met Yaya Babylyn – and I knew she was ok with my SIL – I gave her a chance. I believed her – but I was wrong. Please don't think I blame my SIL for this because I don't – I knew it was a risk and I still took it, so here I am. I was telling my Panget about this and he told me that if ever this yaya comes to our home – not to let her in anymore because she can't be trusted. So now, I am only after getting back what I sent them. I honestly don't know how to go about the process of filing a complaint – because I really want to teach her a lesson – that of all people to mess with, not with me. Not with me. I am attaching her Police Report and her Facebook Page. I will not tell you to not hire her, but I will advice you just to be very careful in hiring her. Learn from me.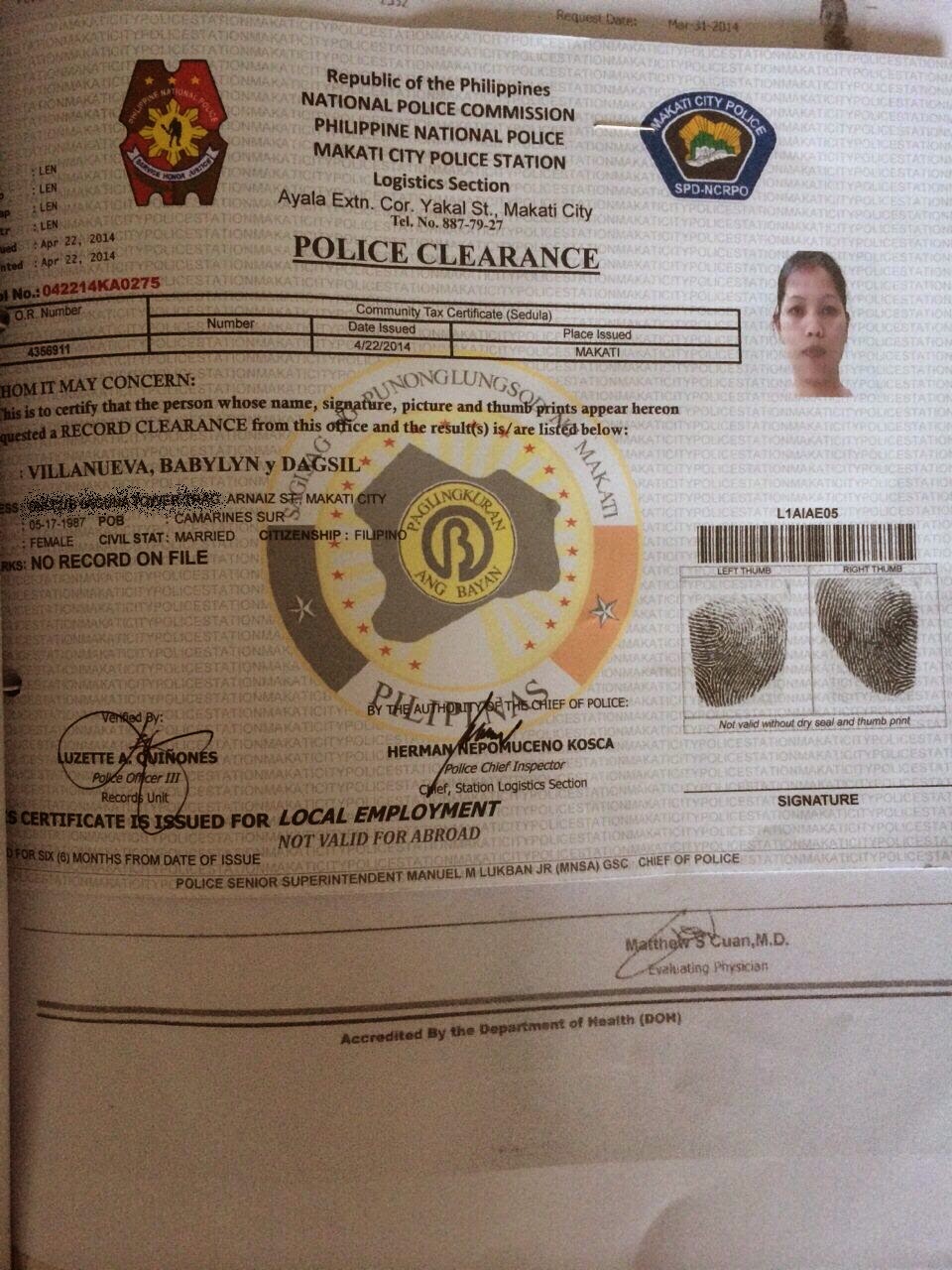 Facebook Page : Babylyn Dagsil Villanueva
P.S. I have been telling friends and family how worthless a Police Clearance is. I want to be proven wrong by my own statement, so let's see how far this quest will lead me. Wish me luck! If any of you know or knows how to go about this – please please share it on the comment section. Anyone privy with any police station in San Jose Del Monte, Bulacan – please help me.