Let me be honest, when I was invited to this food event I had no expectations whatsoever. Well, I guess there was one – that it was about food. Hahaha!! Kidding aside, I honestly had no clue what it was all about. So when I got there, I was quite confused. There were fellow bloggers and then there were artistas! I instantly recognized Bettina Carlos and Chynna Ortaleza.
What welcomed me were boxes of cupcakes, pastries and savory dishes. In delight, I asked who made the goodies and was surprised to learn that these artistas made them – ALL! Wow! So one by one, Fel pointed to me who did what – and I must say, I admire these actresses for being able to bake that much goodies despite their busy schedule!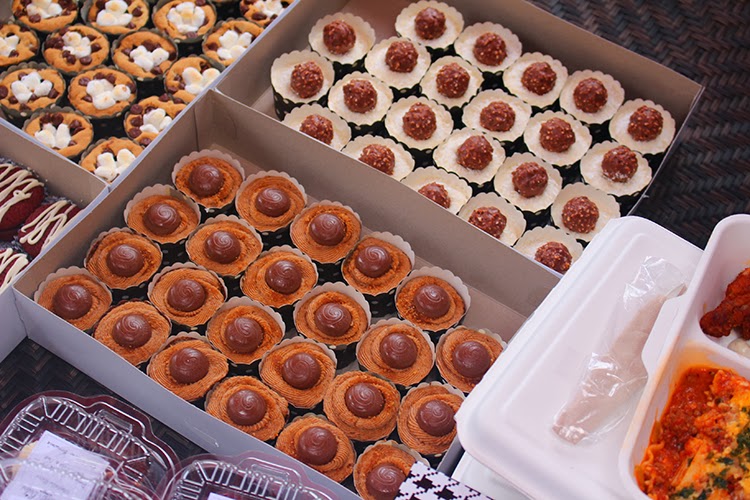 I sat down beside a handsome fellow. My first thought was 'Uy! Gwapo ha..' I initially thought he was a blogger, I was telling myself – 'such a handsome blogger naman!' Then when we got to talking, I learned that he was Ben Alves. It then occurred to me that he is a relative of Papa P! 🙂 hahaha.. Yes, I was so into Pinoy showbiz then.
Ryza Cenon (who looked super different by the way!) served us with a savory dish – which I really really liked. Her lasagna was really good, it wasn't the usual lasagna for the Pinoy taste, I liked it because it was a bit sour, a good tomato sour. I liked her mini pizza, plus her wings was also good! 🙂 It was so good that I had to bring home another serving! Hahaha.. 🙂 By the way, she baked most of the goodies! I was majorly amazed that she was able to make boxes and boxes of cupcakes!
Bettina's Samplers
Above are the samplers of Bettina's creations. Her products are available in Moonleaf Tea shops and Rain Tree Blends along White Plains. These were really good. I brought home some and my Panget loved them all! You may contact her for orders at
0917-861BITE(2483).
So this was why the event was called Food from the Heart – heart is puso in Tagalog. I appreciated very much the effort of these actresses and I admire them for still having the time to create these magnificent goodies! Despite them being busy – and having a full blown career, I failed to realize that they're normal people too! They like and enjoy food, they bake goodies and share them too!
Ryza's Lasagna (my FAVORITE!)
Chynna's personalized tags!
I can't believe she wrote them all!!
Thank you GMA Network for this opportunity to sample the goodies and meet the celebrities behind them. Ryza, your lasagna is my personal favorite! 🙂 Hahaha.. 🙂
Visit the star's IG accounts:
@abettinacarlos
@iamryzacenon
@chynsortaleza
@benjaminalves


Follow them on Twitter
@abettinnacarlos
@iamryzacenon
@ChynsOrtaleza
@benjaminalves


Photos by me and from GMA Network