Everyone, for me at one point in their lives collected something. I for one am still into collecting ballpens. I still surf the net in search for that perfect ballpoint pen and dream that someday, I will get to own one and maybe develop one for everyone to use!
When I was still in High School, my friend Kath was into collecting those Coca Cola polar bear dolls. She was so happy when she received a Coke polar bear from a suitor! Little did I know that there are avid Coke collectors out there.
The Real Thing diner is representative of an avid collector of Coca Cola items and turning this hobby into a business! Honestly, I like the idea of a diner – it brings me back to the time where I read Archie comics – they always hung out in the Soda Shop. How I wish there was something similar here in Manila.
The Real Thing diner offers food with a bit of a twist, they've incorporated sodas into their meals – which is really good because it makes the restaurant more authentic and more in tune with the theme of the restuarant.
Here are some of the dishes served:
Cinnamon Sifter – P99.00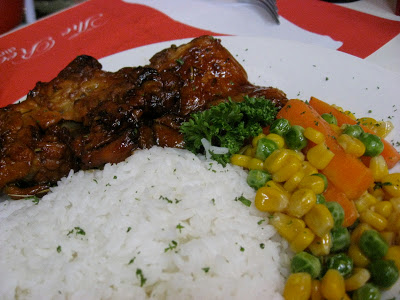 Eight O'Clock Chicken – P289.00
Sarsi Wings – P199.00
Eight O'Clock Apple Green Tea Dory – P249.00
Coca Cola Baby Back Ribs – P399.00
Happily Appley – P89.00
Chookie Ice Cream Sandwich – P89.00
My favorite has to be the Sarsi Chicken Wings! The flavor is just perfect! This kind of reminded me of Bonchon's (even if I haven't eaten there yet) and Richard corrected me saying it was like Manang's chicken – only juicier! I have to agree with him, the flavor was similar, but I am partial to these Sarsi chicken wings. Richard and I couldn't stop ourselves from having more!!
I have to rave about the food – they've come up with unique recipes and there's a hint of sweetness because they've incorporated sodas and juices to the food. This made me like the food even more because I like a hint of sweetness on my savoury meals! 🙂
The feel of the restaurant is cheery and happy, this is what a diner should exactly feel like. I will definitely go back to try the other dishes.
The Real Thing Diner
2/F Il Terrazzo
Tomas Morato, QC
Tel. 352-4320