Two Christmases ago, my dad was gifted with a round Victoria's Ham. My mom and my twin brother were raving about it saying that it was the best ham they've ever tasted. They let me taste a slice, and I must say – it was really good! My mom even saved the box, so she can order it – but there was no number on the box. We searched online – got a Manila number, but when we called – no one knew what we were talking about! Our efforts with the searches ran futile because we couldn't find anyone who knew the brand nor the product!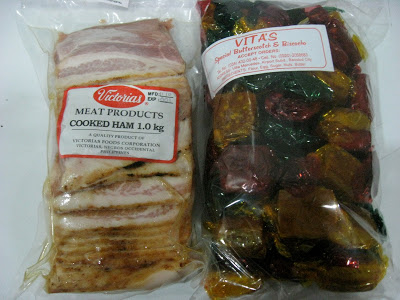 So three months ago, when my twin brother went on a trip to Bacolod, my mom specifically told him to look for the ham and buy some. When he got home – he brought with him the ham, but instead of a round ham – it was sliced ham. My mom and I were skeptical, but when we tasted it… IT WAS THE SAME HAM!! It was love at first taste! Too bad my twin only bought 2 packs – he thought it wasn't the right kind, so to be safe – he just bought two.
Can you guess how long the 2 packs lasted us?
Two freaking days! And to think that we were saving it!
We were so happy to learn that a friend of my twin was coming to Manila from Bacolod – he then asked his friend Neil – to buy us some. Yehey!!
Last November, my twin announced that the hams were arriving that day. We were all excited but my mom was the most excited! Hahaha… She immediately asked the driver to pick up the hams in Greenhills.
Thank you Neil! You sure made my mom giddy with delight!
He also bought us some packs of Vita's Butterscotch – they're the yummiest too! The trick was – to heat it slightly in the oven. Heating makes the butterscotch taste like magic!! Yummeh!!!!! 🙂