On my recent Korea trip, I got a LOT of freebies!
Since I can't use them – might as well, give them away to you guys!! 🙂
I have three items to give away! 🙂
They have a LOT of these in Korea! I am amazed at the different kinds that they have!
A small trial bottle of moisturizer, emulusion, and tonic!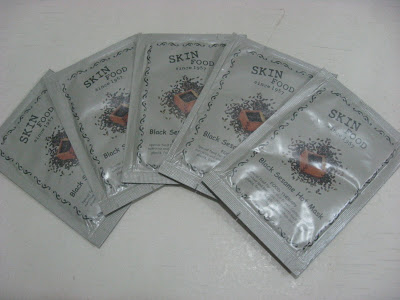 Skin Food's Black Sesame Hot Mask..
Joining is really simple:
1) Leave the following details on the comment section of this post:
a) Which loot you want to win! (The Masks! The Bottles! The Hot Masks!)
b) Your name
c) Your email address ( a valid email address please!)
d) Share this message to your social networking site: Facebook, Twitter, Plurk, Friendster, Etc.
Win a Korean Beauty Loot! http://candishhh.blogspot.com/2010/10/win-korean-beauty-loot-face-shop-skin.html
2) Kindly complete the details above – remember, incomplete entries are automatically disqualified!
3) You can post as many comments as you want! The more comments you make – the higher your chances of winning!
4) Contest will run from today – October 26, 2010 to November 15, 2010 11:59pm (all entries submitted on November 16, 2010 at 12:00midnight will NOT be included)
*Contest is for Metro Manila residents only!
*In case you submit multiple entries for all the loots – you will win the loot of your FIRST entry!