I actually never knew what the show was all about. I've been reading that the 2010 version is quite good, plus having Alex O'Loughlin play the lead – made me even more curious. Last night, my Panget brought home two episodes of Hawaii Five-O. I was too curious to wait for him (so we can watch it together) – and so I let the temptation set it and watched the first two episodes by myself!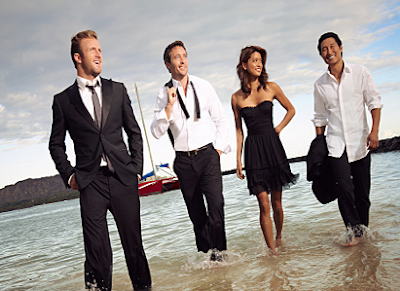 Alex O'Loughlin is gorgoeous as he can ever be! I like his look now – cleaner as compared to what he looked like in the defunct show Moonlight (but I loved him in Moonlight!). I was laughing when I saw Daniel Dae Kim in the show – it seems like he never left Hawaii (Lost was filmed in Hawaii). As for Steve Caan – I must say, I was waiting to see him on TV for a while, I soooo love his humor and I think he's a good actor. Grace Park is sort of familiar because I see her whenever I channel surf to the SyFy channel particularly in Battlestar Gallactica.
The first two episodes were really nice, I like the dialogue and I really enjoyed the humor especially the exchange of Steve and Danno. I enjoyed their 'talks in the car' immensely, to be honest – I get kilig, and I don't know why! Hahaha..
I am looking forward to watching more episodes of this show.
Hawaii Five-O, I like!! 🙂