Last Thursday together with fellow bloggers – we met the newest chicken-baboy in town!


Chic-Boy!!
Image grabbed from Chic-Boy's FB page
Located along the busy street of Jupiter in Makati – it boasts of a new twist in the lechon manok, lechon liempo industry; it being – 'Cebu'.
Now, everyone who hears the word Cebu said before the words – lechon manok or liempo would immediately salivate at the thought. Everyone knows how yummy Cebu lechons are! I am one who believes (like Anthony Bourdain!) that the Cebu lechon is the best pig ever!
Since Cebu is miles and miles away from us here in Manila, what is the next best thing? Honestly – my next best thing would still be ordering the original and having it shipped via plane.
Enter – CHIC-BOY!!!!!!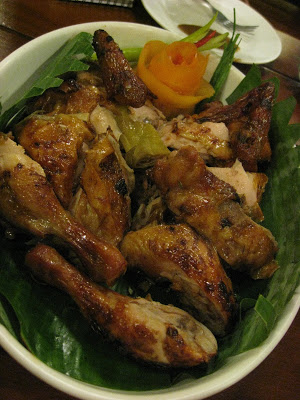 Let me be honest, I was never a fan of lechon manok simply because I found it too dry and it lacked taste for me. But when I munched on Chic-Boy's Cebu lechon manok – I was amazed on how juicy the chicken was! I mean for an 'inihaw' na manok, for it to be juicy – wow, that must be something right? And the taste? It was delicious! Even my Panget was amazed and declared that it was really really good!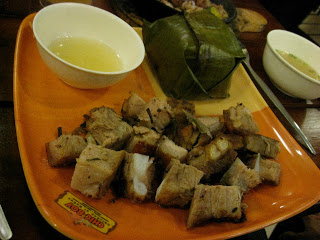 Do you know what amazed us more? The price!! I mean for P99.00 for a combo meal with rice all you want, it was such a great deal! There's a Hokkien saying 'Siok, wu kiok' translated in English means that there is 'value for money'- it was really value for money.
They have the creamiest Leche Flan that I have ever tasted! Take note, they're a fast food place ah! And their turon with condensed milk – why didn't I think of that?
My dinner experience here was superb! Loved the company (B'ley, Fritz, Spanky, Fran & Paul, Jane & Bubba, Jon, Kristine & Robin, Iya, Joko, AJ & Matthew, and Cat!) and most especially looooooooved the food!
Wait, there's more – I've not yet mentioned the best thing about Chic-Boy….
Its open 24 hours baby!!
Yes, you read that right! 24 hours a day, 7 days a week.
Now, ain't that super??
CHIC-BOY's website
http://www.chic-boy.com.ph/