This is so cool!! LJC restaurants can cater!!!!
Fely J's was love at first bite!! And when I learned that they can cater – Can I order one full tray of Fely J's Dilis rice? This is so cool!! 🙂
Now – since its the start of the BER months!! Let's get ready!! 🙂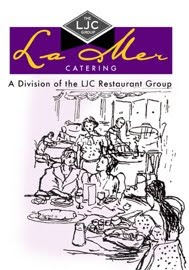 We are a professional food and beverage provider of the LJC Restaurants Group which has over 29 years experience in food and beverage service. With 18 restaurants operating 11 respected brand names, our choice of offering is the most varied in its field. We make our five-star service easily available to friends and the discriminating public and provide superior value for money.
We are a high standard, multi-product food and beverage provider. We use complete professional grade equipment, high quality food and beverage ingredients, superior resource management for our stakeholders, great flexibility in our offering of service to please a wide range of clientele, and invest in our team through training and research.
For Inquiries on packages and menus – contact the sales manager:
Rona Borromeo
710.7420 * 526.7706
For more information visit www.ljcrestaurants.com.ph