I'm so happy to hear that there is a vaccine against Cervical Cancer!!
At long last! A vaccine to prevent a certain type of cancer!
That's such a breakthrough for me. My grandfather died of Cancer – and I was witness to the pain and suffering he went through. I have a very good friend who was diagnosed with Cancer last year – thankfully, she's in remission already!
I was shocked to learn that women and men can die of this! I always assumed that Cervical cancer was a cancer that hit only women. Most Pinays would steer away from visiting an OB-Gyne for fear that they will be branded negatively. I personally have never visited one – I never thought I needed to, I always assumed that going to the OB-Gyne meant that you were expecting or trying to conceive. But after hearing talk about Cervical cancer – I realized, I thought wrong. We women have to take time out to visit our doctors, get a regular check-up and update ourselves on the vaccine that prevents Cervical Cancer.
Dr. Manalastas gave a very informative talk – I found it upsetting though – that the vaccine has been in the country for quite a while, but how come I've never heard of it? Spreading the information was quite slow, I mean a LOT of women (and men) can benefit from this vaccine, why not do a full blown campaign? I mean, this vaccine prevents a certain type of cancer – that should be a phenomenon, but why is it not?
Through my blog, I hope to help spread the word that indeed Cervical Cancer can be prevented. I have been encouraging friends who have daughters in their teens to get this vaccine – I mean shelling out a certain amount, will prevent their daughters to contract HPV that develops into Cervical Cancer.
To my female readers, visit your OB-Gyne (I know it's taboo in our culture, but it'll help you, believe me!!), get a Pap-Smear and if possible, get the vaccine.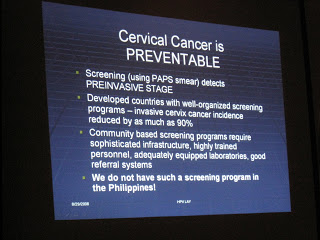 As they say, health is wealth – prevention is key guys!!