I've been intrigued with Moonlight since I saw an episode on local TV one Friday. I immediately consulted my cyber pal and TV Show addict Mindy about it. She said that the show was new and it started slow.
I asked my Panget to DL for me – he then told me to ask our friend Andy (as he has fast internet connection!) But as it turns out – we never got to see him (to transfer the files) luckily, my Panget's brother downloaded it already! Yeha!!
Last night – I saw 2 episodes.
So far, I'm liking it. Not loving it, but just liking it. There are some boring parts but on the other hand, there were little (just a little) gore! Hahaha…
It was during the May 1 holiday that I saw this being featured at a local morning TV show. It piqued my fancy because I so love pizzas! I am such a Pizza lover – that I can eat it everyday! At the moment, I am loving Brooklyn Pizza! I love the crust and the toppings!
Yesterday, I told my mom about this pizza place, she then told me to call to order one, but I guess they had too many orders thus their phone was 'not accessible' for most of the afternoon. It was in the evening that I was able to get through. At 10 am today – I called to order one for pick-up. I ordered the Sample Pizza – which has 4 different flavors. I chose 1) Garlic Tuyo (it was their 'specialty' 2) Magherita (for me! I love basil!) 3) White Cheese (for my mom!) 4) Combination (for my brother and dad)
Here is what it looked like: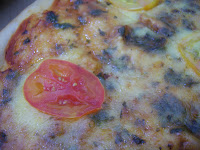 My favorite – the Margherita
I personally loved the Margherita Pizza – simply because of the generous amounts of basil! My mom was disappointed with the White Pizza because it lacked flavor. My dad found the combination Pizza just alright. As for the Garlic Tuyo? Well, I was expecting more tuyo and garlic toppings – it lacked the toppings and looked like it was tinipid. But I am willing to give it another chance
For those interested to order – you can check out her Multiply Site: Sandy's Pizza
It has the menu and the contact numbers. I think they will move to a new location along Jose Abad Santons in San Juan – but currently you can visit them at #154 O. Arellano Street, Barangay Addition Hills, San Juan.
Call them if you're interested to order – they're super friendly – 721-8334 and 721-8329
It's definitely homemade and fresh.