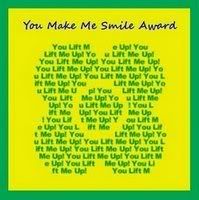 First of all – THANK YOU so much Mindy! It's such an honor – that I am a part of your list. It really means a LOT to me. Thank you, thank you!! You actually made my day.. 🙂 I am deeply overwhelmed! I swear – I am still in shock whenever I think about it.
Paying it forward – here's my own list…
Sophie – I've never met Sophie – but I feel like I know her. We chat once in a while, long chats not small talk- and it turns out, we have some friends in common! I like chatting with her – it's like chatting with a younger sister – and I never had a sister.. The fact that mans more than 1 blog says it all! She's indeed a blog addict. She's the one who got me hooked on Mineral Make-Up! Gosh – when I got my sampler from her – I never went back to my old brands! Thanks Soph!!
Mindy – not because she put me in her list – but because of her love of watching TV!! I too am a TV addict, but Mindy – I think no one can parallel her! I admire her objectiveness and her willingness to watch various shows! I wish I had all the free time she has watching these shows.. 🙂 Another thing – I love Mindy because – she loves the show FRIENDS! I think she's one of the few who can relate to me when I parallelize the show to things that happen in my life… Hahaha!! Thanks Mindy!! BTW – you deserve the award!! 🙂
Wysgal – I love how she writes, period! Her insights are so interesting! Every single one of her entries is such a good read! Especially now that she's in America – her adventures seem to interesting! Hope you're enjoying!!
Christine & Joey – I've had the pleasure of meeting these two at Lori's baking demo, and since then I got hooked on their blogs! They write so well and their reviews are fantastic! Their blogs are such a good read, and the fact that they react with their bloggers – well, it really means a lot.
Anton – who doesn't love him? The thing that I love the most about his blog – well, it's how he writes about his Rache and Aidan. There's love in every word he puts into writing about them.
Char – you see, she's my cousin's BFF. We only spent 1 whole day together last November – and I swear – I love her already! I miss her actually and her blog (she found me – what are the chances right?!) – somehow connects me to her. I love her humor – it seems that whenever I read her entries – it's like I can imagine her telling those stories to me!
Beijing Travel Bug – her entries makes me smile because I love & miss Beijing so freaking much!!
These are a few people who make me smile everyday.. Their entries are somehow a peek into their lives. I'm honored and privileged to have known them, even if it's only in Cyberspace. Thank you dear cyber friends..
I know it's a long shot – but to those who frequent my blog – THANK YOU SO MUCH! It really means a lot to me. Those simple comments mean the world to me! (I still can't believe that you read my entries!) I don't think I can say it enough – but really – thank you!
Blogging is such a therapy for me. Thank you for eavesdropping.
Thank you…… from the bottom of my heart…