Last night, before the start of my Yoga class, I noticed that there were 3 red ants crawling on my towel. Of course, I immediately killed them. I wondered where they came from, and thought that once I got home – I'd inspect my closet.
It was already late when I inspected my closet. I found a few ants crawling on my cabinet where my towels and my Whisper stash were kept. I hastily removed my bath towels to check where the ants came from, it was quite weird because there were no ants below or at the side of the cabinet. I also found a few ants inside a small plastic container where I kept cotton buds. Since I killed all the red ants I saw, I thought that it was the last of it.
And just this morning, while getting ready for work – lo and behold as I opened the cabinet where I kept my towels, there were a lot of red ants crawling around and about! I killed all the ants I could see! I was kind of panicking already – as they were many! Then when I started to look for the source, I found that it all came from an unopened Whisper Ultra Napkin pack. When I opened the pack – there were a lot more red ants that came out! I hurriedly searched for a ziplock plastic to keep the napkins. And when I did – I took out all the 8 napkins and put the inside the plastic. It was just then that I was able to observe calmly that indeed the ants came from the napkins. There were two napkins whose sides, had holes in them – apparently made by the ants. When I put the napkins in the plastic – there were only 2 walking around, but now their number has grown to 9. I think there are more – but I'm afraid to open and inspect the napkins. I am in the process of contacting Proctor and Gamble. I hope they can tell me why there were ants in my unopened napkin pack.
Where did they come from? Well, your guess is as good as mine….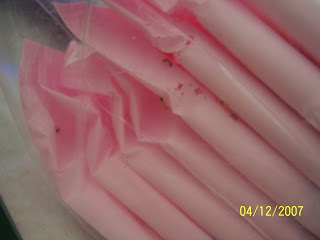 Just looking at the images (and the actual napkins and ants) GIVE ME GOOSEBUMPS!! Ewwwww……. I hate ants! I hate red ants MORE!