I feel that this May 2022 elections is the MOST IMPORTANT election in my life. I am not just voting for myself, but I am voting for my children's future.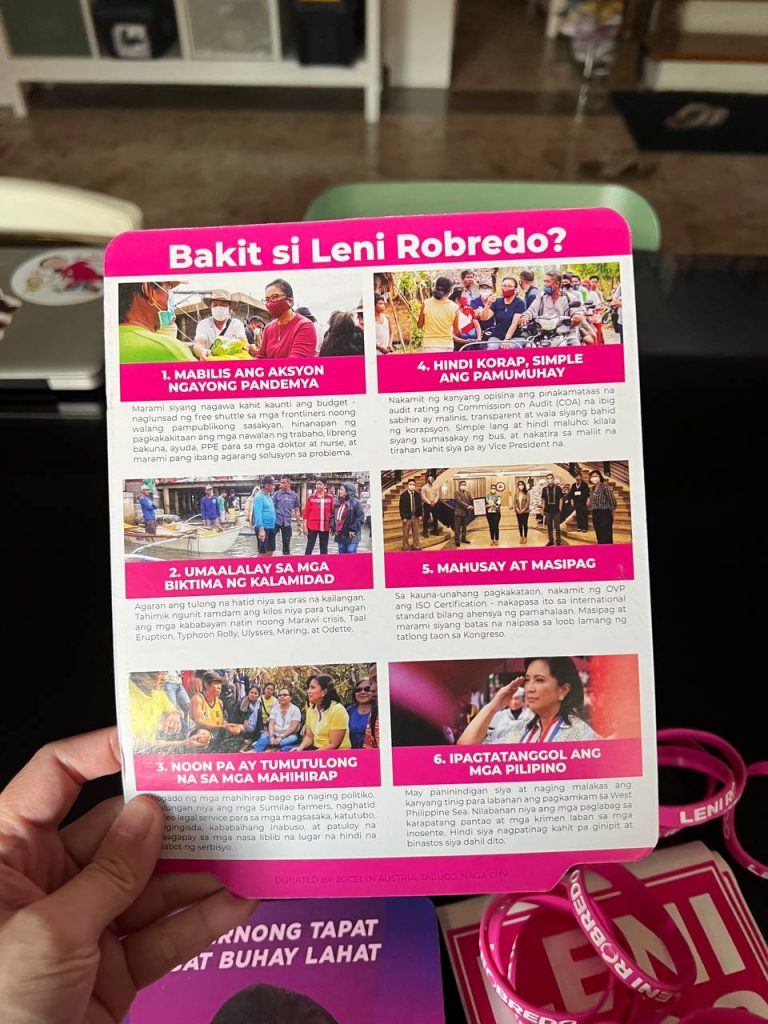 Ever since Vice President Leni Robredo announced her candidacy – I knew she was my only choice. When she named Senator Kiko Pangilinan as her running mate – I was SOLD. I knew I had to vote a tandem and no matter what others say – IT SHOULD BE A VOTE FOR THIS ROBREDO-PANGILINAN TEAM – ALL THE WAY!
I never had doubts on these two people. They are the most deserving amongst the candidates – their track records speaks for themselves. THEY ARE CLEAN, THEY ARE NOT CORRUP, THEY DO NOT BELONG IN ANY POLITICAL DYNASTY. They are people who are purely in it to SERVE THE FILIPINO PEOPLE.
I am a proud #KakamPINK – the color pink is so inspiring! I've even changed my ringtone to the chorus of the song Rosas. Whenever I hear that song, it moves me. I swear, I've never felt this much conviction – NALULUHA ako when I hear the song! The lyrics of the song – TAGOS SA PUSO! I love love that song talaga. So thankful to Nica Del Rosario and an ICA alumnae – Gab Pangilinan (I became more proud that she's an ICAn!)
Let me tell you, I have never campaigned for any Philippine government official with this much passion and conviction. WE NEED THEM BOTH in our government. I've had ENOUGH of politicians who trick us and are greedy with money. TAMA NA!
WE DESERVE BETTER!! WE NEED PEOPLE WHO WILL SERVE US, the Filipino people!
And please do not tell me to respect your choice, if you choose Marcos Junior. I can respect your choice of religion – as every religion in the world will tell you to be good. There is NO religion in the world that promotes and encourages stealing and telling lies – NONE! So if you choose to vote for a thief, then it just says one thing about you – and that is PAKINABANG. Feeling mo makikinabang ka – because somewhere in that 6degrees of separation, you feel that a friend of your friend of their friend is connected with a Marcos, and you are hoping that one day – you will be granted a favor. AND THAT IS THE MOST SELFISH THING EVER.
I do not claim to be perfect. I have made mistakes, hurt people, told lies, done things that I am ashamed of – BUT I know I can be a BETTER person. I can take that one step into being GOOD, into making the RIGHT decision for myself and for my children.
This coming elections made me socially and really aware why people march to the streets. I finally understood that feeling that fueled all those people who went to EDSA in 1986. I am WOKE!
Before you shade that circle for president and vice president – THINK OF YOUR CHILDREN AND YOUR GRAND CHILDREN. THINK OF THE FUTURE THEY WILL HAVE BECAUSE OF YOUR CHOICES IN CANDIDATES.
YOU CAN MAKE A DIFFERENCE.
VOTE FOR LENI ROBREDO and KIKO PANGILINAN.
I ordered and bought these pink Leni soaps because I wanted to hand them to people I meet while on the road, but then I realized that these soaps will be of better use when they're given during House to House campaigns.
These soaps have reached Cotabato City, Real in Quezon province, Pasig City, Antipolo in Rizal, and some areas in Quezon City.
I AM SO PROUD of this movement that Vice President Leni Robredo has brought out in all of us! Tao sa tao, mas radikal and magmahal.
TARA, IPANALO NA NATIN TO!!!!!!
#LeniKiko2022