Yes, you read that right!
I've heard stories of others and honestly thought, they were careless with their accounts. So when this happened to me, I was dumbfounded and stupefied! So, let me tell you the story…
Last Sunday, after dinner – I received a text from LAZADA that said that my account was being accessed by an unknown device. When I saw this, I was confused – and then I remembered, maybe this was a late message (update) because I switched phones. I remember that I had to input an OTP before I could access my ow account. I found it odd but I was honestly powerless to do any action – what number do I call? Do I use the chat function on the app? How which medium do I use to get in touch with Lazada? These were the questions that I had in my head. I wondered, really – I mean, it was strange message to receive. I was honestly thought, it was a mis-text.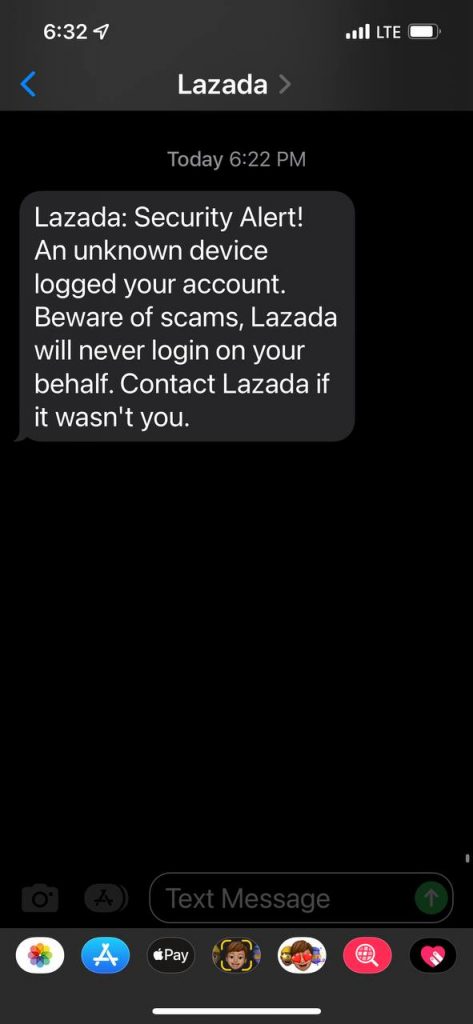 A few seconds later, I received the same message from INFOSMSPH, but this time – there came a few more follow-up messages that bewildered me because of the OTP. I was going back and forth with the text messages, I was trying to wrap my head around the messages I received – ANO ITO was running through my mind.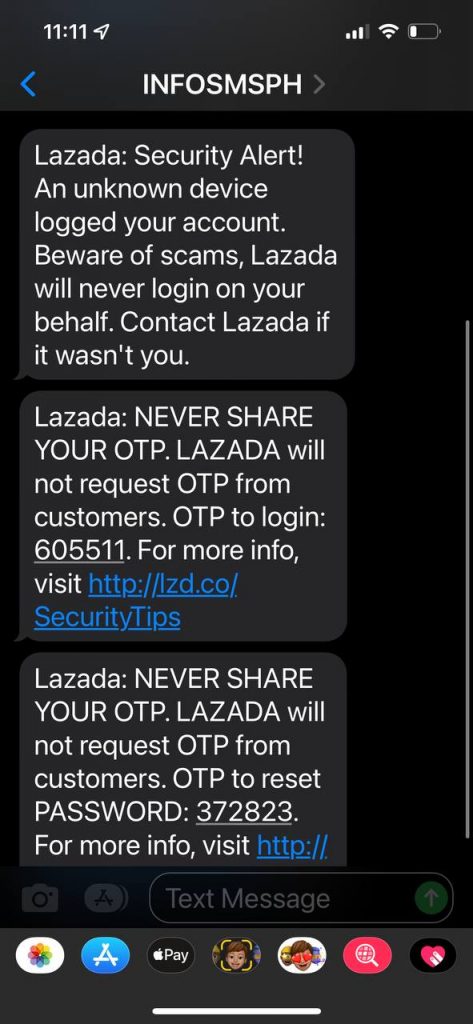 It was right after the message above that I began receiving text messages from GCASH these purchases of 330.00 pesos each! I didn't have time to think – I knew I needed to act fact – I was honestly panicking inside, I had a feeling that this person was trying to wipe out my GCash balance. I was thinking – who?? Who do I send my GCash balance to?! Panget doesn't have GCash, who else? I then just typed the next number that I remember very well – my mom's. So I sent her the balance of my GCash to her number. My first attempt to send my balance was rejected because there was another charge! I was too slow, my fingers were shaking but, I was pissed! I was successful on my second attempt to transfer. I sighed a breath of relief. A few minutes later, my mom calls me to ask why I sent her money via GCash, I told her – my Lazada account was hacked!
So, YES – my Lazada account was hacked!
I immediately unlinked my Gcash account from the app as a precaution. I then checked the purchases that were made to my account:
Purchase #1 was a set of MASKS, the total amount was P44.00
Purchase #2 was GIFTAWAY electronic GCs with the amount of P220.00
Purchase #3 was another GIFTAWAY electronic GCs with the amount of P330.00
Purchase #4, and #5 are the same as Purchase #3
Purchase #6 was PROCESSING because I unliked my GCash, if you're interested to know – it's still the
same as Purchase #3.
Take a look at the email address where the electronic GC was sent: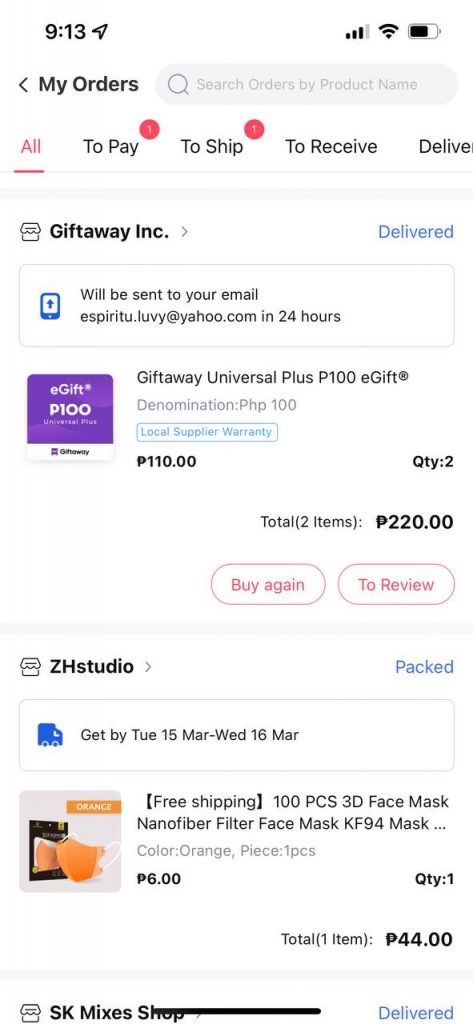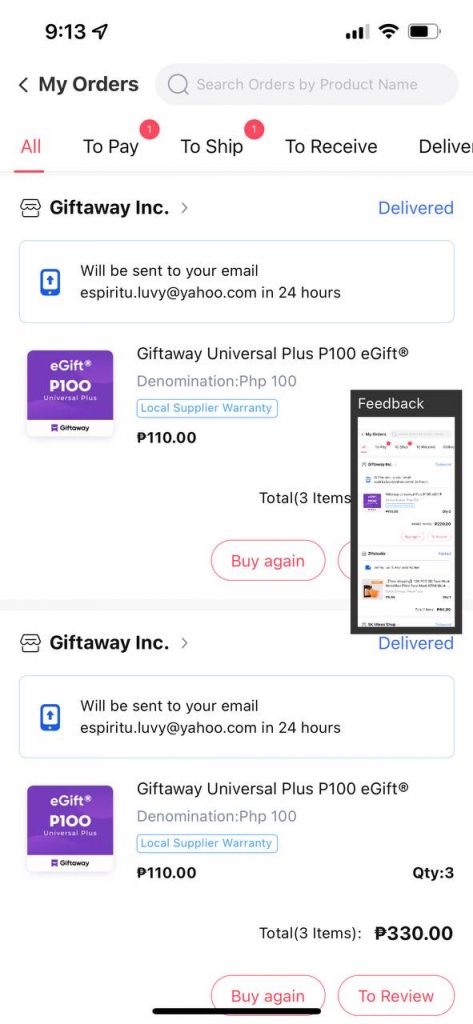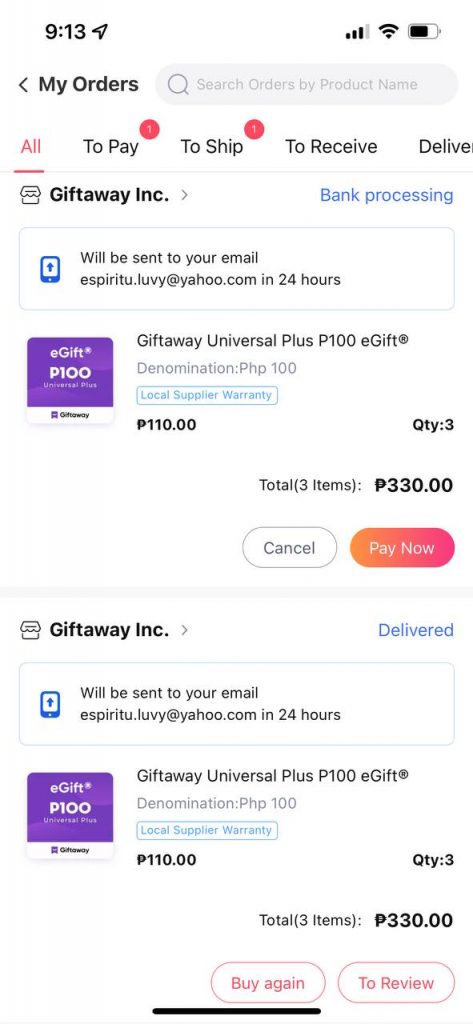 Since I was more calm, I checked my GCash transactions and found only 3. I viewed the orders and saw that there were at least 3 more payments made – it was only then that I realized that those transactions were paid using my Lazada Wallet. I honestly DID NOT know that I had money in my Lazada Wallet.
I wanted to report the incident immediately, so I tried the Lazada Hotline – and it was a bust because it was after 8pm. The Live Chat on the app wasn't helpful either because I had to go back and forth with copying the order numbers of every order – it was such a hassle to do. I then thought – at the very least my GCash has been unlinked – I can wait until the next day to report it. But, something inside me said that I couldn't wait – so I tried sending a TWEET to Lazada reporting the incident. I honestly did not expect a reply – and when I did, i began to feel hopeful. The reply was to tweet another Lazada twitter acount @asklazadaph. Within minutes, I received a DM asking me for details, so I sent screenshots as proof.
I was relieved that after my reply to their DM, I got another message with a link – I had to download a form, input the dates, order numbers with corresponding amounts, send a screenshot of my GCash account as proof of ownership, screenshots of the GCash transactions of the hacked amounts. It was quite tedious, but I had to do it. I sent it back and waited for a reply.
I never thought I'd receive a call – but I did! Lazada called telling me that they received my complaint and to wait for another call after their investigation. I sort of felt settled, I mean – at the very least, I knew that my concern was being handled – and it was good!
Because I posted the incident on Instagram – I received messages from friends that they too experienced what I did. All of them said the same thing – that Lazada was not able to resolve their complaints. One friend received a partial refund, but the others were, well – they were sort of ignored after they reported the incidents. One friend was even told this NEXT TIME BE MORE CAREFUL WITH YOUR LAZADA ACCOUNT. I mean, WTH right? It's as if we giveaway our passwords to random strangers. As much as I wanted to stay positive, I had to accept that MAYBE, I would suffer the same fate as my friends.
I'm sure you've heard of stories of Lazada packages being delivered that were not ordered. The modus pala was to make the account owner RETURN the item, the amount will then be refunded to the Lazada Wallet and then the hacker will once again access the account and will have 'money to spend' courtesy of the Lazada wallet. This is how creative these hacking fraudsters are – they seem to see the loopholes and take advantage.
The next afternoon, I received a call from Lazada telling me that they have successfully refunded the amounts – I checked my account but it was still incomplete! I felt upset because they only refunded two (2) transactions – I had to remind them what there were more than two (2) transactions. I even went as far as telling them that I made an effort to input all the order numbers with amount, and the least they could do is check on their end if the refund has been made. You know naman, how upset I get when I realize that people DO NOT READ what they're supposed to read.
After dinner, I received a call from Lazada informing me that they have refunded the whole amount already. I had to check my Lazada wallet just to be sure because I didn't want to report another incident again. As soon as I saw it the amount – I said THANK YOU to them. They handled my complaint pretty quickly and should be commended for that. I had to remind them again though that this wasn't over yet – they still needed to report back to me what happened to my account – how my account was hacked?!
I wrote this to share to you guys what happened to me, so you can learn from my experience. And this is also to warn you guys that IT CAN HAPPEN TO YOU TOO. I was very lucky that the total amount that was taken from me was less than 1,600 pesos. Imagine if I wasn't holding my phone – the hacker could have completely wiped out my GCash balance.
I'm very grateful that even at night there are people answering Tweets to Lazada. Twitter is still alive guys! Twitter saved me! Thanks Twitter and Thanks to the Lazada representatives who replied to my tweets and who called me even if I got sungit and frustrated na.
Lesson learned – we CAN get hacked.
So please stay vigilant.