So, Panget wanted something different to eat. Different meaning a different cuisine, he's adventurous that way. So I thought – why not Turkish? To be honest, I don't know of any Turkish restaurants in Manila. So I took a chance and typed in the search box of my Instagram. As I typed in t-u-r-k, immediately – Pasha Turkish Restaurant's account popped up. I never knew that typing turk would result in what I was literally really looking for, hahaha! Maybe it was meant to be?
So I browsed through the account and finally asked for the menu. After a few messages here and there, I finally decided – this was it. It was a risk really – but as they say, high risk – high return. The menu was quite extensive as it was divided into categories of protein, which I appreciated very much. We decided on having chicken, beef and lamb. Picking which dish was a bit complicated as they seemed all the same to me with small differences here and there, so I sought help from Michelle (she was the one replying to my query). I made a list and asked if what I ordered were okay – she said yes but made certain suggestions. She's the expert so I trusted her and replaced some dishes. I was both excited and nervous – because I didn't do much research (I have to be honest) on the restaurant. But I put my faith in Michelle and her restaurant. Hahaha!!
Look how neatly everything was packed. All the dishes were labelled properly, they were taped too. Look at that! Impressive, right? But as you know – the true test is in the taste, diba?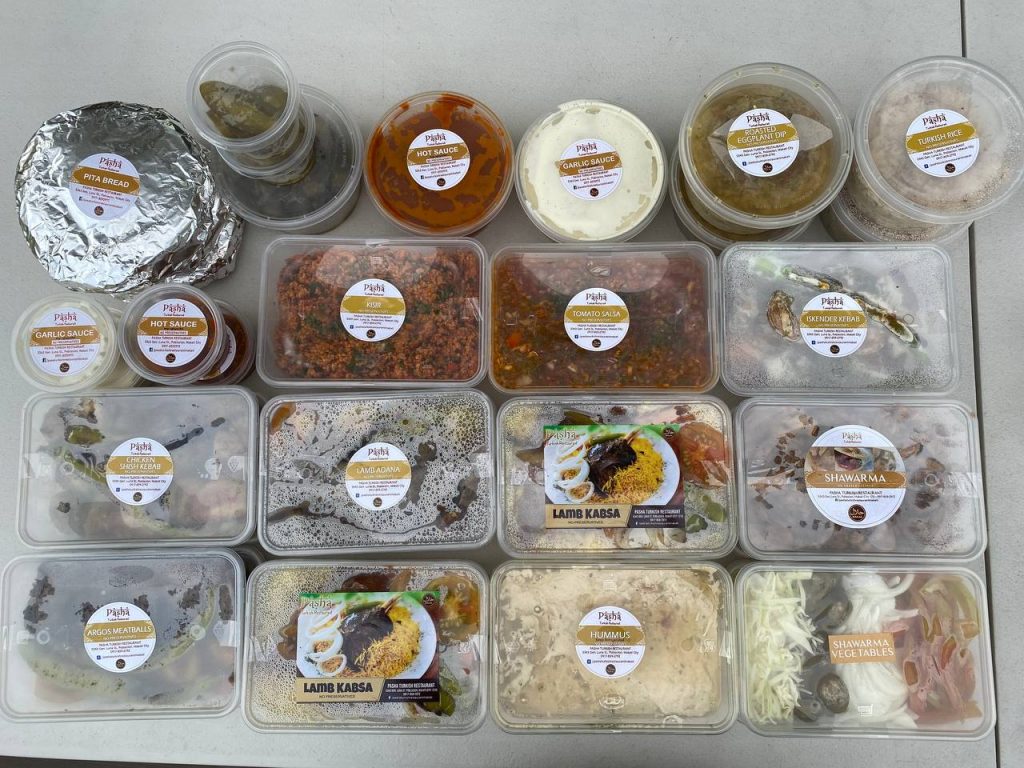 These are the dishes that we ordered, each main dish comes with either Turkish Rice or Pita + sidings of Hummus, Kisir, and Tomato Salsa.
Argos Special Meatballs (Beef)
Chicken Shish Kebab
Iskender Kebab (Beef)
Lamb Kabsa
Lamb Adana
Shawarma (Chicken)
Roasted Eggplant Dip
So, what is the verdict? Was it good? I bet you're curious. Hahaha!!

OF COURSE IT WAS DELICIOUS! Everyone thought the food was great! We were all very happy with the taste and the servings! My apologies and I wasn't able to take pictures of the food, but trust me – they were all very very good! I tried most of them except the lamb ones, but Panget said they were good!
I have to mention the Roasted Eggplant Dip – when you think about it, it's just a simple dip, but we all kept getting more and more because we loved it so much!
Their Garlic sauce was awesome too! Panget said when you combine the garlic sauce with their hot sauce, it was even waaaaay better.
We so enjoyed the food that we're still talking about it a day after.
I ordred via Instagram, paid by GCash and had the order picked up by Lalamove. I swear, this was so convenient! You may view their menu here on their Facebook page – Pasha Turkish Restaurant.
Happy eating guys!