I miss eating out with my children. I miss more our Korean BBQ meals when I cook so much meat and serve it to my children. I miss it because this is one of the ways that they eat without struggle. My children call it 'luto-luto'. It has been sort of a treat for the four of us, before Shobe came into the picture. I enjoy cooking in Korean BBQ restaurants, ask my children and friends! I lovingly cook and serve! Hahaha.. I guess, you can say that one of my love languages is service.
We really miss having Korean BBQ, quality Korean BBQ – that means, better quality meats compared to the cheaper joints. I say quality, because Sariwon has one of the BEST types of marinated meats in the metro. I say this with conviction – they have great tasting Korean BBQ. I remembering dining in Sariwon BGC when they opened, and we were very satisfied with the food, the ambiance, the cleanliness of the place and the service.
And because of the lockdown restrictions, you can now enjoy Sariwon at home! YES! You can now have Sariwon dishes delivered to your home – complete with banchan and all! You may opt to order cooked or uncooked meats for you to enjoy. I personally chose uncooked meats so I can enjoy grilling them at home! Isn't that wonderful?
This how the food was delivered at our doorstep:
And here's the spread of all four bags:
The spread above is good for four (4) people. We were two adults and and two children – and it was more than enough for us. But in case you are all meat eaters, I suggest that you order more meats to enjoy. We all missed this, the grilling of good quality beef! The aroma when I put the uncooked meat on the grill is marvelous, we were all so happy and smiley the whole time. I think Shobe was both curious and scared but she was looking intently at grill while I was cooking.
Here's a closer look of the delivered set:
Korean BBQ will never be complete without the sauces! My personal favorite is the ssamjan of Happy Foods Group, it's the best tasting for me!! I enjoy it with EVERYTHING! Hahahaha…
Korean BBQ staples are the seafood stew which I really enjoyed, the weather was quite gloomy so this was a welcome warmth. The banchan – I remember having to try so much of those before the meats! Hahaha.. My FAVORITE pajeon in the metro, it's so good – promise! And the humble salad. Hihi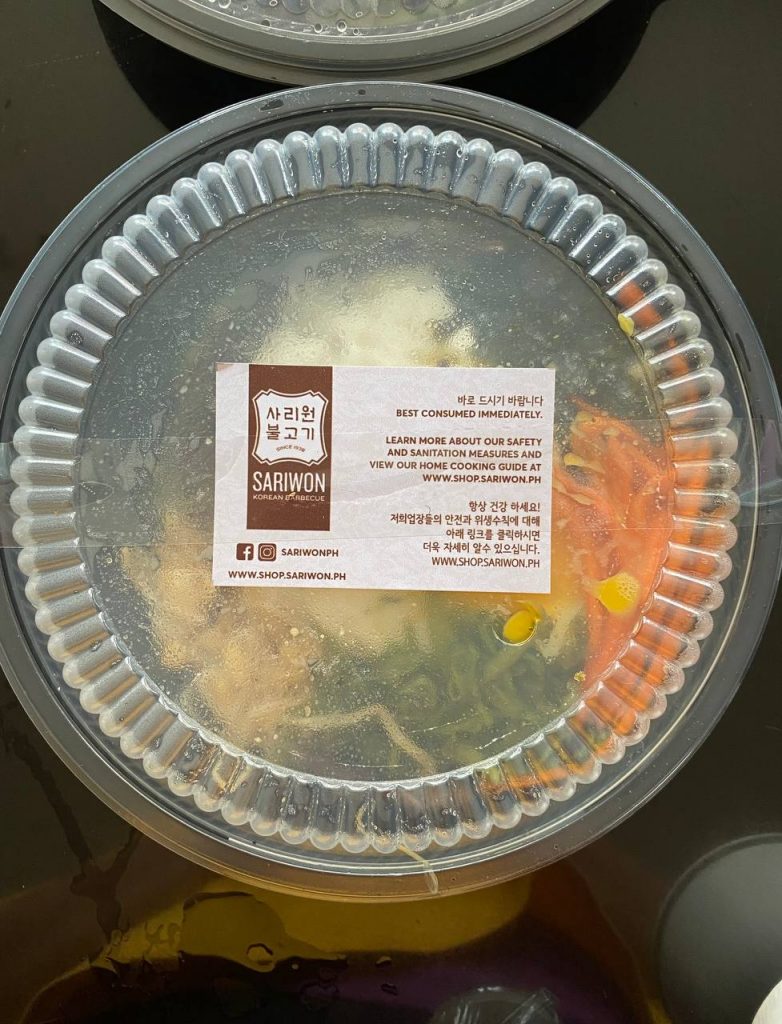 This one above is the Dolsot Bibimbap – it's a veggie one. So reminiscent of our last trip to Korea with the family!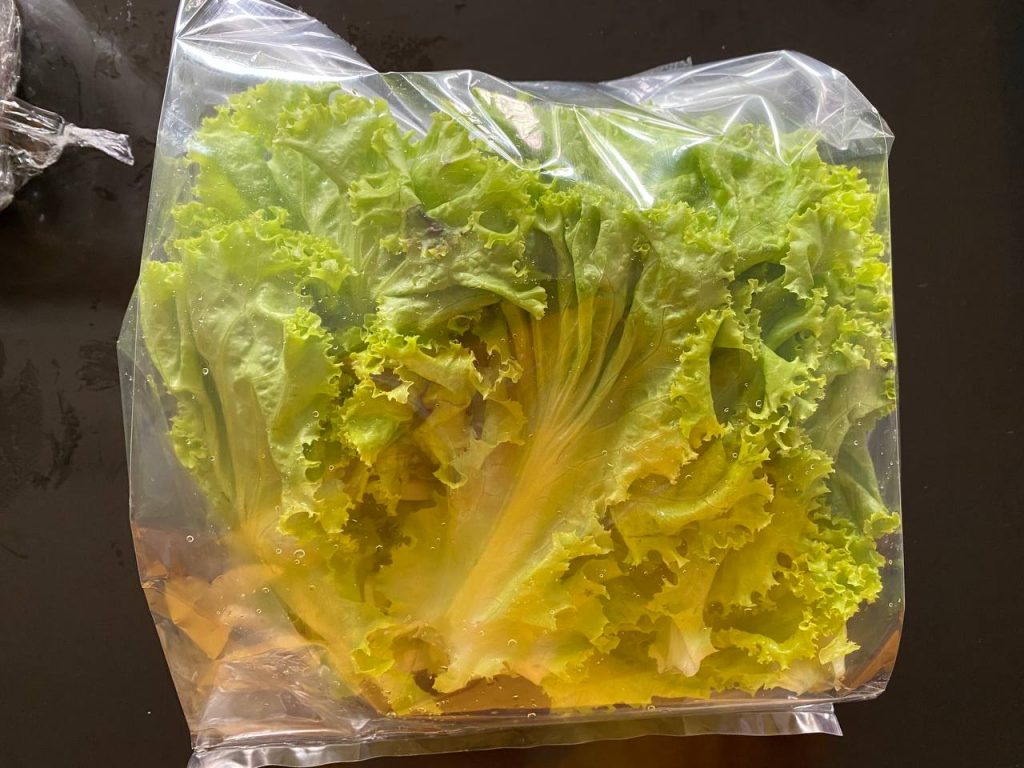 Look at that wonderfully packed lettuce with garlic sliced at the bottom. I wasn't able to take a good photo because Panget took them out and started munching on them!
Last but not the least are the stars of the show: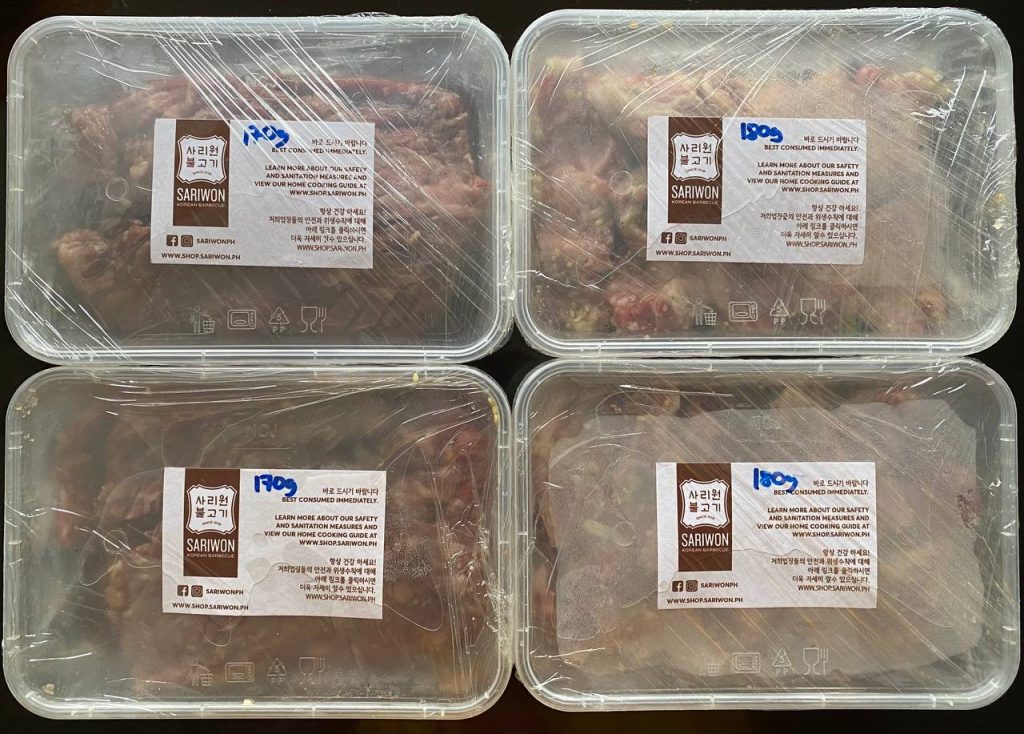 They are wrapped beautifully to avoid spills and unnecessary clean ups, and when you open them up – what I saw took me back to my first ever Korean BBQ with my mom in Seoul – I still remember the where, it was in Itaewon! The look of the scored meats and the wonderful aroma of the marinade.
This is seriously QUALITY OVER QUANTITY – look at those beauties. WOW, I mean seriously – having these kinds of beef delivered to you and ready to be cooked? Amazing.
Heres a video below – to entice you to order and enjoy #SariwonPH at home:
How I wish there's a smell function on this video! See the quality of the meats? THAT is the kind of quality meat that #SariwonPH has been serving for years. I must say, it's #QualityOverQuantity always with Sariwon – it's unparalleled!
This set is perfect for Father's Day! I suggest you order early to avoid the rush and treat Dad with this delicious Korean BBQ set from Sariwon. He'll love and appreciate if for sure – just make sure you do the cooking, okay?
When this is all over – I will make sure to head to BGC and have a sit down meal with my family at Sariwon BGC. I hope it's soon! But in the mean time – THIS will definitely do!!
Please visit their ONLINE ORDERING WEBSITE – www.shop.sariwon.ph
You can also send them a Viber message at 0966-8626670
#SariwonPH
#SariwonSince1938
#BestBulgogi
#TheGreatGalbi
#QualityOverQuantity