Yes, I know – I am late in the game. You see, it was just a few months ago that we started having – Netflix at home. I know, really late in the game! Hahaha..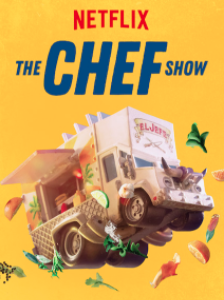 The Chef Show – I remember watching the Avengers episode because Panget downloaded it for me and the kids. We loved the movie Chef so much! Jon Favreau is a favorite of mine, way back when he was still Pete Becker on Friends. Remember Pete? If you're a fan of the show Friends, you'll know who he is! Hahaha! (also on a side note, I absolutely LOVE Iron Man 1 – it's my ultimate favorite Marvel movie. I remember when I was newly married, and Panget was playing basketball every Monday night and I was bored, I'd always watch Iron Man – ALWAYS, I don't think I'll ever get tired of that movie – and guess who's the director – Peter Becker/Jon Favreau!)
We LOVE watching food shows as a family. You know what's ironic about it? My children are super picky eaters! Anyway, back to The Chef Show – so after watching the Avengers episode, I became very interested with the show and asked Panget to download some more episodes, but he never did – and it's okay. You see at that time having no Netflix – it makes life simpler, there's no yearning to watch more! Hahaha.. But after, well – there's so much to watch! Hahaha.. So, I saw – The Chef Show! Yipee! And I watched and watched and watched.
There's something with cooking/food shows that draws me in. I get enamored watching them. I think watching cooking shows influenced me so much, much more more than I thought! When I was younger, it was Cooking it up with Nora, and then on Sundays, it was the Chinese lady cooking show that I never understood anything but was so intoxicated with the dishes that she made. It was only a few years ago that I realized, her name was Fu Pei Mei – AND, I have her cookbooks – I have 4 volumes of them! Yey!
I realized food was always part of my life. I am still a picky eater, but I appreciate so many kinds of food even if I don't eat them. I grew up watching my mom, my guama and other people cook food. They have different styles, but one thing is common – they're all made with love, so much love! I have come to appreciate the effort, the skill and the method put into every dish – and so when my children refuse to eat what I make, it literally breaks my heart and makes me want to stop cooking altogether! Hahaha! But I swear, it's a true emotion – I felt like giving up because who else so I cook for, my family, diba?
I really think that food is a universal language. We may have different tastes or palates but one thing is sure – we all appreciate good food wherever we are. Whenever I travel, I don't go shopping for clothes as much, I was never the type anyway, instead I shop for food and cooking ingredients! My most favorite buys are salts and spices! During my last trip to Tokyo – I bought a can of coarse black pepper, a 420grams one! I know, it's a super strange purchase, but you know what – I used them all up! And now, I'm scouring for more! Hahaha.. I also buy salts, and other condiments. Hahaha, yes, I'm like that – I'd like to lose myself in a supermarket for hours!!
So, going back to the show – I really enjoyed the episodes. I can watch them over and over again. I learn new recipes, techniques, trivia on food and other food related learnings. It's really a dream of mine to open a restaurant, I know it's never going to happen, hahaha! But you know what, I have the next best thing – my canDIshhhbakes foccacia!
I get sentimental because I just celebrated one year – ONE YEAR of baking focaccia! I am so humbled and grateful and thankful for the support and the feedback. Never in my wildest dreams did I imagine that one day, I'd be able to share what I have made in my kitchen! It's just a joyous endeavor. I need to say THANK YOU to my angel – E!! She was sp invested that I bake it right and she guided me and shared me something very important. I am forever grateful to you!! And also my friend Kath – she has been my rock throughout this journey. Kath and I have been friends since ICA – and because we lived together for half a year, she's become my sister from another mother. Hahaha!!