Yes, that is what this post will be about.
The insects that I found in my sack of flour.
Disclaimer: Wellington Mills has already reached out to me and told me that they are ALWAYS ready to replace the sack of flour. My issue was that the seller that I bought the sack of flour was adamant at first to replace my sack but eventually relented. Read what happened.
It was the second Monday of January that I opened a new sack of flour. I had bought and picked up this sack of flour from my supplier's store on January 4 – it was Monday of the previous week. When I opened the sack, I thought I saw some black thing moving. I thought my eyes were playing tricks on my so I looked again – this time, I scooped up a cup of flour and sifted it on a small strainer. It was then that I confirmed what I saw – insects were on the top part of the flour. I then scooped more flour, you know just to check – and after I sifted, I found more bugs.
I did what any normal person would do. Document it, I took a video and sent it my supplier. THIS WAS THE FIRST TIME IT HAPPENED. And I have gotten all of my flours from them since I started backing my focaccia. I have NEVER ever experienced this with any of the sacks of flours that I have gotten from them. So I told them so they can be aware that it has happened. I was expecting a nice reply but instead I was questioned on how I stored it.
Mind you, the reason why I stuck with this supplier was because they process my orders fast and without any hassles. They're very easy to deal with and the staff in their store are very helpful and friendly. So when I received a series of messages asking how I stored my sack of flour – I had a very bad feeling about it, and true enough – I was told that I may have stored it wrong.
How the hell was that possible, right? I was advised to put the entire sack in an airtight container to avoid moisture that may cause molding. And I followed just that – only to be told after I messaged them that it may cause 'heating' I mean – WHAT THE HELL? So I googled the lifecycle of an insect/bug found in flours – well what do you know, it's 5 weeks to 20 weeks! Go ahead, google it!
I messaged them at about 9am and after an hour, there was still no resolution. I had a feeling they were trying to weasel their way out of replacing my sack. And this was the reply I received from the supplier: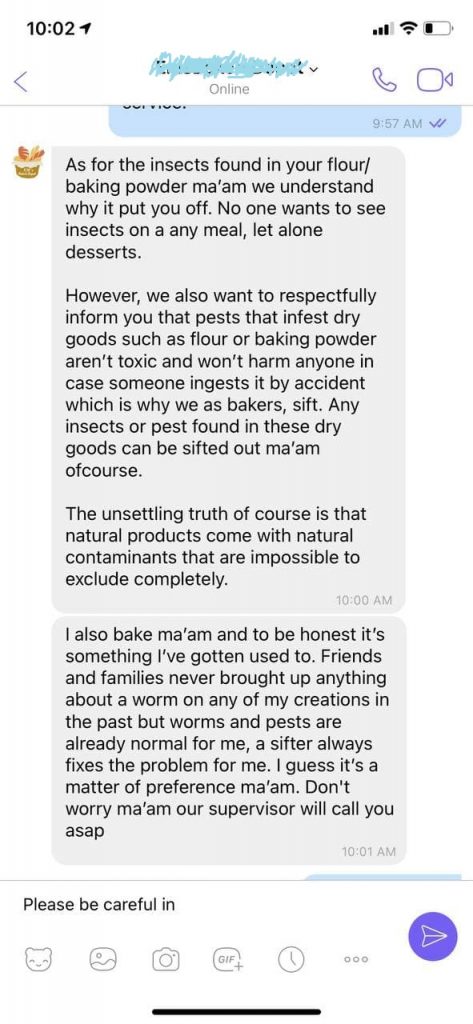 What a stupid stupid reply that was, right?
Two things came into mind:
1) Was there a disclaimer to her family and friends that 'HEY, THE BAKED GOODS I SERVED YOU WERE MADE FROM THE FLOUR THAT HAD INSECTS IN THEM, BUT DON'T WORRY – I WAS ABLE TO SIFT THEM OUT!'
2) Bakers don't sift to separate the insects from the flour, they sift to get a to take out the clumps of flour!
I knew I had to report this matter to the manufacturer and so I called Wellington Mills to report it, I took out the red ticket that was seamed on to the sack and gave it. They asked for my details and promised they would call back.
If you can only imagine my agonizing wait that morning – in the mean time, I had to message and call those who had orders that Monday to apologize and ask if I can move their order to the next day. I was very lucky because they all understood and were sympathetic to my dilemma. I had to also look for another supplier nearby because I really needed a sack of flour for my orders for the week. So I was scrambling.
I waited and messaged the supplier for feedback but nothing came about. I was starting to accept the fact that they won't be replacing it. So I was on a defensive – will I want to do something drastic? I was already on a warpath.
While looking for another supplier, I found one in the FB Marketplace. I sent a message and received a reply – the first thing I asked was 'If I find an insect in your sack of flour, would you replace it? I was SHOCKED with her reply 'It's normal to have bugs in the flour' – that was immediately a red flag, so NOPE, I'm not doing business with you!!
The next supplier was one that sold the same sack but for a more expensive price. I used to buy from the and switched because they were farther and it was more expensive. When I messaged them to ask the same question about the bugs in the sack – their reply was WE WILL REPLACE NO QUESTIONS ASKED. Now, I know who to get from next time. Nevermind that I will absorb the extra cost but if they're willing to replace without question then that's a good sign right?
Since time was moving slowly that day, it made me think – was my sack already infested with bugs when they handed it to me? HELL YEAH! Because I don't think the bugs are mutant enough to grow exponentially?! So that means, the sack I was handed had already been infested to begin with. It was so unsettling and I knew that they were trying to delay the response. I was desperate so I went out and picked up a sack of rice from the seller who said they were willing to replace an infested sack. I had commitments for the next day, so I had to move fast.
I was getting hopeless in getting a response, but I was still patient. And at 6pm, I received a call from the 'supervisor' first off, he apologized (this was very correct) and then he said that they were willing to replace the sack. If this was the solution all along, why did it take them the whole day to respond? He was silent about it. I told him that I was very patient in waiting for a response, I even went on to tell him how incriminating the reply of that person was over in Viber. He was very apologetic which I appreciated very much, it felt that finally – someone understood my worry. When he told me that they will be replacing the sack the next day, I told him na I already bought another sack from another supplier. He was surprised, I told him that I needed the sack really bad because I had orders for the next day. He then said that they were willing to exchange it any time. But I was uneasy already – so I just told him to replace it with a different product and they sent it to me the very next day. I was really upset that Monday, I was so anxious!
The next day, when I had calmed already – I received a call from Wellington Mills. The person I spoke to told me that the flour was manufactured in November 2020. So that meant that the flour that was given me was NOT NEW. I asked this person – how long should be flour be 'displayed' he said three (3) month, that MY sack should still be okay, that it really depends on the storage facility of the supplier – if their place was already infested or not. He then said that they were willing to replace the sack of flour – I already told them that the supplier was picking the sack up already. He told me to call him anytime in case there are problems in the future and that they, Wellington Mills are very easy to deal with when it comes to these things. That's wonderful news, right?
That day was so stressful, I'm just glad that I found suppliers who are good and honest. I just hope everyone else will follow suit. I mean, yeah – I am just but one customer. But had I named this 'supplier' and posted it on social media, yikes – they would lose customers! But I am not evil. I mean as long as they get to solve my issue, then I will stop at that. I'm very reasonable when it comes to these things. But I really needed to post that reply. I needed to, I just blurred the name of the 'supplier'.
But man, customer service in the PH.
Gosh, pahirapan!