So much has changed in 2020. We were all faced with a situation that we have never experienced before. We had to adapt, we had to cope, we had to go with the changes.
Personally, I have experienced anxiety over the changes. I realized that I do not respond to instant changes very well. It took me a while to calm down and realize that this is the situation – that I had to adapt and face it positively because that's the only thing we can do in the situation we're in. It took me a while to get my bearings to accept the changes.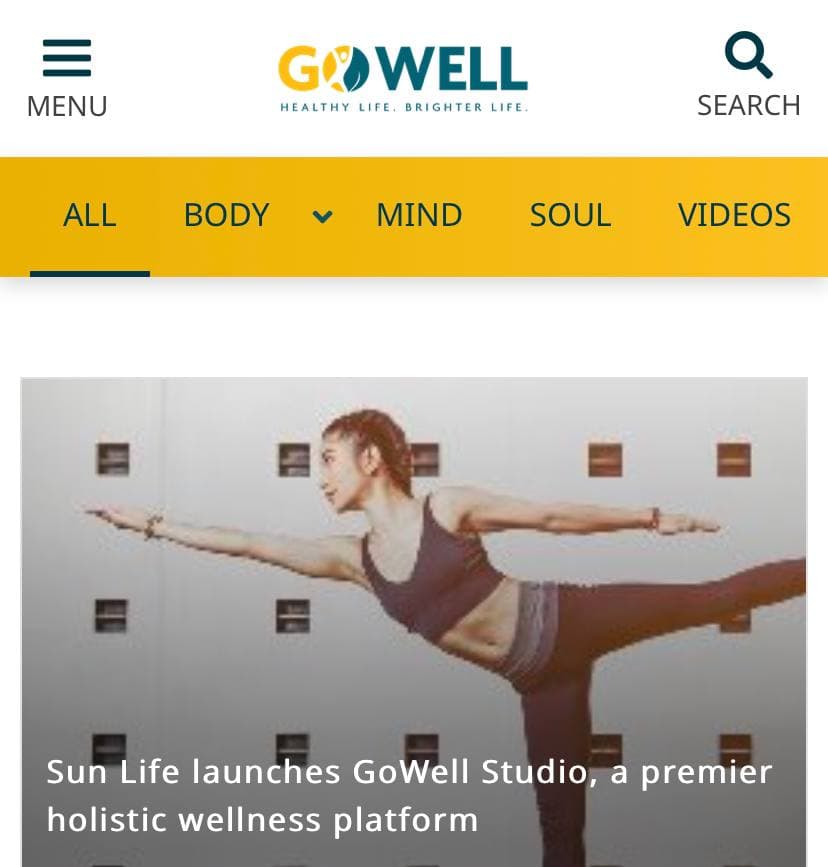 Facing everyday challenges means that we need to change our lifestyle. But what does that mean? I think that we need to be intentional with the changes that we want in our lives. This 2021, I promised myself that I need to be stronger. 2020 made me realize that life is short and that I have to be healthier for my children. Looking for a platform that serves not only the physical aspect but the spiritual and overall wellness is quite tricky. And so we are very lucky to have GoWell – a wellness community that is promoting holistic wellness. THIS IS EXACTLY WHAT WE NEED RIGHT NOW. GoWell has well-curated content that is for the mind, body, and soul. It's the perfect platform to guide and help us face the challenges we encounter on a daily basis.
During the lockdown, I felt burned out because of having to cook every day. It was mentally and physically exhausting thinking of what to prepare for the coming days then cooking it. I never realized how taxing it was. It's so great that with GoWell, I will be able to find healthy recipes for the family and at the same time find an exercise regimen to strengthen my body to keep up with the physicality of prepping and cooking. GoWell is really the best platform for my overall well-being. What a perfect time to discover this platform to kickstart the new year!
GoWell has teamed up with experts in the field such as doctors, licensed health practitioners, professionals, and other experts in different areas that involve holistic wellness to bring us the best while we're at home on a platform that is so very user-friendly. I have personally tried and navigated the site – and it's so very helpful and so user-friendly to tech-challenged individuals like me! It's so great that I get to choose which classes to view and practice with. I also get to learn a lot of different things too like stillness classes, online fitness programs, and other wellness classes like yoga.
GoWell Gold members get exclusive access to exercise programs designed for your overall wellness and well-being! Isn't that a plus? There are yoga classes to follow – a basic and a moderate one to suit beginners. I was able to watch through a session and the instructors are very knowledgeable. I am in awe of how they can give pep talks while going through the motions of yoga, a cardio class, and a sound healing class! Their calmness in the videos makes me feel calmer too and confident that I can follow what they are doing.
Just last weekend, I saw that there was a Sound Healing video. I opened it and listened. And what I felt during the class was so unexpected. While relaxing and listening to the calming inviting sound – I found myself a bit emotional and I cried halfway to the session! I can't explain it, but it was so unexpected! I mean fro just listening to sounds – no words, JUST A SERIES OF SOUNDS! Thinking back, maybe my heart was feeling the song, I hope I was learning to forgiving and healing. Who would have thought that sound healing can make you feel calmer and attuned to the present emotion I was feeling.
For GoWell Studio, it's more than just the video archives; GoWell Gold members also have access to a directory of well trained, top-notch health care providers, coaches, teachers, and other practitioners in the field of wellness. What a wonderful treat right? It's a one-stop-shop for health and wellness! Taking care of our minds and bodies should be our priority. Here's to more holistic wellness for everyone this 2021!
Please visit www.gowell.com.ph for more details
#GoWellStudio
#theAsianparentph
#TAPVIPParentsPH