I've honestly tried a bunch recipes before but for some reason, I wasn't very satisfied. I guess different recipes have different tastes. So I tried one on my own. I knew the base, ground beef, tomatoes red wine. So prepared my ingredients: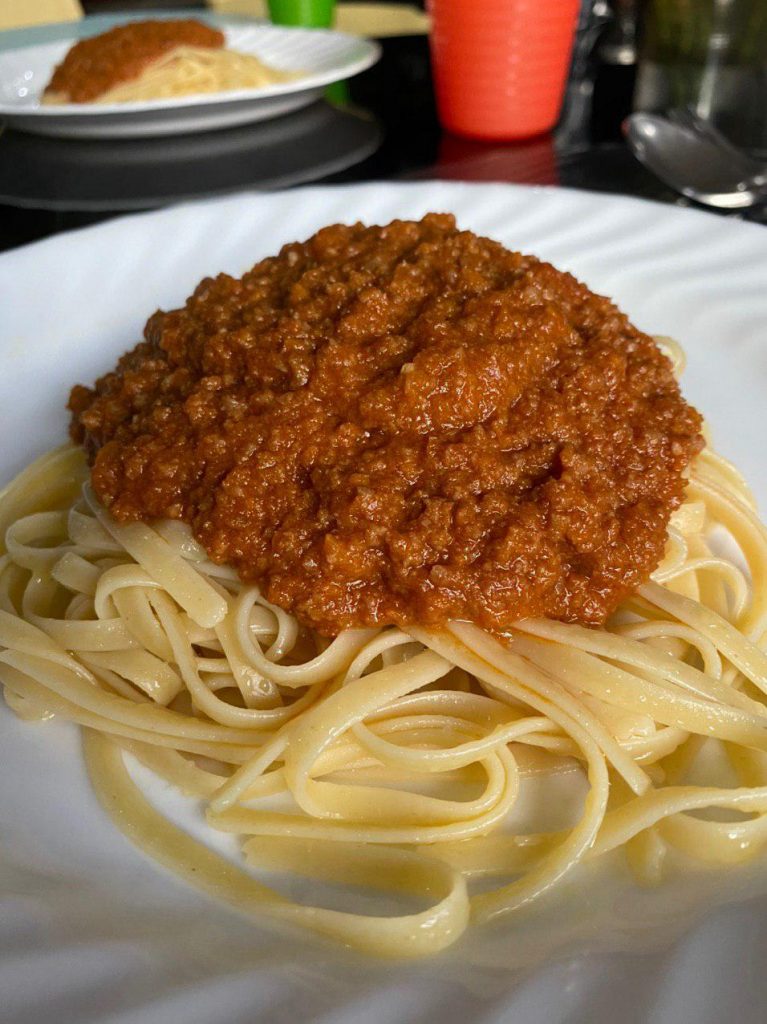 Didi's Bolognese
500 grams Ground Beef (get the good kind, no need to be lean)
1 big White Onion (grated)
1 medium Carrot (grated)
3 cloves Garlic (grated)
1/4 cup Olive Oil
1 can Tomatoes (I used whole, you can use diced or crushed, my brand of choice is Hida)
1 small can of Hida Tomate Frito (fried tomatoes)
1 tablespoon of Tomato Paste (you can add more if you want)
1 tablespoon of Condensed Milk (I know it seems weird, but trust me!)
1/4 cup Red Wine
1 teaspoon Italian Seasoning
Salt and Pepper to taste
First, I made sure to crush the onions and carrots, now why is this – because I like the sauce to have a smooth texture. My kids reject small pieces of onions and carrots. So to make sure it's not seen by them – I have decided to use a hand blender to crush the onions and carrots to mince them very finely.
You can use a normal pan and stove, but I chose to use the #InstantPot because I want to wanted to use the deep pot. I turned it on and hit the SAUTE function. I waited for a few minutes for the pot to heat up and I poured the oil. When the pot turns smokey, add the crushed onions, saute for a while and then add the carrots and garlic. Saute for a few minutes and then add the ground beef. Saute until the beef is cooked.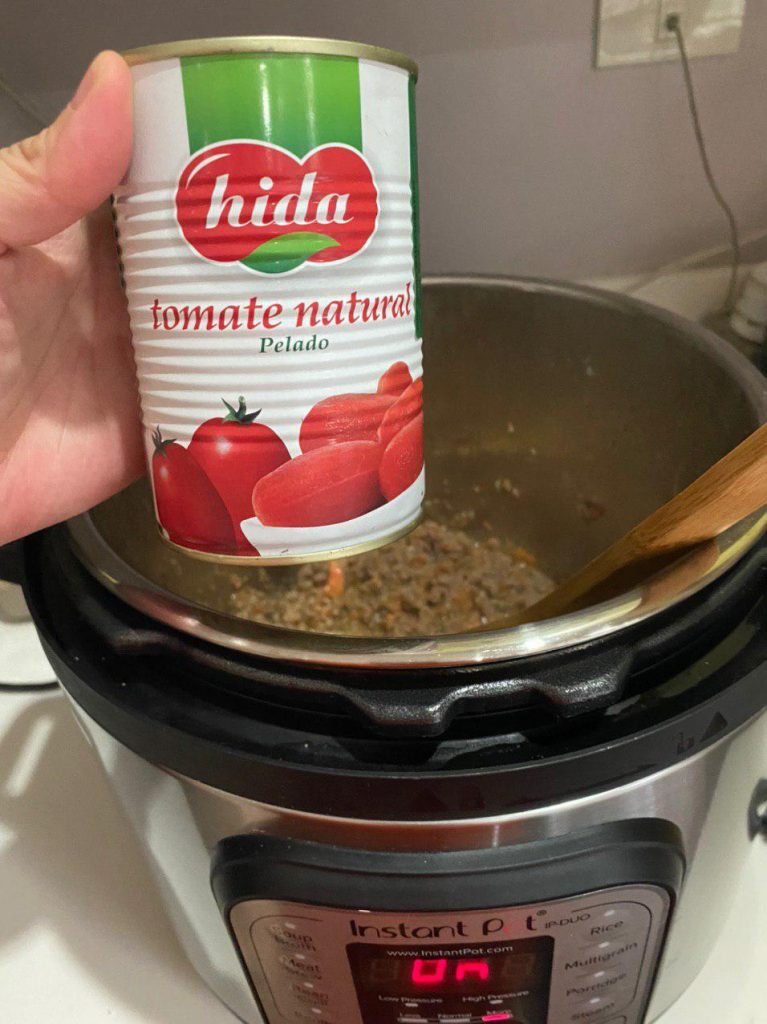 When the beef is cooked, add the can of tomatoes and mix (if you used whole tomatoes, please crush them). Then add the Tomato Frito and mix some more. My brand of choice for canned tomatoes is Hida. I have a preference for this brand because of its taste – it's not sour and it's not sweet. I feel that the taste has a balance of both – which I feel is perfect for the Pinoy palate. Add the tomato paste, just 1 tablespoon. You can add more if you like. Mix it very well and then add salt and very little pepper. Mix it again and taste it.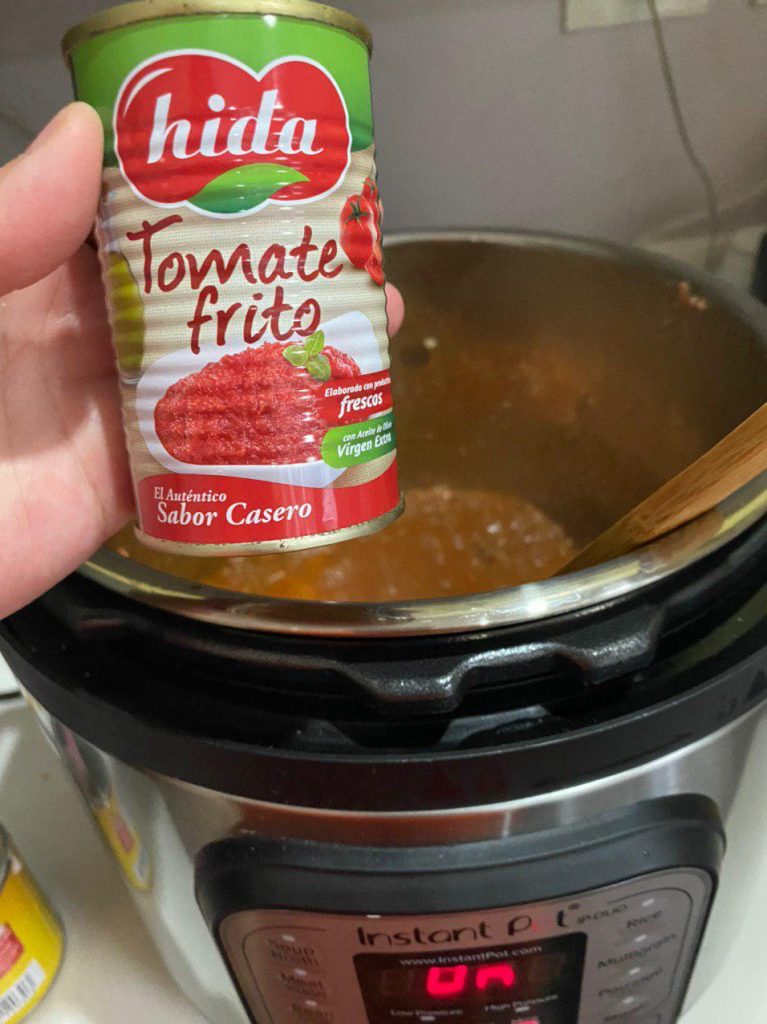 This is the part when I decided to add the condensed milk. I know, it sounds ridiculous (and that REAL bolognese will never call for this, but I just tried it and it worked!) but I added it because when I tasted the sauce, I felt it was a bit tart for my kids. After mixing, I tasted it again and I felt it was a lot better.
Don't forget to add the red wine and Italian seasoning for that herb kick. Let it simmer and then mix again.
I then decided to use my hand blender as an immersion blender to smoothen the texture of my bolognese sauce. And when I was happy with the texture and consistency, I hit the CANCEL button and let it simmer as the temp of the IP lowered.
I served it on a bed of pasta. Both kids were curious to taste and I was so happy when Connor said he liked it. You'll be amazed at how much pasta he ate that night. It was a major victory! Another great part was that the kids didn't notice the onions and the carrot. Hahahahaha!!
Try my recipe and let me know if you like it or not.
Remember, you can tweak recipes to your liking. Adjust if need be!
Enjoy!