I am not a chocolate person. It was only when 8 years ago that I started to appreciate chocolates – the brown ones I mean. I prefer white chocolate, but some say that it's really NOT chocolate per se. But I started my appreciation with chocolate during a pregnancy craving while I was pregnant with Kailee. I would eat certain chocolate cakes and drink hot chocolate. I like my chocolate cakes sweet. I've tried so many 'the best' chocolate cakes but most of them are a bit bitter. I think it's really me – because a chocolate enthusiast will appreciate the more bitter darker chocolates, am I right? So I'm the pretend chocolate fan. Hahaha! I can admit that. Hihi.. My in laws are chocolate lovers. They like and appreciate anything chocolate. So during our usual family dinner, I thought to bring a chocolate cake from somewhere we haven't ordered before. I saw on Leslie's (shootfirsteatlater) and Jin's (jinlovedtoeat) IG feed – Geena's Chocolate Cake. They were raving about it and it looked really interesting and good! To be honest, it wasn't very appealing to me – because 'not much of a chocolate fan', but then I made a mental note to remember it for the benefit of my in laws and for future reference. Hihi.. So I ordered and the very nice person at the other end of the mobile number was very kind to accommodate my quite last minute order. (Thank you!!) I sent the order from, made payment and waited the next day for my order to come. I ordered the 10×14 and it cost Php1,650.00. It was quite painless – our exchange was very fast and clear. They deliver via Lalamove and so it was all the more convenient, I didn't need to have it picked up! Yey, right? When the order arrived, the cake was inside a pristine white box with a black ribbon and a tag that says Geena's Cake Boutique. When I opened the box – it looked so perfect! I swear, it looked really chocolatey. I was honestly a bit repelled since it was all brown! Hahaha.. Look how perfect the ganache is – my reflection is there taking a photo (buking!)
So that night, when dessert time came – I did the first slice – and I knew I had to try it first, if it was dark chocolatey or if it was the kind of chocolate that I liked. The slice was quite an experience, the cake knife dug into the ganache and I knew that I was cutting into the cake because of there was a bit of resistance. This was the first corner slice: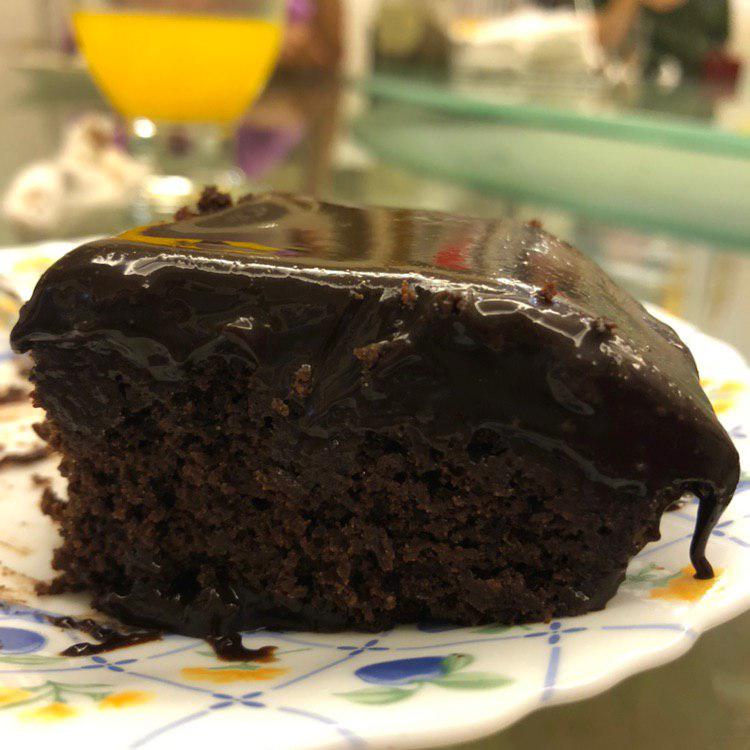 Look at that gooey ganache and chocolate cake. I was afraid honestly. It looked really chocolate-y, I was hoping that it will be the right kind of chocolate that I liked! Hahaha… And when I took the first bite. I was sooooo perfect for me! The texture was exactly how I imagined a rich chocolate cake was to be, the ganache had the sweetness that wasn't overly sweet. I was honestly afraid that my in laws would think it too sweet! I gave my panget a bite and he said it was good. I got my father in law spoon full to try and he said it was good. It was such a hit! Kailee and Connor asked for slices too – and they were saying how yummy it was! We even gave Shobe some to try and she kept going back to my Panget because she wanted more – she looked really cute and messy eating it. Look at what happened to the cake:
On our family dinners, my Panget and I usually take home the left over dessert. It was always us and no one else. But guess what happened – my SIL took home half of what was left! Hahaha.. I think she loved it too! See how good it was? When we got home, Connor asked for a slice. I was reluctant but gave in. The next morning, my Panget and I had it for breakfast – and by lunch time – our 'take home' was gone. It was that good!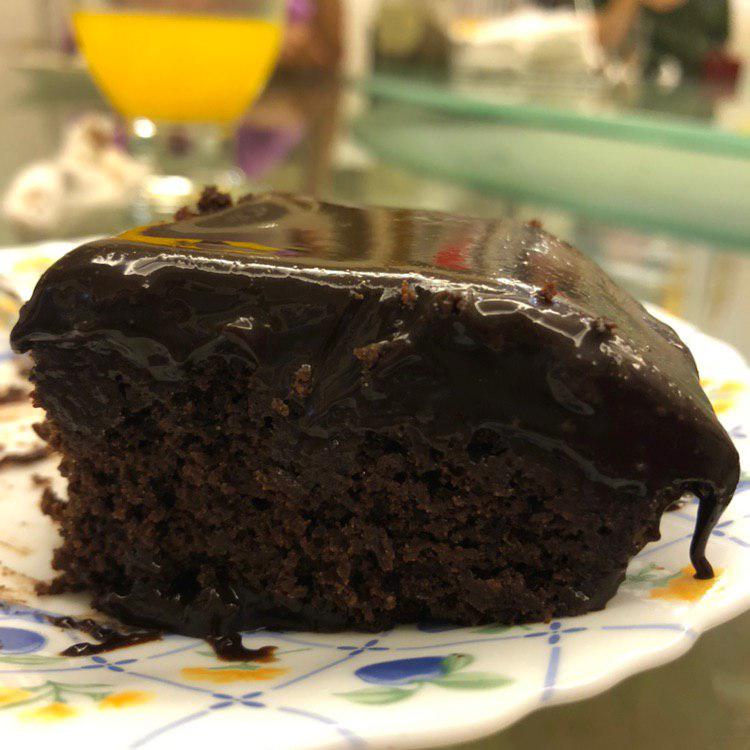 Try it if you haven't. I can't stop thinking about it. Hahha! Thank you Geena's Cake Boutique for sharing your creation! We LOVED it so much!!