I haven't worn a backpack since 2003. Yep! The last time I wore one and had one (that I used frequently) was while I was studying in Beijing. I remember it like it was yesterday – it was merlot color. I had to ask my friend Kath, what merlot was – wine pala. I carried it everyday to school. While I walked, biked and etc. I think I even brought it to trips outside of Beijing. It was so convenient.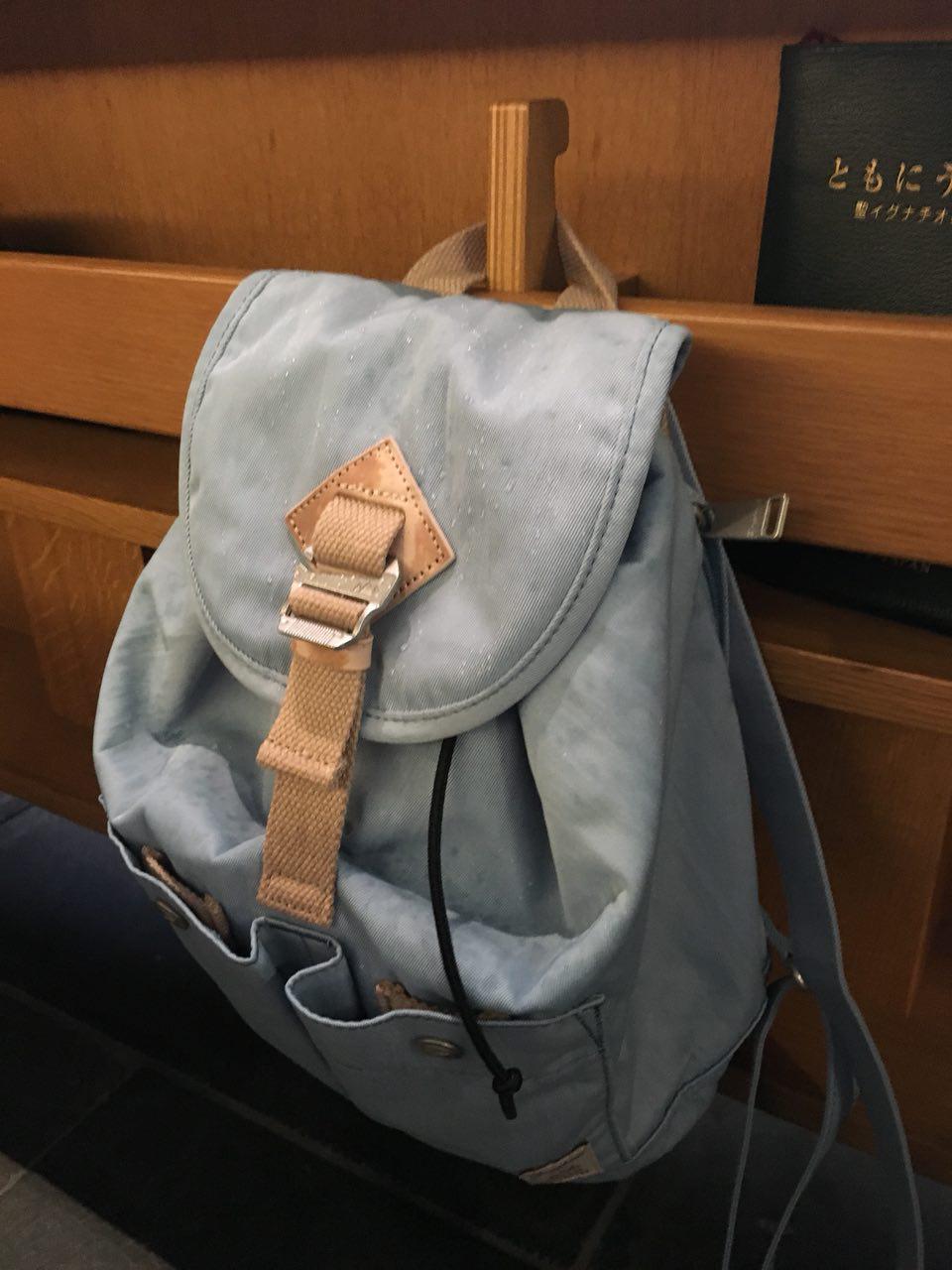 Fast forward to 14 years later – I saw my friend Tin's post on her Doughtnut Montana Mini backpack and I got curious. I thought to myself – how convenient! Then I saw the videos on Doughnut Philippines ' Facebook page – they were really REALLY interesting. This made me decide to get one. But it took a long while before I purchased one. I asked Tin first on the size, she said the Mini was perfect, but I was afraid it might be too small for me. So, I still had to check it out myself. I was only able to do so a few months ago when I was in Glorietta for an event – I saw it, and scrutinized it, I then decided – the Montana Mini was good enough size for me. During the holiday, I decided to bring it along – to test it. As you all know, I am a creature of habit, I make sure to bring a sling or messenger bag with me on all trips. Others will bring a two or three bags. I just stick to one. And for the longest time, I stuck with my Longchamp – but during the last few trips – it has given us delayed and cancelled flights. I decided, I needed a change of bag. Hahaha! I'm superstitious that way. So when my Panget got me a new bag that was black and made of canvas, well – that became my everyday bag AND travel bag. When we got settled in at our Airbnb apartment, I immediately took out the backpack and switched my bag to the Doughtnut Montana Mini. I was amazed that my things took a small space in the bag! I couldn't help but show it to my Panget the kids and Yaya B! I was so amazed, and then when I carried it around my back – the straps were not falling off. I didn't need to continuously pull them back to my shoulders. I then thought, sige nga – let's really test it the whole trip.
The next day, we were set to go to Yokohama. So I packed my backpack with my sunglasses, my Tiger stainless steel bottle and all my travel essentials (ziplocks, eco bags, tissue, medicines, inhaler scissors, rosary, lipbalms, rheumasalve, lotion, etc.), power bank, charging cables, my *notes* for the trip. Look – it still had a LOT of room! I was able to put inside my scarf! There's also a small zipper on the side that I forgot was there (for easy access to the contents)!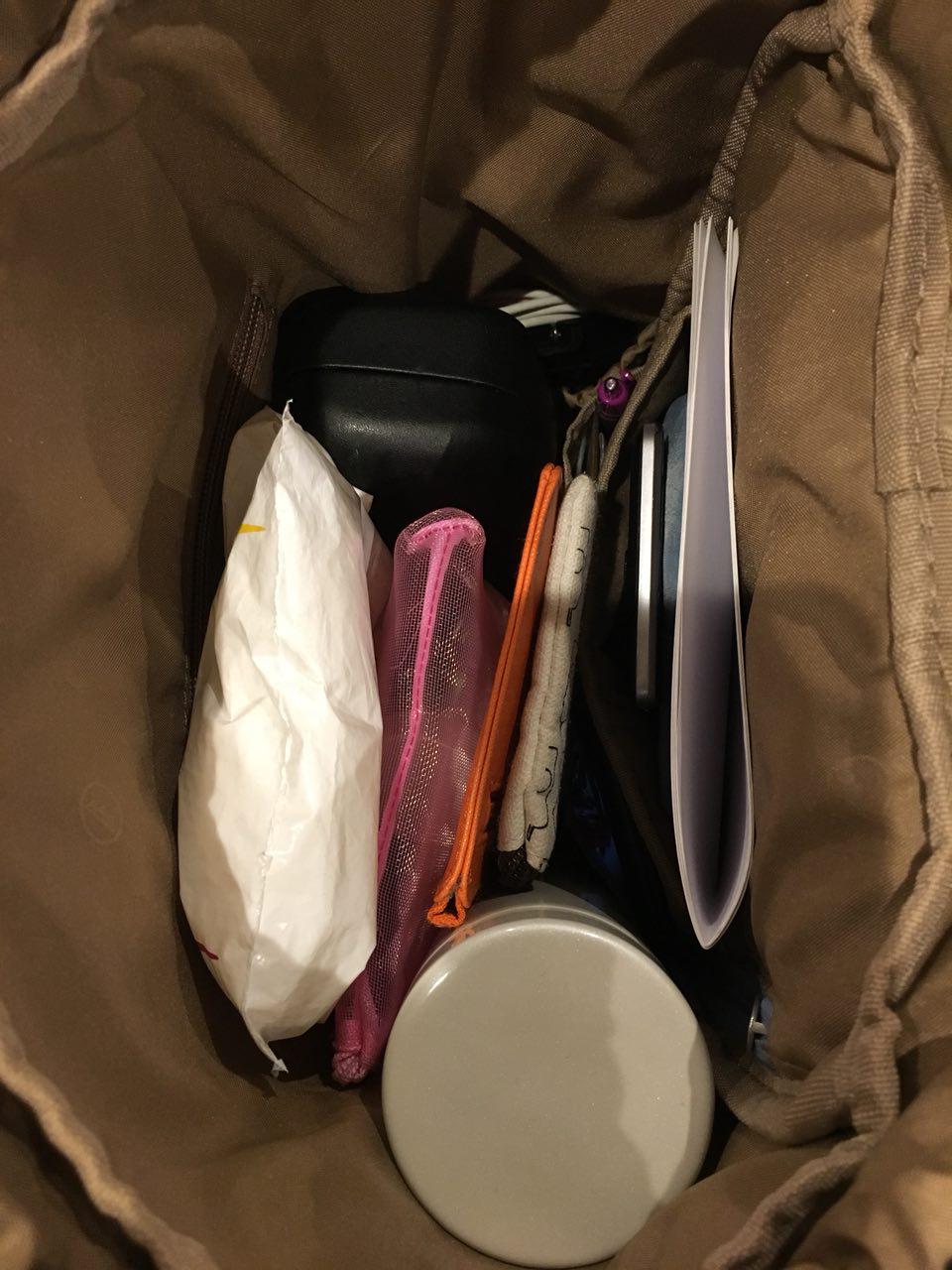 The truest test of the bag was when it was raining in Tokyo. I went to hear Mass and was carrying a small umbrella. I honestly forgot about my backpack for a while I was walking because I was just shielding my head and body from the rain – that I forgot that I had a backpack on. So when I was inside the Church, I felt sad that my bag was wet! But look at it, it's not seeping wet – considering I walked for 5 minutes under the rain.
Walking for 5 minutes under the rain without protecting my Doughtnut backpack and see??
It's not drenched in rain water! Cool diba?? You can even see the water droplets!
The rains had no plans of stopping that Sunday – so we decided to just carry one umbrella per person. Travelling with a stroller on a rainy day was going to be disastrous. So, I was stuck with a small umbrella. When we got home that night, my bag was not super drenched, it was wet alright but the contents of my bag were all DRY! I honestly didn't notice it, until I realized we were walking under the rain most of the day – I was sure that some things inside my bag would be wet from the rain – but there was not a single thing inside the bag that was wet. Everything, I mean EVERYTHING was dry. Amazing!! So I decided to just use my Doughtnut Montana Mini backpack the whole trip. I was so impressed that my black canvas messenger bag just stayed at home for 7 days. Hahaha!! Here I am with the backpack, while doing what else – EAT!
Japan is a really safe place. I've been visiting the country for the past 4 years, so a backpack is really convenient. I just had my backpack in front because I needed to take money out to buy those food on the streets like this white strawberries and because I wanted to take lots of pics (but I didn't get to because I was too busy eating! Hahaha…)
Now that I'm back – I can't seem to switch back to my reliable canvass messenger bag. Hahaha!! I am sooooo loving my Doughtnut Montana Mini backpack! Just to be clear, here are just a few things that I LOVED about my Doughnut Montana Mini backpack: 1. It's small but definitely NOT terrible. It may look small, but it's soooo very roomy! You can put a LOT of stuff and believe me when I say, a LOT of stuff! The pockets are genius and perfect. I don't need a bag organizer anymore! 2. It's lightweight, I mean really light weight for it's quality. You can fill it up to the brim but it won't feel heavy on your shoulders nor will it feel bulky. 3. It's water repellant and it doesn't get the stuff inside wet. I walked in rain most of the say in Tokyo and my bag was exposed and so it got really wet, but the contents were ALL DRY! Drying the bag is a breeze too! Imagine, cold weather – but it dried up! 4. The shoulder straps don't slide off your shoulders. Never experienced a time where I needed to constantly push the straps back to my shoulders. 5. The zipper on the side. It's soooo convenient and easy to reach! 6. It can stand a beating. Well, I used it for travel for a week and when use, I mean use it. It carried my Tiger Stainless Steel bottle, sunglasses and a lot more. I was squished in Disneyland and the trains in Tokyo but it still maintained it shape. 7. It can stand upright without help. As long as you organize your stuff that is! Hahaha.. 8. The colors are soooo cute! There are colors to choose from. I was tempted to get the light pink, but decided on the light blue because, I love blue!! Doughtnut is available in malls all over the Metro. Head on to their Facebook Page – Doughnut Philippines or visit their website https://www.doughnutphilippines.com/ You can order online and they can ship it to you too! So convenient, right?? You can also visit their Instagram Page – Doughnut Phillipines for inspiration. P.S. This is NOT a sponsored post ha, I bought the bag talaga…